Talc Powder Side Effects Caused Ovarian Cancer in 24-Year-Old Woman, Lawsuit Claims
August 31, 2016
By: Irvin Jackson
Following years of exposure to talc powder sold by Johnson & Johnson, a Pennsylvania woman alleges that she developed ovarian cancer when she was only 24 years old. 
In a complaint (PDF) filed in the U.S. District Court for the Eastern District of Pennsylvania on August 24, Dolorae Handy indicates that Johnson & Johnson failed to provide adequate warnings about the potential side effects of talc powder applied around the genitals for feminine hygiene, despite mounting evidence that the practice may increase the risk of ovarian cancer.
Handy indicates that she used Johnson's Baby Powder and Shower-to-Shower body powder for most of her life, which allegedly caused her diagnosis of ovarian cancer in 2005.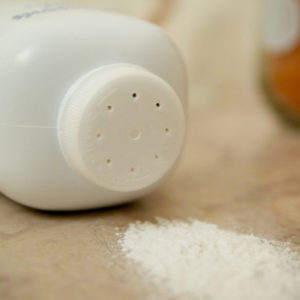 The case joins a growing number of similar Baby Powder lawsuits and Shower-to-Shower lawsuits filed by women and families nationwide, each involving similar allegations that talc particles contained in the popular products may migrate through the vagina and increase the risk of cancer, with many lawsuits indicating that evidence of talc was found in ovarian tumors.
Johnson & Johnson knew or should have known about the link between ovarian cancer and talc powder, according to allegations raised in the litigation. However, rather than warning consumers, the manufacturer withheld information and only indicated that users should avoid inhaling the powder or getting it in their eyes.
Handy notes that in 2006, Canada classified talc as a "D2A" substance, meaning it is very toxic and a cancer-causing agent, as part of its Workplace Hazardous Materials Information System (WHMIS). Asbestos, which some say is structurally similar to talc, carries the same designation.
Imerys Talc added a similar warning to its Material Safety Data Sheets that same year to the talc it sold to Johnson & Johnson, but that warning was not passed on to consumers or physicians, the lawsuit indicates.
"The defendants had a duty to know and warn about the hazards associated with the use of J&J Talc Products," the lawsuit states. "The Defendants failed to inform its customers and end users of Johnson & Johnson's Baby Powder and Johnson & Johnson's Shower-to-Shower of a known catastrophic hazard associated with the use of its products."
Talcum Powder Ovarian Cancer Lawsuits
While talcum powder is most commonly associated with use to help prevent diaper rash and maintain smooth skin, Johnson & Johnson has encouraged women to apply the powder around their genitals or in their underwear after every shower to maintain "personal freshness." However, studies have suggested that such use may increase the risk of ovarian cancer, as talc particles contained in the powder may migrate through the vagina, uterus and fallopian tubes.
There are currently several thousand product liability cases pending nationwide, including many ovarian cancer wrongful death lawsuits filed by family members of women who died as a result of their injury.
So far this year, at least two cases have already gone to trial at the state court level, with each case resulting in a multi-million dollar damage award after evidence was presented about Johnson & Johnson's failure to provide appropriate talcum powder warnings for women.
Additional state court trials are expected to go before juries in the coming months. In addition, as talc powder cancer lawyers continue to review and file cases for women and families nationwide, it is widely expected that the litigation will continue to grow over the coming years.
"*" indicates required fields