Lawsuit Seeks Talc Cancer Warnings For Gold Bond, Johnson's Baby Powder and Other Products Sold in California
January 30, 2020
By: Irvin Jackson
According to a "Prop 65" lawsuit filed in California, retailers and manufacturers of various talcum powder products should be required to add warnings about the cancer risk from talc before selling Gold Bond, Johnson's Baby Powder, Shower-to-Shower or other similar products in the state.
Jan Graham filed the complaint (PDF) in Los Angeles County Superior Court in California on January 29, calling for talcum powder to be added to the state's Proposition 65 list, which requires businesses to provide warnings to residents of the state about significant exposures to chemicals that may cause cancer, birth defects or other harm.
The lawsuit names Bausch Health, CVS, Dolgen, Johnson & Johnson, Sanofi, Chattem, Target, Walgreen, Walmart, Davion, Garcoa, Personal Care Products, LLC, Stone Arch Capital, LLC, Premier Brands of America and Thorton Industries as defendants, claiming that they sell a number of talc-based products that pose an existing health crisis due to cancer-causing agents and reproductive toxins.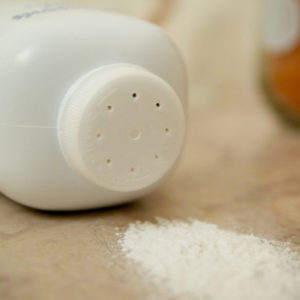 "The named Defendants have willfully violated Proposition 65 by manufacturing, distributing, and selling products with excess levels of dangerous chemicals," the lawsuit states. "Defendants have for decades manufactured, distributed, or sold talcum powder products that contain multiple chemicals at levels known to cause cancer or reproductive toxicity."
Those chemicals include arsenic, chromium, as well as lead and lead compounds, which are already on the Prop 65 list. According to the lawsuit, the manufacturers and distributors of these products know, or should have known, that they contain these chemicals, but have not complied with Prop 65 by including the proper warning labels.
Graham filed Notices of Violation with the defendants in early 2019. Since then, several of the defendants have begun making significant business changes as a result, the lawsuit notes.
For example, Bausch, which acquired Shower-to-Shower from Johnson & Johnson in 2012, announced in November 2019, about six months after receiving Graham's notice, that it was changing the popular powdered cosmetic from a talcum powder base to corn starch. Dollar General has also indicated it is changing its own brand of Baby Powder from talcum powder to corn starch as well.
In addition, the talc lawsuit notes that Sanofi, Chattem, and Walmart admit Gold Bond contains chemicals on the Prop 65 list and have added a warning noting that some chemicals in the powder may cause cancer or birth defects.
Talcum Powder Cancer Lawsuits
The complaint comes as the talc manufacturer Johnson & Johnson faces more than 14,700 Baby Powder lawsuits and Shower-to-Shower lawsuits pending in the federal court system, each involving similar allegations that the manufacturer failed to warn about the link between talc powder and ovarian cancer.
Given common questions of fact and law raised in the complaints, the litigation has been centralized before U.S. District Judge Freda L. Wolfson in the District of New Jersey, for coordinated discovery and pretrial proceedings.
Following a series of hearings earlier this year, Judge Wolfson is currently weighing challenges filed by Johnson & Johnson over the admissibility of expert witness testimony linking talcum powder to ovarian cancer, determining whether the findings are sufficiently reliable under the federal standard. Some of those witnesses were involved in this latest study.
Johnson & Johnson has rested much of their legal defense on the hope that plaintiffs' expert witnesses will be excluded under the federal standard, after a number of state court juries have previously hit the company with massive damage awards after being presented with the evidence at trial.
If the manufacturer is unable to disqualify plaintiffs expert witnesses in the federal court system, it is expected that Judge Wolfson will schedule a series of "bellwether" cases for early trial dates, to gauge how juries respond to certain evidence and testimony that is presented in the federal litigation.
While Johnson & Johnson has maintained that they intend to defend the claims at trial, there will be substantial pressure on the manufacturer to consider negotiating talcum powder cancer settlements for women diagnosed with ovarian cancer, or it could face massive liability from individual juries at trial in U.S. District Courts nationwide in the coming years.
"*" indicates required fields