Talcum Powder Containing Asbestos Can Cause Cancer, Study Finds
October 24, 2019
By: Irvin Jackson
A new study appears to present more evidence about the link between asbestos in talcum powder and cancer diagnosed among individuals who regularly apply Baby Powder or other similar products.
Researchers with Northwell Health in New York published a report earlier this month in the Journal of Occupational and Environmental Medicine, outlining 33 case studies individuals diagnosed with malignant mesothelioma, where the only possible exposure to asbestos was from tainted talcum powder.
Mesothelioma is a rare and deadly form of cancer, which is only known to occur as a result of exposure to asbestos particles. In many cases, the cancer has developed among individuals exposed to asbestos through work decades ago, or even among children of individuals who carried home the particles on their clothes or in their hair.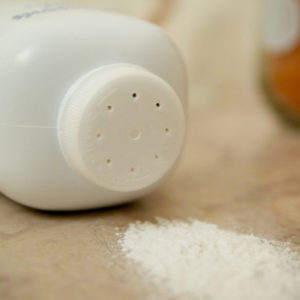 In this study, researchers conducted extensive case investigations for 33 individuals with malignant mesothelioma, looking at exposure data from occupations, family history, hobbies, and a number of other possible avenues for asbestos exposure. Researchers then looked at the individuals' history of talcum powder exposure, indicating that the 33 cases represent those where all other possible exposures to asbestos were eliminated.
Researchers conducted tissue sample analysis and asbestos fiber counts on six of the case studies to confirm they had asbestos in their systems and to determine where it may have come from.
"In all six cases, asbestos fibers consistent with those identified as contaminants in repeated laboratory testing of talcum powder samples across several institutions were identified," the researchers indicated. "Notably, the fiber types found were consistent with the types of asbestos found in talc. Amosite and crocidolite, asbestos fibers that are encountered in cases of industrial and occupational exposure, not cosmetic talcum powder, were not found in any of these cases."
The findings come amid increasing concerns about the discovery of asbestos in talcum powder, and as Johnson & Johnson faces thousands of Baby Powder lawsuits and Shower-to-Shower lawsuits brought by individuals nationwide who claim the company has known for decades that the products may increase the risk of mesothelioma and ovarian cancer, yet failed to warn consumers and continued to market their products for use among adult women for feminine hygiene.
Baby Powder Recall Due to Asbestos in Talc
While Johnson & Johnson has continued to maintain that their talcum powder is safe, and denied for years that their products ever contained asbestos particles, last week the company issued a Baby Powder recall that has sent shockwaves through the medical community, after FDA testing confirmed the presence of asbestos in at least one lot.
The discovery of asbestos in Johnson's Baby Powder upended years of claims by the company that its products do not contain asbestos and are thoroughly vetted before being sold to the public.
What is even more troubling to some is that the FDA only had to test two samples to find asbestos, raising questions about how frequently the Johnson & Johnson talc products may be contaminated.
As part of the on-going federal litigation over the link between Johnson & Johnson talcum powder and cancer, plaintiffs attorneys are seeking additional information about this recent recall.
In a letter (PDF) sent last week to the District Judge Freda L. Wolfson, who is presiding over all centralized federal talcum powder cancer lawsuits, the plaintiffs' steering committee (PSC) indicated that it has requested information that Johnson & Johnson must produce about this recent development, informing the court that it plans to file a supplemental motion with the court.
"The PSC has filed a Freedom of Information Act (FOIA) request with the U.S. Food and Drug Administration to obtain documents regarding the third-party lab that performed the testing, the test results, the testing procedures, and any communications regarding the lot that tested positive," the letter states. "The PSC has also requested that Johnson & Johnson Defendants, as a part of their ongoing duty to supplement pending discovery requests, provide within seven days documents, data and information regarding the same."
Following a series of hearings earlier this year, Judge Wolfson is currently weighing challenges filed by Johnson & Johnson over the admissibility of expert witness testimony linking talcum powder to ovarian cancer, determining whether the findings are sufficiently reliable under the federal standard.
After obtaining information about the FDA confirmation that asbestos was found in Johnson & Johnson talcum powder, plaintiffs are requesting that Judge Wolfson provide the opportunity to supplement prior briefings for the court to consider before ruling on the pending motions.
Johnson & Johnson has rested much of their legal defense on the hope that plaintiffs' expert witnesses will be excluded under the federal standard, although a number of state court juries have previously hit the company with massive damage awards after being presented with the evidence at trial.
If the manufacturer is unable to disqualify plaintiffs expert witnesses in the federal court system, it is expected that Judge Wolfson will schedule a series of "bellwether" cases for early trial dates, to gauge how juries respond to certain evidence and testimony that is presented in the federal litigation.
While Johnson & Johnson has maintained that they intend to defend the claims at trial, if Judge Wolfson allows the plaintiffs' experts to testify at trial, there will be substantial pressure on the manufacturer to consider negotiating talcum powder cancer settlements, particularly after the recent recall.
"*" indicates required fields