Talcum Powder Class Action Filed Against Johnson & Johnson Over Concealing Risks from Investors
February 12, 2018
By: Irvin Jackson
Johnson & Johnson faces a new class action lawsuit over its baby powder and body powder products, involving claims brought on behalf of investors who allege the company failed to warn the public about risks associated with risks associated with talcum powder, which could contain asbestos or asbestos-like fibers linked to the development of mesothelioma and other asbestos-related ailments.
Frank Hall filed the complaint (PDF) in the U.S. District Court for the District of New Jersey on February 8 , seeking class action status to pursue damages for others who have purchased or acquired Johnson & Johnson securities from February 22, 2013, through February 7, 2018.
In addition to Johnson & Johnson, the lawsuit also names Chairman and CEO Alex Gorsky, as well Chief Financial Officer Dominic J. Caruso as defendants.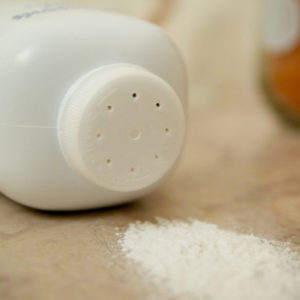 The talcum powder class action alleges that Johnson & Johnson was aware as early as the 1970s that products like Johnson's Baby Powder and Shower-to-Shower could contain asbestos, but not only failed to warn the public, but in the 1990s specifically targeted sales towards black and Hispanic women.
"J&J has known for decades that its talc products, such as its Baby Powder, include asbestos fibers and that the exposure to those fibers can cause ovarian cancer and mesothelioma," Hall's lawsuit states. "Accordingly, Defendants misrepresented and failed to disclose the danger that J&J's talc products posed to consumers, J&J's significant contingent liability related to its talc products, and that J&J's revenues from sales of these products were unsustainable due to the dangerous and harmful nature of its talc products."
The lawsuit highlights several instances over the last year where internal documents came to light, indicating the company's knowledge of asbestos risks with talcum powder products. These instances were followed by sharp drops in the value of the company's stocks.
On September 21, 2017, following the publication of a Bloomberg News article highlighting the company's knowledge in the 1970s about potential asbestos risks, shares dropped $2.28 per share over five consecutive days. On February 5, shares fell another $7.29, a more than 5% drop, following a similar article on CNBC.
The documents are coming to light as part of the discovery process in thousands of Baby Powder lawsuits and Shower-to-Shower lawsuits filed in recent years. Most have been filed by women who contracted ovarian cancer after years of using talcum powder on their genitals for feminine hygiene. Many have also been filed by family members of women who died of ovarian cancer. However, a growing number of cases are being filed over claims that talcum powder caused mesothelioma due to asbestos or asbestos-like fibers.
One unsealed document, dating back to May 1974 came from an official at Johnson & Johnson's Windsor mine, who suggested the company use citric acid to depress chrysotile asbestos found in talc from that site. Company officials, however, maintain that Johnson & Johnson's products have always been asbestos free.
Another document from 1972 indicates that 100% of samples tested at that time came back as positive for asbestos, but those results were never released to the public.
During a recent trial, an Israeli researcher also told a jury that the company had hired him to test samples of talc for asbestos contamination. He said a majority of the sample batches tested positive for asbestos, at which time the company pulled funding for the project.
Talcum Powder Litigation
Concerns about the link between mesothelioma and talc powder stretch back decades, with local health officials in Baltimore requesting that the FDA investigate asbestos in talc powder as far back as 1972.
In April 2016, Colgate-Palmolive was ordered to pay $1.4 million to a woman diagnosed with mesothelioma after exposure to Cashmere Bouquet talc powder. Colgate-Palmolive reached an undisclosed settlement  in November over another talcum powder asbestos claim. Another talc mesothelioma trial in November, involving claims against Johnson & Johnson, ended in a defense verdict.
In December, a California jury awarded $17.57 million in compensatory damages and another $4.6 million in punitive damages to the family of a man who died of mesothelioma in 2016 after years of exposure to talc.
Over the past year, a number of talcum powder ovarian cancer cases have also gone before state court juries, with many resulting in multi-million dollar damage awards over Johnson & Johnson's failure to adequately warn about the risks associated with their products.
While Johnson & Johnson is pursuing appeals in each of the cases and refusing to negotiate talcum powder settlements, some analysts suggest that the recent verdicts may be a sign of future problems for the manufacturer, due to signs that juries find Johnson & Johnson's trial defense lacking in credibility.
"*" indicates required fields