Talcum Powder Conspiracy Claim Allowed to Move Forward in Ovarian Cancer Lawsuit
January 08, 2015
By: Austin Kirk
A federal judge has cleared the way for conspiracy claims raised in a talcum powder cancer lawsuit to move forward against Johnson & Johnson, alleging that the manufacturer worked to hide information about the risk of ovarian cancer from Johnson's Baby Powder and Shower-to-Shower body powder. 
The ruling comes in a wrongful death lawsuit brought by the husband of Shawn Blaes, who died from ovarian cancer in January 2011. According to allegations raised in the complaint (PDF), Blaes was diagnosed with cancer following regular and prolonged use of Johnson's Baby Powder and Shower-to-Shower talcum powders in her perineal area.
Blaes' husband, Michael Blaes, brought claims against Johnson & Johnson, Imerys Talc America and other defendants, claiming that the manufacturers knew about the risk that talcum powder may cause ovarian cancer if it is applied to the genital area for feminine hygiene purposes, but covered up the connection and failed to adequately warn consumers about the risks.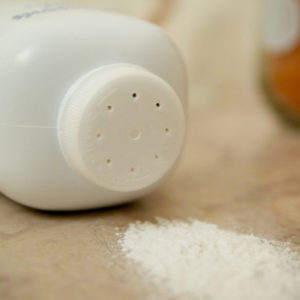 While talcum powder is most commonly used as a baby product, to prevent diaper rash or sooth skin, a number of women regularly use the products as body powders after a shower. As a result of the popularity of this use for Johnson's Baby Powder, Johnson & Johnson introduced other similar products containing talc-based powders, including Johnson's Shower-to-Shower Powder, and has heavily marketed the talcum powder for use among women.
In recent years, increasing evidence has emerged establishing a link between talcum powder and ovarian cancer, finding that the powder may migrate through the vagina to the uterus, fallopian tubes and ovaries, with evidence of talc found within some ovarian tumors diagnosed among regular users of Johnson's Baby Powder or Shower-to-Shower powder.
The Blaes complaint presents claims for failure to warn, negligence, breach of warranty, civil conspiracy and concert of action.
In response to a motion filed by the Defendants to dismiss the conspiracy and concert of action claims, U.S. District Judge Ronnie L. White issued an order (PDF) last month agreeing to dismiss the concert of action claim, but allowing the conspiracy claim to move forward.
Conspiracy to Hide Ovarian Cancer Risk
The concert of action theory imposes liability on those who lend aid or encouragement to a wrongdoer, or ratify and adopt the actions of others for their own benefit. While plaintiffs claimed that the claim was viable, Judge White found that the theory of a concert of action as a separate claim fro a conspiracy claim was rejected by the Supreme Court of Missouri, which is the state where the complaint was filed. Therefore, the concert of action claim was dismissed.
In support of the conspiracy claim, plaintiffs argued that Johnson & Johnson and Imerys Talc worked together as contributors to a "Personal Care Products Counsel's Talc Interested Party Task Force" (TIPTF), collectively defending the use of talc powder "at all costs" and working to prevent any type of regulatory actions based on "biased research" that the manufacturers funded.
"The Court holds that Plaintiff alleges the elements of an action for conspiracy. Plaintiff alleges that Johnson & Johnson defendants and Imerys helped to form TIPTF with the illegal objective of preventing consmers from earning about the potentially harmful effects of talc use," wrote Judge White in the order. "The Court finds that Plaintiff has sufficiently alleged, even under the heightened pleading standards of Rule 9(b), specific actions by both the Johnson defendants and Imerys in furtherance of the conspiracy, which injured Ms. Blaes."
As a result of the ruling, the claims will move forward in the U.S. District Court for the Eastern District of Missouri, where a jury trial is currently scheduled to begin on March 7, 2016.
Talcum Powder Ovarian Cancer Lawsuits
The decision comes as Johnson & Johnson faces a growing number of Baby Powder lawsuits and Shower-to-Shower Body Powder lawsuits filed on behalf of women diagnosed with ovarian cancer throughout the U.S.
All of the complaints involve similar allegations, claiming that the manufacturer knew or should have known about the risk of ovarian cancer from talc for decades, but continued to market the products for feminine hygiene purposes for years and failed to provide any warnings for women or the medical community.
The only warnings provided with the talcum powder products indicate that users should avoid contact with the eyes and keep the powder away from the faces of children to avoid inhalation, according to the lawsuits. However, evidence suggesting a link between talcum powder and ovarian cancer has been available to the manufacturers for decades, according to plaintiffs, which studies published in the 1970s finding evidence of talc particles embedded in ovarian tumors.
The International Agency for Research on Cancer, which is part of the World Health Organization, has classified genital use of talc powder as a "possible carcinogen," and the American Cancer Society has indicated women concerned about the talcum powder cancer risk may want to avoid or limit use by considering cornstarch-based products.
In June 2013, a study published in the medical journal Cancer Prevention Research indicated that women who used genital powder containing talc may face a 20% to 30% higher risk of ovarian cancer than those who do not. While the overall risk remains small, women have expressed concerns about why further research has not been done by the manufacturers and why warnings have not been provided about the possible health risks.
In October 2013, a South Dakota jury found that sufficient evidence was presented during trial to establish a link between Johnson Shower-to-Shower body powder and ovarian cancer developed by a 56 year old woman who had used the product for several decades. During the trial, Harvard University's Daniel Cramer testified that he has been looking into the links between talc and ovarian cancer for 30 years, and suggested that talcum powder may cause 10,000 cases of ovarian cancer every year.
A similar Baby Powder class action lawsuit was filed in California in April, seeking to force Johnson & Johnson to properly inform consumers about the potential health risks, including a significantly increased risk of ovarian cancer. Plaintiffs in that case allege that the manufacturer has known for decades about the risk of ovarian cancer, yet the only warnings indicate that users should avoid contact with eyes and keep the powder away from the faces of children to avoid inhalation.
"*" indicates required fields