Talcum Powder Settlement Offered in Ovarian Cancer Case Before Influx of Lawsuits Filed: Report
April 15, 2016
By: Irvin Jackson
Several thousand women diagnosed with ovarian cancer are now pursuing talcum powder lawsuits against Johnson & Johnson. However, a recent report suggests that manufacturer tried to head off the litigation several years ago, by offering to quietly settle one of the first cases for $1.3 million before the public learned about the risk associated with their widely used products.
Although studies have existed for decades that suggested talcum powder applied to the female genitals may increase the risk of ovarian cancer, public awareness about the danger has not emerge until recent years, largely starting with publicity surrounding a South Dakota product liability trial in 2013.
That case was filed by Deane Berg, who developed ovarian cancer following years of using Johnson's Baby Powder and Shower-to-Shower body powder for feminine hygiene purposes. Although the jury decided not to award Berg any monetary damages, they did find that Johnson & Johnson failed to adequately warn consumers about the link between talcum powder and ovarian cancer.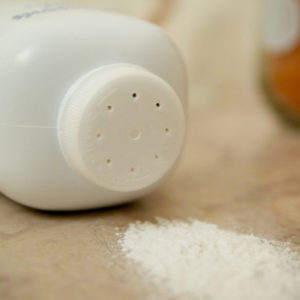 In a recent report published by the New York Post, Berg spoke out about why she turned down a $1.3 million talcum powder settlement offer made by Johnson & Johnson before the trial began, indicating that she does not regret taking the case to trial and believes it helped raise awareness about this critical safety issue.
Ovarian Cancer Risk with Talcum Powder
While talcum powder is most commonly associated with use among infants to avoid diaper rash and maintain smooth skin, it has been promoted by Johnson & Johnson for decades as a general body powder for adult women, who were encouraged to use Johnson's Baby Powder after every shower and place it in their underwear to maintain "personal freshness". Given the popularity among adult women, Shower-to-Shower body powder was introduced for this specific purpose.
Berg first became suspicious that she had a problem in fall of 2006, when the 49 year old noticed she was spotting between periods. After one gynecologist told her she was fine she got a second opinion, eventually discovering she had stage 3 ovarian cancer that had spread to her lymphnodes.
She underwent removal of her ovaries, then a full hysterectomy, followed by painful chemotherapy treatments that left her weak and ill. She was told in 2008 that her cancer was in remission, after being given only five years to live.
According to statements made to the New York Post, Johnson & Johnson offered Berg $1.3 million to settle a product liability lawsuit she brought against them for failing to warn about the talcum powder risk of ovarian cancer. However, the settlement would have required her to sign a confidentiality agreement, and Berg indicates she turned that offer down so that evidence could be publicly presented at trial about the risks associated with talc.
Berg compared herself to the first plaintiffs who brought lawsuits against the tobacco industry, stating that she considers herself a whistleblower who exposed the dangers of talcum powder ovarian cancer risks.
The South Dakota trial preceded more than 1,200 Johnson's Baby Powder lawsuits and Shower-to-Shower powder lawsuits currently pending throughout the U.S., each involving similar allegations that Johnson & Johnson knew or should have known about the ovarian cancer risk from talcum powder when it is applied around a woman's genitals, yet failed to provide any warnings.
It took three years for the next case to reach trial, involving a wrongful death lawsuit brought by the family of Jackie Fox, which ended in a landmark $72 million in damage award in February 2016. After determining that Johnson & Johnson withheld information about the talc powder ovarian cancer side effects, that jury awarded $10 million in compensatory damages, and an additional $62 million in punitive damages designed to punish the manufacturer.
Johnson & Johnson is now facing a third talcum powder lawsuit, with trial currently underway in St. Louis Circuit Court involving a claim brought by Gloria Ristesund.
As more women and families discover that ovarian cancer diagnosed in recent years may be linked to use of Johnson's Baby Powder or Shower-to-Shower, a growing number of cases are continuing to be filed nationwide. In many cases, evidence of talc is found in ovarian tumors.
It is ultimately expected that thousands of additional lawsuits will be brought against Johnson & Johnson. If the company fails to reach a global talcum powder settlement for women who developed ovarian cancer, they could face a steady stream of jury trials in the coming years, potentially facing billions in liability.
Susan

April 22, 2016 at 3:28 am

I believe the article pointed out that there was direct evidence of the presence of talc (or a metabolite) within the ovarian tumors themselves. And since there has been evidence that shows J&J knew of this risk and didn't release it to the public or immediately take it off the market, they are in fact culpable.

lil

April 20, 2016 at 3:24 pm

How can anyone KNOW why someone has been stricken with ANY disease and/or illness? It's impossible! Naturally, others will jump on the same bandwagon now that a can of worms has been opened. There are always people looking to make easy money.

Mame

April 17, 2016 at 4:38 am

I have never used the two cited products. I believe that all cosmetics, beauty products and fragrances have some levels of chemicals. Johnson & Johnson is very straight about the labeling of their products: my children (3) and I use Johnson & Johnson " Baby products" which states very clearly "For Baby" from the powder, lotions and body soaps. As a grown woman using the baby line of Johnson & John[Show More]I have never used the two cited products. I believe that all cosmetics, beauty products and fragrances have some levels of chemicals. Johnson & Johnson is very straight about the labeling of their products: my children (3) and I use Johnson & Johnson " Baby products" which states very clearly "For Baby" from the powder, lotions and body soaps. As a grown woman using the baby line of Johnson & Johnson it is with understanding of the "lesser chemicals" as opposed to many, many products in the whole industry, nationwide and Internationally. I have always been Absolutely satisfied with their "Baby line products". Any adults buying body products is educated enough to know that "every product" contains chemicals....a wide range of chemicals hence the careful choosing of which product versus which products. That is what you can say about conscious buying. Now, as individuals, each person level of hygiene varies: from birth to maturity, from cultural differences to economic and social behaviors, hygiene habits and manners are very very disparate. One can not compare the Hygiene of a Baby to the Hygiene an adult woman or man who by all body growth, hormonal fluctuations, menstruation and after menstruation hormone balances must maintain "different hygiene protocols". I believe that Johnson & Johnson Can not be held responsible for consumers differential Hygiene levels and habits; nor should they be responsible for the population to be educated enough to understand the proper usage of their products. Everybody knows that talc must not be used above your thighs, and most of all must not be left piled on and caked on your skin. If the population refuses to use their "logical mind" it should Not be the fault of the company. I could understand if the company was asked to put braille on their products but adults who know how to read should not be allowed to sue for improper usage of a product. Internationally, Johnson &Johnson is among the Best body products with the most trusted chemical guidelines....another reason why they are making good money. I feel sad that they are being Vulturistically hurt because nobody is putting their foot on the suing mode of companies just because they have established a good international company.
"*" indicates required fields