Judge Holds Johnson & Johnson in Contempt During Talc Ovarian Cancer Trial
July 27, 2021
By: Irvin Jackson
After a Johnson & Johnson executive refused to appear in Court for cross-examination during an ongoing trial involving the company's failure to warn about the risk of ovarian cancer from talc powder, an Illinois judge held the manufacturer in contempt this week, and allowed the plaintiff's attorney to explain to the jury what would have been presented during questioning.
The decision came in an ongoing trial being held in St. Clair County Circuit Court in Illinois, involving claims presented by plaintiff Colleen Cadagin, whose sister, Elizabeth Driscoll, allegedly died from ovarian cancer caused by talc exposure in 2016.
Dr. Susan Nicholson, vice president of Johnson & Johnson's women's health devision testified for the defense earlier in the trial, but refused to return to court for cross examination. While Johnson & Johnson claims that it provided notification that Nicholson could not attend, and offered to make her available via videoconference, Illinois state court Judge Christopher Kolker rejected that position and announced on Monday that both Nicholson and the company were in contempt of Court.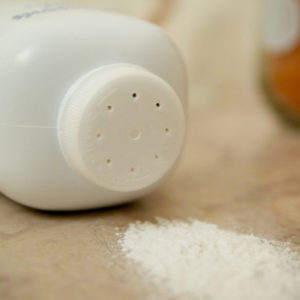 As a result, Nicholson's testimony was struck from the record, and the jury has been informed that the company and Nicholson are in violation of court rules. Plaintiff's attorneys were also allowed to take the unusual step of explaining to the jury what they believe would have been established during Nicholson's cross-examination.
Judge Kolker is reportedly considering sanctions against the company, and Johnson & Johnson officials have already indicated they will appeal any verdict in the case, even as the trial is still on-going, according to a report by Law.com.
Although the trial will not have any binding impact on tens of thousands of other Baby Powder lawsuits and Shower-to-Shower lawsuits brought by women throughout the federal and state court system, all talc ovarian cancer trials are being closely watched to evaluate how juries are likely to respond to evidence that will be repeated throughout the litigation.
Johnson & Johnson has already been hit with several billion in damages after juries evaluated evidence about the link between talc and ovarian cancer, including massive punitive damage awards that resulted from what some juries have considered reckless disregard for the health and safety of women using their products.
Jury selection is expected to begin in another state court trial later this week in the Philadelphia Court of Common Please, and another talc case is slated to begin on September 10 in Missouri.
In addition to the state court cases, Johnson & Johnson is expected to face the first federal talcum powder trial in April 2022, which will be held before U.S. District Judge Freda L. Wolfson in the District of New Jersey, where all federal claims are consolidated as part of an MDL, or multidistrict litigation.
Unless Johnson & Johnson establishes that they can start consistently defending the safety of their products at trial, or reaches talc powder settlements to resolve large numbers of cases, it is expected that the company will begin to face an increasing pace of trials in courts nationwide next year.
"*" indicates required fields