Toxic Baby Formula Additives Should Be Banned By FDA, Petition Urges
February 14, 2022
By: Irvin Jackson
Two consumer protection groups have filed a petition with the U.S. Food and Drug Administration (FDA), calling for a ban on toxic baby formula additives, known as nanomaterials, which are kept out of baby formula in Europe, but continue to be found in products sold in the U.S.
On February 10, the Center for Food Safety and the International Center for Technology Assessment filed an FDA petition (PDF), indicating that it is well past time for federal regulators to ban the use of nanoscale ingredients, which are not approved by the agency, and can result in toxic infant formula being used by families.
The groups warn that the particles and their health effects are not well known, and say they should be prohibited from being used in baby formula until they can be proven safe. They are already banned or restricted in the European Union, but many U.S. baby formulas contain nonchemical additives that have fundamentally different health and environmental impacts compared to their bulk material counterparts.
The petiton highlights a 2016 study, conducted by researchers at Arizona State University, which found nanomaterials in baby formula sold under the Similac, Enfamil, Gerber and Well-Beginnings labels. They are generally used for whitening the formula, to make it flow better, and to prevent caking.
The makers of Similac and Enfamil already face increasing scrutiny for placing profits before consumer safety in a number of NEC lawsuits filed by families of premature infants who developed the devastating gastrointestinal condition necrotizing enterocolitis. Although research has shown for years that the cow's milk formula greatly increase the risk of NEC for premature babies, the manufacturers actively promoted their products for use among premature babies, often as a superior alternative to breast milk, which is known to be safer.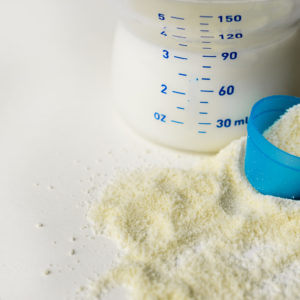 According to the petition filed over the toxic baby formula additives, the groups note that studies have shown for years that nanomaterials are toxic, chemically reactive and easily able to penetrate biological membranes. These are all factors which could make them a risk to an infant's developing immune system, the groups warn.
"FDA has known for five years that many U.S. infant formulas contain nanochemical additives that the agency has not approved," Jaydee Hanson, policy director at the Center for Food Safety, said in a press release. "It is time for FDA to act to make infant formula safe from these toxic additives. Europe keeps them out of infant formula – we should too."
The petition indicates the FDA should enact new regulations firming up the agency's oversight of nanomaterials. They call on the FDA to require all infant formula undergo thorough and rigorous testing for nanomaterials, labeling products where they are detected as containing nanotechnology. The petition also calls for a recall of all currently available infant formula containing nanomaterials.
In addition, the groups want the FDA to establish regulatory definitions for what should be considered nanomaterials and engineered nanoparticles, to declare engineered nanoparticles in infant formula as an imminent hazard to human health.
Ruth

January 4, 2023 at 9:35 am

Warning labels should have to be on these foods, and water that contain these nanoparticles . Where's the lawsuits??? I was wondering why so many people who don't drink alcohol, nor smoked is coming down with cancer, and liver damage. Why is FDA allowing this in foods ? Morgellons is really nanotechnology. I guess these people who have all these problems with their hair falling out, and skin[Show More]Warning labels should have to be on these foods, and water that contain these nanoparticles . Where's the lawsuits??? I was wondering why so many people who don't drink alcohol, nor smoked is coming down with cancer, and liver damage. Why is FDA allowing this in foods ? Morgellons is really nanotechnology. I guess these people who have all these problems with their hair falling out, and skin problems aren't so crazy after all! I am seeing dogs coming down with cancer, and seizures….Now I know why! My sister has liver problems, and the doctor couldn't figure out why…
"*" indicates required fields