Truck Accident Risks Increased When Drivers Have Untreated Sleep Apnea: Study
March 23, 2016
By: Russell Maas
The findings of a new research highlights the driving risks associated with sleep apnea, indicating that truck drivers may be up to five times more likely to be involved in a serious and preventable accident if they fail to have their obstructive sleep apnea disorders medically treated. 
In a press release by the American Academy of Sleep Medicine (AASM), describing the findings of a study that will be published this month by the medical journal Sleep, researchers suggest that commercial truck drivers with untreated sleep apnea may pose a serious risk on U.S. roadways.
The study is called "Crash Risk Soars Among Truck Drivers Who Fail to Adhere to Sleep Apnea Treatment," and was presented to the AASM by lead author Dr. Stephen V. Burks, PhD, professor of economics and management and principal investigator of the Truckers & Turnover Project at the University of Minnesota, Morris. The research involved 1,613 drivers with obstructive sleep apnea and 2,016 drivers without the diagnosis, with both groups having similar experience and length of employment time.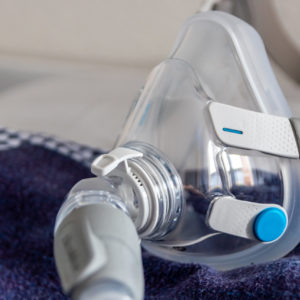 Did You Know?
Millions of Philips CPAP Machines Recalled
Philips DreamStation, CPAP and BiPAP machines sold in recent years may pose a risk of cancer, lung damage and other injuries.
Learn More
Researchers provided all of the drivers with confirmed obstructive sleep apnea an auto-adjusting positive airway pressure device equipped with an internal memory chip to monitor usage and sleep patterns. Among the 1,613 drivers with the sleep disorder, researchers found that 682 employees adhered to the mandated treatment program whereas 571 partially used the devices and 360 failed to use the device at all.
The study analyzed the crash data for each individual user, finding that accident rates among drivers who chose not to use the PAP devices were between four and five times more likely to be involved in a serious crash than those who chose to use the device or were not diagnosed with the sleep disorder.
The exact data from the study indicated a 0.070 preventable crash rate for commercial drivers not using the PAP machines compared to a 0.014 rate per 100,000 miles for both compliant PAP users and drivers without sleep apnea.
"The most surprising result of our study is the strength and robustness of the increase in the crash risk for drivers with sleep apnea who fail to adhere to mandated treatment with positive airway pressure therapy," Burks said in the press release. "The results of our study support the establishment of obstructive sleep apnea screening standards for all drivers through the commercial driver's medical exam."
Proposed Truck Driver Sleep Apnea Screening Rule
The study's findings support a recent rule proposed by the Department of Transportation (DOT) on March 8, which would require sleep apnea testing for truck drivers and train operators. The DOT is asking for expert and public opinion regarding enacting specific requirements for obstructive sleep apnea screening, evaluation, and treatment for all commercial motor vehicle drivers.
Encouraged by the National Transportation Safety Board (NTSB), the DOT in conjunction with the Federal Railroad Administration (FRA) and the Federal Motor Carrier Safety Administration (FMCSA), proposed the first ever requirement to test operators for obstructive sleep apnea, in an attempt to prevent serious crashes involving multi-passenger vehicles and dangerously large vehicle crashes.
The NTSB estimates that 22 million men and women in the U.S. are believed to suffer from undiagnosed and untreated obstructive sleep apnea. The AASM says that number could be as high as 25 million.
Obstructive sleep apnea is a disorder in which an individual's breathing repeatedly stops and starts during sleep from the throat muscles intermittently relaxing and blocking the airway. When the airway is blocked while sleeping, this causes inadequate breathing which may lead to insufficient oxygen levels in the blood.
Often individuals with sleep apnea have constant interrupted sleep patterns because the brain briefly sends a distress signal wakening the individual. However, these interruptions are usually not long enough to be remembered.
Sleep apnea episodes that block normal breathing patterns have been recorded to occur on average up to thirty times per hour. Persistently poor sleep patterns due to sleep apnea prevent sufferers from reaching the required sleep phases for individuals to remain attentive for long periods of time the next day.
Side effects of sleep apnea often cause unintended sleep episodes and deficits in attention, concentration, situational awareness, memory, and can reduce capacity to safely respond to hazards.
Recent research by the FMCSA has indicated that between 2011 and 2012 alone, fatal accidents involving large trucks increased five percent, causing nearly 4,000 deaths per year. Accidents involving large trucks resulting in injuries had also increased by 22% during the same time frame.
Roy

April 15, 2016 at 3:50 am

The sleep rules have changed from when I first started driving. None of that is talked about. For me it made it easier to get the miles in because I could most any time take a 2hr break. Doing a spilt slipt time 4 on 4 off worked will most of the time. My wife and I each have 2 million safe driving awards. After Cpap we lost our jobs. I sleepwalked out of semi when my wife was driving. Sleepwal[Show More]The sleep rules have changed from when I first started driving. None of that is talked about. For me it made it easier to get the miles in because I could most any time take a 2hr break. Doing a spilt slipt time 4 on 4 off worked will most of the time. My wife and I each have 2 million safe driving awards. After Cpap we lost our jobs. I sleepwalked out of semi when my wife was driving. Sleepwalking (precipitated) by treatment of sleep apnea with nasal CPAP. Millman RP, et al. Chest. 1991. Show full citation Authors Millman RP1, Kipp GJ, Carskadon MA. Author information1Department of Medicine, Rhode Island Hospital, Providence 02903. Citation Chest. 1991 Mar;99(3):750-1. Abstract A 33-year-old man with a long history of snoring, observed apneic episodes, and excessive daytime sleepiness, underwent all-night polysomnography, which demonstrated severe obstructive sleep apnea. During the nasal CPAP trial, two episodes of sleepwalking were observed during a period of delta sleep rebound. PMID 1995236 [PubMed - indexed for MEDLINE]Having a normal level of CO2 in the lungs and arterial blood (40 mm Hg or about 5.3% at sea level) is imperative for normal health. Do modern people have normal CO2 levels? ? When reading the table below note that levels of CO2 in the lungs are inversely proportional to minute ventilation rates, in other words, the more air one breaths the lower the level of alveolar CO2. Breathing rates in healthy, normal people vs diseases CO2 molecule picturePin it!Share on Facebook Hypocapnia (CO2 deficiency) in the lungs and, in most cases, arterial blood is a normal finding for chronic diseases due to prevalence of chronic hyperventilation among the sick. Furthermore, as we discovered before, over 90% of modern people (so called "normal subjects") are also hyperventilators (see the link below to the Hyperventilation Table with over 20 medical research studies related to normal subjects). Hence, chronic hypocapnia is very common for modern man. Main CO2 health effects and uses in the human body Follow the links for dozens of research references CO2 vasodilation health benefitsPin it!Share on Facebook - Vasodilation (expansion of arteries and arterioles). As physiological studies found, hypocapnia (low CO2 concentration in the arterial blood) constricts blood vessels and leads to decreased perfusion of all vital organs - The Bohr effect was first described in 1904 by the Danish physiologist Christian Bohr (father of physicist Niels Bohr). This law can be found in modern medical textbooks on physiology. The Bohr effect states that arterial hypocapnia will cause reduced oxygen release in tissue capillaries. - Cell Oxygen Levels are controlled by alveolar CO2 and breathing. Hyperventilation, regardless of the arterial CO2 changes, causes alveolar hypocapnia (CO2 deficiency), which leads to cell hypoxia (low cell-oxygen concentrations). - Oxygen Transport, therefore, depends on breathing and these 2 effects (Vasoconstriction-Vasodilation and the Bohr effect) explain the influence of hypocapnia (low CO2 content in the blood and cells) on circulation and reduced O2 delivery. - Free Radicals Generation takes place due to anaerobic cell respiration caused by cell hypoxia. Hence, antioxidant defenses of the human body are also regulated by CO2 and breathing, as these medical studies have found.
"*" indicates required fields