Weigh Benefits and Risks of Pain Medication Use During Pregnancy, FDA Advises
January 12, 2015
By: Irvin Jackson
Pregnant women face significant uncertainty when deciding which prescription or over-the-counter (OTC) pain medications to use, as there is not enough research to provide them with definitive guidance, federal health regulators warn. 
The FDA issued a drug safety communication (PDF) on January 9, advising pregnant women and their doctors to carefully weight the benefits and risks of taking pain medication on a case-by-case and drug-by-drug basis, saying the medical research on the pain drug side effects and pregnancy has been too limited to date, despite decades of concerns.
"Severe and persistent pain that is not effectively treated during pregnancy can result in depression, anxiety, and high blood pressure in the mother. Medicines including nonsteroidal anti-inflammatory drugs (NSAIDs), opioids, and acetaminophen can help treat severe and persistent pain," the FDA communication notes. "However, it is important to carefully weigh the benefits and risks of using prescription and OTC pain medicines during pregnancy."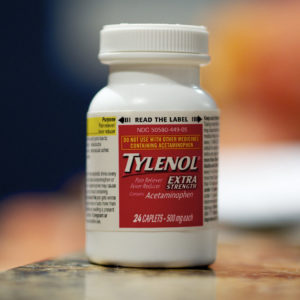 There have been a number of concerns over the use of pain medications and their side effects on both the mother and the unborn child, the agency warns. The FDA looked at studies concerning the risks of NSAIDs like Motrin and Aleve, opioids like OxyContin and morphine, and acetaminophen; the active ingredient in Tylenol and a pain killer found in numerous cold remedies.
NSAID Health Concerns
The studies included a 2011 study published in the Canadian Medical Association Journal, which warned that taking NSAIDs like Aleve, Advil, Cataflam, Celebrex, and Motrin during pregnancy could double the risk of miscarriage. Researchers saw no dose-response effect, and the FDA says the findings are hard to interpret due to methodological limitations in the study's design.
Other studies looking at the issue did not result in consistent findings, including a study published less than a year later in the American Journal of Obstetrics and Gynecology which found no link between NSAIDs and the risk of miscarriage.
Each year in the United States, at least 1.5 million women use nonsteroidal anti-inflammatory drugs (NSAIDs) around the time of conception, implantation, and early embryonic development, making them the most common medication exposure reported in the first trimester, which is a time when many women do not even know they are pregnant.
Other studies have linked the use of popular NSAID painkillers to an increased risk of nine different types of birth defect when used during pregnancy, including cleft palate and cleft lip defects, anencephaly, spina bifida, encephalocele, anophthalmia or microphthalmia, transverse limb deficiency, amniotic bands and isolated pulmonary valve stenosis.
"Based on our evaluation of these observational studies, we believe that the weight of evidence is inconclusive regarding a possible connection between NSAID use and miscarriage," the FDA determined.
Opioid Side Effects
In September 2013, the U.S. Centers for Disease Control and Prevention (CDC) published a study in the medical journal Obstetrics and Gynecology, which indicated that women who use powerful painkillers known as opioids face more than twice the risk of giving birth to a child with neural tube birth defects, like spina bifida.
While the researchers found that women who used Oxycontin, Vicodin and other opioids faced a 2.2-fold increased risk of giving birth to a child with a neural tube defect, they were unable to make a causal connection.
Neural tube defects are one of the most common types of birth defects, affecting about one in every 1,000 births in the U.S. They are characterized by a hole in the spinal cord or brain because the neural tube does not close completely. This can result in defects that include spina bifida, and brain malformations that may result in parts of the brain missing or protruding from the skull.
The FDA noted in its safety communication that, even if the increased risk is accurate, the absolute risk of neural tube defects in the U.S. is so low that even doubling it still leaves the risk extremely low.
In addition, opioids are often addictive and some fear that addiction could be passed on from pregnant mothers to their unborn children.
In 2012, a report released by the CDC named prescription painkiller overdoses a "U.S. epidemic." The report released in January 2012 detailed the increasing numbers of overdose deaths by opioid and narcotic painkillers. The report noted opioid painkillers were responsible for more deaths than cocaine and heroin combined since 2003.
Another more recent CDC report found that women are affected by prescription painkiller abuse more than men. In fact, overdose deaths among women are on the rise in the U.S. The CDC reported a 400% increase in overdose deaths caused by prescription pain medication among women since 1999.
Acetaminophen Health Problems
The third category of painkiller the FDA examined was acetaminophen, which a study last year in JAMA Pediatrics suggests could be linked to an increased risk of attention deficit hyperactivity disorder (ADHD).
According to Danish researchers, more than half of pregnant women use acetaminophen, and those that do are 29% more likely to give birth to a child who will eventually be diagnosed with ADHD. They also found a 37% increased risk of hyperkinetic disorders (HKDs).
"This study had a number of methodologic limitations that make the findings difficult to interpret," the FDA determined. "The authors did not assess overall markers of health, including health care utilization and/or medication utilization in the year prior to and during the index pregnancy, which might make the observed associations incorrect."
Tylenol is one of the most widely used painkiller medications in the United States, which has been used by millions of Americans. The medication contains acetaminophen as the active pharmceutical ingredient, which has been identified in recent years as a leading cause for liver injury in the United States.
The FDA has indicated that acetaminophen may be responsible for more than 50,000 emergency room visits each year, including 25,000 hospitalizations and over 450 deaths annually. In recent years, efforts have been ramped up to bring the risk of acetaminophen overdose to the public's attention and to reduce the amount of liver injury cases linked to the popular analgesic, which is also found in other pain killers and a number of cold medications.
Johnson & Johnson faces a growing number of Tylenol liver damage lawsuits over acetaminophen side effects.
All of the complaints raise similar allegations that Johnson & Johnson built an image for their blockbuster medication as safe and effective by withholding important information about the link between Tylenol and liver problems.
Amid the mounting lawsuits, the U.S. Judicial Panel on Multidistrict Litigation consolidated all cases filed in U.S. District Courts throughout the country in April 2013. The cases are centralized before U.S. District Judge Lawrence F. Stengel in the Eastern District of Pennsylvania for coordinated discovery and pretrial proceedings.
"*" indicates required fields