Direct Filing of ADHD and Autism Tylenol Lawsuits Permitted in Federal MDL
December 14, 2022
By: Irvin Jackson
Families are pursuing Tylenol lawsuits over autism or ADHD caused by exposure to acetaminophen during pregnancy
Thousands of claims are expected over the coming weeks and months, following years of marketing the pain killer without adequate warnings
Federal litigation has been centralized before one judge in the Southern District of New York as part of a Tylenol MDL
Families will be able to directly file new lawsuits through a Short-Form Complaint, which adopts certain allegations from a Master Complaint that will be submitted by December 16
The U.S. District Judge presiding over all federal ADHD and autism Tylenol lawsuits has approved a a streamlined process for families to file claims against the makers of acetaminophen products, over the failure to disclose information about the risks associated with using the popular pain medication during pregnancy.
A federal multidistrict litigation (MDL) was established last month, centralizing all lawsuits over autism and ADHD caused by Tylenol, Equate and other versions of acetaminophen, since each of the claims raise nearly identical allegations that children may have avoided the diagnosis if warnings have been provided by drug makers and retailers.
Most of the current complaints involve claims against retailers like Walmart, CVS, Walgreens, Costco and other companies, who sold their own brands of acetaminophen drugs over the past two decades without pregnancy warnings. However, it is also widely expected that the litigation will include several thousand Tylenol autism lawsuits that will be brought against Johnson & Johnson for it's role in causing the widespread use of acetaminophen during pregnancy.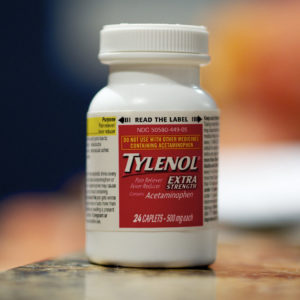 The U.S. Judicial Panel on Multidistrict Litigation (JPML) has appointed Senior U.S. District Judge Denise Cote to oversee the growing litigation, which will be managed out of the Southern District of New York during discovery and a series of early "bellwether" trials that may be held to help the parties gauge how juries are likely to respond to certain evidence and testimony about the link between Tylenol and autism that will be repeated throughout the claims.
In an order (PDF) issued last week, Judge Cote outlined the schedule for establishing a streamlined process that will allow future plaintiffs to directly file their claims in the Tylenol MDL, and coordinate the allegations raised in various complaints.
Future Tylenol Lawsuits Can Be Filed Through Short-Form Complaint
In complex product liability lawsuits, where large numbers of individuals are pursuing similar claims and allegations, it is common for the Court to approve a Master and Short Form Complaint, where plaintiffs can then file future lawsuits through an abbreviated form, where they adopt relevant allegations.
Judge Cote has directed the plaintiffs to file two Master Complaints by December 16, including one against the retailers and the others against Johnson & Johnson for users of brand-name Tylenol products. Plaintiffs have also been asked to propose a Short Form Complaint that will allow each plaintiff to adopt certain allegations from the Master complaint and present details about their families individual claim when filing new ADHD and autism lawsuits over Tylenol in the future.
On December 2, Judge Cote issued an order (PDF) that allowed the direct filing of future lawsuits in the Tylneol MDL in the Southern District of New York, which will avoid the delays and expenses associated with transferring the cases from the districts where they previously would have originated.
Direct filing is intended to streamline the process for managing the ADHD and autism Tylenol lawsuits, and coordinating allegations in a Master and Short Form complaint are intended to improve efficiencies during the management of the litigation, which may ultimately include tens of thousands of claims.
According to a pretrial scheduling order (PDF) issued on December 2, the parties will meet with Judge Cote for a telephonic conference on January 6, 2023, at which time it is expected that the Court will reach a decision regarding the model Short Form Complaint. Each plaintiff with a claim already pending will then be required to file a Short Form Complaint by January 20, 2023, and any new claims transferred into the MDL in the future will be required to submit a Short Form Complaint within 14 days.
December 2022 Tylenol Lawsuit Update
During the first weeks after the federal courts centralized all Tylenol autism and ADHD lawsuits before Judge Cote, dozens of complaints were filed by families nationwide. Given the widespread use of Tylenol and acetaminophen during pregnancy, it is ultimately expected that tens of thousands of claims may be brought over the coming weeks and months.
Last month, Judge Cote appointed a group of Tylenol autism lawyers to serve in various leadership roles during the MDL proceedings, taking certain actions that benefit all plaintiffs pursuing a claim. However, each family will still maintain their own attorney to establish that their child's diagnosis of ADHD or autism was caused by Tylenol use during pregnancy.
Following coordinated discovery into issues that are common to all claims, it is expected that Judge Cote will establish a "bellwether" program in 2023, where a small group of representative claims will be prepared for early trials to help the parties gauge how juries may respond to certain evidence about the link between acetaminophen and autism, ADHD and other developmental delays. As part of those efforts, Judge Cote has already called for the parties to conduct a census of all claims being pursued by lawyers, to determine how many filed or pending lawsuits retailers face.
Following the coordinated discovery and any bellwether trials in the Tylenol MDL, if parties fail to negotiate ADHD and autism settlements for families, Judge Cote may then start remanding each individual claim back to the U.S. District Court where it was originally filed for a future trial date.
DOES YOUR FAMILY QUALIFY FOR A TYLENOL LAWSUIT?
Lawyers provide free consultations and claim evaluations for families of children diagnosed with ADHD or autism caused by Tylenol use during pregnancy. There are no fees or expenses unless a recovery or Tylenol autism settlement is obtained for your family.
CONTACT A LAWYER
lexa

March 10, 2023 at 9:46 pm

Being Excluded is not exceptable. We will challenge Any Court Procedures based on lack of Prior Knowledge of Drug Related Autism Diag. Our Son is 13. We had contacted Attorneys but we're Rejected. If need Be We Will Write the Courts and Contest . To include J&J Pharma etc. Mr. Herring Sons Father

Crystal

February 18, 2023 at 3:52 am

The correlation of prenatal use of acetaminophen & autism was determined using all data for the period of 1984-2005. My nonverbal, severely autistic child (with no foreseeable future) is part of that data, having been born in 2004. How is it that we're being turned away from representation due to her age?

Francis

January 4, 2023 at 12:50 am

My son has autism spectrum and diagnosed by doctors it's so hard to deal with this and no one warned us mother's about it till now and our baby's and children suffer from variety of symptoms
"*" indicates required fields