Tylenol Pregnancy Side Effects Linked to Problems for Children: Study
November 25, 2013
By: Irvin Jackson
New research suggests that side effects of Tylenol use by pregnant women may place their unborn child at risk of developmental problems.
In a study published in the October issue of the International Journal of Epidemiology, researchers from the University of Oslo in Norway looked at the long-term side effects of acetaminophen, the active ingredient in Tylenol, on children whose mothers took the drug during pregnancy. The researchers refer to acetaminophen in the study as paracetamol, another name for the popular and widely used painkiller.
The researchers looked at data on 48,631 children born between 1999 and 2008 to Norwegian mothers. They then looked at data on 2,919 same-sex sibling pairs and found that by age three, the children who were exposed to Tylenol or acetaminophen in the womb for more than 28 days had poorer gross motor development, communication, externalizing behavior, and internalizing behavior than children who were not exposed. The researchers found that even children whose mothers took the painkiller for less time during pregnancy showed poorer gross motor outcomes.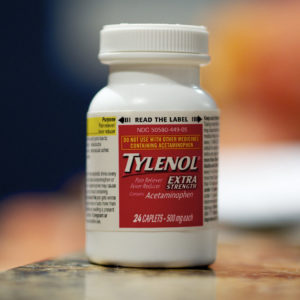 While previous studies have found no links between Tylenol and pregnancy risks, including premature birth, miscarriages and other more obvious negative outcomes, the researchers in this study concluded that children exposed to long-term use of acetaminophen before birth may face significant adverse developmental outcomes compared to their peers by the time they are three years old.
Tylenol Liver Risks
The findings come as Johnson & Johnson faces an increasing number of Tylenol lawsuits filed nationwide, which allege that the drug maker withheld information about the potential side effects associated with use of the popular pain medication, including the risk of liver failure or other liver injury.
Hundreds of complaints have been filed nationwide by individuals who claim that they suffered liver damage from Tylenol side effects, alleging that Johnson & Johnson has ignored information about the risk for decades and withheld information from consumers and the medical community while building an image of acetaminophen as a safe medication.
In 2011, the recommended daily dose for Tylenol was reduced from 4,000 mg per day to 3,000mg, due to the risk of liver damage. However, the drug maker has faced substantial criticism for selling Extra Strength Tylenol, which contains 500mg in each tablet and poses a serious risk of liver failure if consumers take more than two tablets every six hours.
Due to the widespread use of Tylenol and other similar cold products, federal health officials have been focusing in recent years on raising awareness about the risk of overdosing on acetaminophen, including the risk of taking multiple medications that contain the pain killer.
"*" indicates required fields