Tylenol Liver Failure Lawsuit Filed in Puerto Rico
October 31, 2011
By: Staff Writers
A Peurto Rican woman and her family have filed a product liability lawsuit against Johnson & Johnson, alleging that side effects of Extra Strength Tylenol caused her to suffer liver failure. 
The Tylenol lawsuit was filed earlier this month by Michelle Ann Gonzalez Soto, her husband Carlos Aguayo Porrata and other members of their family after Soto was left with permanent injuries and had to undergo a liver transplant from acetaminophen toxicity, the main ingredient in Tylenol.
According to allegations raised in the complaint, Soto took two tablets of Tylenol 500 Extra Strength before going to bed one night for a mild headache. She woke up during the night vomitting and took another two tablets in the morning because she was experiencing nausea and stomach discomfort.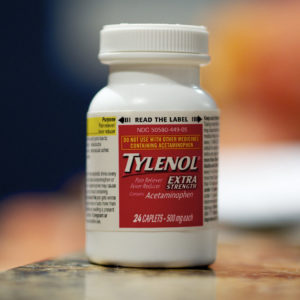 The nausea and stomach pain continued for the next several days, ultimately causing her to be seen in the emergency room where she was given two more Tylenol 500mg tablets.
About one week after her first use of the Extra Strength Tylenol, Soto returned back to the emergency room when her skin became pale and yellowish. She was diagnosed with acute liver failure and transferred to an intensive care unit (ICU), where her condition ultimately led to the need for a liver transplant to save her life.
Transplant surgeons reportedly found signs of acute acetaminophen toxicity in Soto's liver and attributed its failure to her use of Tylenol. Soto is recovering from the transplant, but will require medications for the rest of her life.
"The acetaminophen that caused the fulimant hepatic failure came from (Soto)'s ingestion of Extra Strength Tylenol since all other potential causes were excluded by the physicians," according to the complaint filed on October 4 in the U.S. District Court for the District of Puerto Rico.
According to allegations raised in the lawsuit, Johnson & Johnson knew that acetaminophen is an inherently dangerous product that can cause liver damage, yet they failed to provide adequate notice to consumers about the risks associated with Tylenol.
The family also alleges that drug makers were negligent in recommending and advertising produts like Extra Strength Tylenol, with acetaminophen 500 mg pills, inducing consumers to take up to 4,000 milligrams daily with only a general warning in very small print about the possible risk of liver damage from Tylenol.
According to the FDA, acetaminophen overdose has been the leading cause of liver failure in the United States, resulting in more than 50,000 emergency room visits, 25,000 hospitalizations and over 450 deaths annually. Due to the risk of liver problems from Tylenol overdose, an FDA advisory panel was convened in June 2009 to make recommendations about new warnings or other regulatory actions.
In July 2011, in an effort to reduce the risk of liver damage from a Tylenol overdose, Johnson & Johnson agreed to lower the maximum recommended daily dose from 4,000mg to 3,000mg. Stronger warnings about the potential risk of liver failure have also been added to all acetaminophen products over the past year, including clearer indications about what products contain acetaminophen as the active ingredient to avoid the risk of overdose.
Although acetaminohen was first introduced more than 50 years ago, a growing number of Tylenol liver damage lawsuits have been filed in state and federal courts throughout the United States in recent years, raising similar allegations that Johnson & Johnson failed to adequately warn about the known risk of liver failure with Tylenol.
Soto and her family accuse Johnson & Johnson of negligence and developing and selling a defective product, seeking financial compensation for pain and suffering, medical expenses, loss of income, loss of consortium and other damages totaling $31 million, plus an estimated $75,000 a year for her continued medical care.
"*" indicates required fields