Overdoses of Tylenol, Other Acetaminophen Drugs Are Leading Cause of Accidental Poisonings for Babies
January 27, 2016
By: Irvin Jackson
A new report highlights the potentially serious health risks with Tylenol, finding that the painkiller and other acetaminophen based drugs are responsible for more medication errors involving infants than any other drugs, and the side effects of acetaminophen drugs are among those that do the most harm. 
In a study published this month in the medical journal Pediatrics, researchers from Banner-University Medical Center in Arizona reviewed data on unintentional exposure calls involving infants under the age of 6 months, which were reported to poison control centers between 2004 and 2013.
The findings suggest that medication mistakes involving Tylenol or other acetaminophen products, such as cold medicines and other pain killers, were the most common cause of therapeutic errors for infants.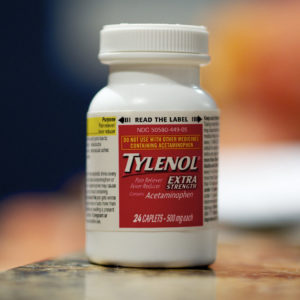 Out of 270,000 poison exposures involving infants during the ten year period, roughly a third involved medication errors, with acetaminophen the most common. According to the findings, there were 27,000 general and medication acetaminophen or Tylenol exposures reported.
Researchers also found that acetaminophen problems, along with exposures to amphetamines and cocaine, were the poisoning incidents that tended to cause the most harm to infants.
Acetaminophen is the most commonly used analgesic painkiller in the world, and is generally believed to be a safe medication. However, use of the medication does carry serious health risks, as there is a very narrow margin between recommended therapeutic doses and overdosing that may cause serious liver damage.
Researchers said that the prevalence of reports of medication errors among infants is likely because parents are told that Tylenol and acetaminophen products are safer for newborns than ibuprofen.
Tylenol and other acetaminophen products have been identified in recent years as a leading cause for liver injury in the United States, causing an estimated 50,000 emergency room visits each year, including 25,000 hospitalizations and over 450 deaths annually. In addition, use of the medication has been linked to a risk of dangerous skin reactions, like Stephens-Johnson Syndrome.
In recent years, efforts have been ramped up to bring the risk of acetaminophen overdoses to the public's attention and to reduce the amount of liver injury cases linked to the popular analgesic, which is also found in other pain killers and a number of cold medications.
In 2011, Johnson & Johnson lowered the maximum recommended dosage on Tylenol and other acetaminophen-based products from 4,000 mg per day to 3,000 mg per day. However, the drug maker now faces a number of Tylenol liver failure lawsuits, which involve allegations that important safety information from the public for decades.
"*" indicates required fields