Another Tylenol Recall Issued by Johnson & Johnson
November 29, 2010
By: Staff Writers
Mislabeling has led to a recall of 9 million bottles of liquid Tylenol cold products, which do not warn consumers they contain alcohol on the label.  This is the latest in a series of recalls by Johnson & Johnson in recent months.
On November 24, the FDA and McNeil Consumer Healthcare, a division of Johnson & Johnson, announced the recall of three Tylenol Cold Multi-Symptom liquid products due to labeling errors.
The drugs' flavoring agents contain alcohol, but it is not listed as an active ingredient on the front of the package, as required by FDA regulations. The Tylenol Cold Multi-Symptom Liquid recall is being undertaken at the retail and wholesale level, and consumers are not being asked to return the products.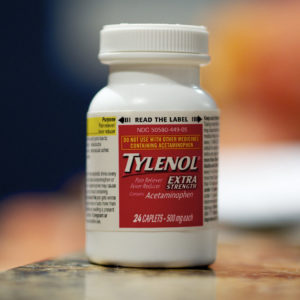 Learn More About
Side effects of Tylenol may cause autism and ADHD among children exposed during pregnancy. Find out if your family may be eligible for a Tylenol autism or ADHD settlement.
Learn More About this Lawsuit
This recall comes just days after Johnson & Johnson's beleaguered McNeil division also had to pull 4 million packages of children's Benadryl and 800,000 bottles of junior-strength Motrin because the products failed to meet manufacturing standards. That recall was also done at the wholesale and retail level. In both cases, the company alleges that there is no risk of harm to consumers.
The Tylenol recall affects Tylenol Cold Multi-Symptom Daytime 8 oz Citrus Burst Liquid, with an NDC Code of 50580-257-08' Tylenol Cold Multi-Symptom Severe 8 oz Cool Burst Liquid, with an NDC Code of 50580-351-08; and Tylenol Cold Multi-Symptom Nighttime 8 oz Cool Burst Liquid, with an NDC Code of 50580-269-08. All of the 9 million bottles affected were sold in the U.S. and are only being recalled from distributors and stores, not from consumers. 
McNeil and Johnson & Johnson have been under scrutiny since a massive recall on April 30, which affected 40 different liquid medication products, including Tylenol, Benadryl and Motrin. That recall affected 136 million bottles of children's medications, and resulted in the shutdown of the company's Ft. Washington, Pennsylvania, plant, and the suspension of the production of all of McNeil's children medications.
Following that recall, the FDA has received nearly 800 complaints of problems with Tylenol and the other recalled drugs, including at least seven reports of deaths associated with the medication. However, the FDA says its investigations so far have not directly linked any of the recalled products to any of the deaths.
"*" indicates required fields