Vermont Lawmakers Vote To Ban PFAS Chemicals in Consumer Products
May 06, 2021
By: Irvin Jackson
Lawmakers in Vermont have taken a crucial step to banning the use of toxic chemicals known as per- and polyfluoroalkyl substances (PFAS) in firefighting foam and consumer products in that state, in response to growing concerns about health risks and widespread water contamination.
On Tuesday, the Vermont state House of Representatives unanimously passed bill S.20, which would restrict the use of PFAS chemicals in consumer products and aqueous film-forming foam (AFFF). The vote followed weeks of testimony by experts who warned PFAS chemicals can cause cancer and other health problems and constitute a health risk to the public.
The same bill also includes restrictions on phthalates and bisphenol; both used in plastic products and both believed to be endocrine system disrupters.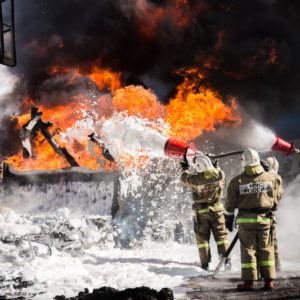 If passed into law, the legislation would restrict the use of PFAS in four categories, including fire extinguisher foam, food packaging, carpets and rugs, and ski wax.
PFAS were first introduced into the manufacturing industry in the 1940's, because of their ability to resist heat, grease, stains, and water. However, since then the chemicals have been linked to a myriad of adverse health effects including liver damage, thyroid disease, decreased fertility, high cholesterol, obesity, hormone suppression, and cancer.
The chemical substances are used to manufacture a number of products, including some food packaging materials, pizza boxes, popcorn bags, fabrics, nonstick cooking pans, and other products.  However, it is perhaps most known for its use in firefighting foams used by military and civilian firefighters.
In recent years, concerns have emerged about widespread water contamination from PFAS chemicals, particularly among communities near airports, military bases and other locations where firefighter training has been conducted that dumped the chemicals into the soil and groundwater.
Testimony from hearings on the Vermont legislation indicated at least 100 water sources in that state have been contaminated with PFAS.
It is projected to take thousands of years for PFAS chemicals to degrade, and past studies have shown their ability to enter and stay in the environment and human body through the air, dust, food, soil, and water. Previous U.S. Centers for Disease Control and Prevention studies have shown PFAS chemicals primarily settle into the blood, kidney and liver, and could likely be detected in the blood of 98% of the U.S. population.
Chemical manufacturers now face a growing number of firefighting foam lawsuits brought by nationwide, including individuals diagnosed with with cancer after exposure to the chemicals in their drinking water, as well as firefighters directly exposed during training and response exercises.
The Vermont bill needs to go through one final approval in the House before being sent to the governor to be signed. It has already been approved by the state senate.
"*" indicates required fields