Wal-Mart Enfamil Baby Formula Recall Issued After Infant Death
December 22, 2011
By: Staff Writers
Wal-Mart has issued a baby formula recall after a Missouri baby died due to a rare bacterial infection. 
One lot of Enfamil Newborn powder has been pulled from 3,000 store shelves nationwide after Avery Cornett died last week when he was only 10 days old. Tests indicated that the infant died of an infection by Cronobacter sakazakii, a rare bacterium typically linked to contaminated baby formula.
The family say they bought the Enfamil formula at a Wal-Mart in Lebanon, Missouri. The manufacturer, Mead Johnson Nutrition, says the batch fed to Avery had tested negative for bacterial contamination, but Wal-Mart officials said they pulled the product anyway out of an abundance of caution.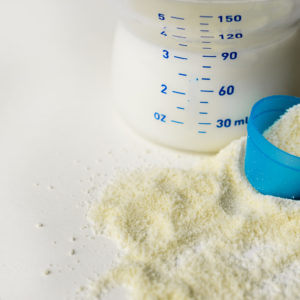 Learn More About
Premature infants fed Similac or Enfamil cow's milk formula faced increased risk of necrotizing enterocolitis (NEC) or wrongful death.
Learn More About this Lawsuit
Samples of the formula fed to Avery have been sent to the FDA and U.S. Centers for Disease Control and Prevention for testing.
The recall affects 12.5-ounce cans of Enfamil Newborn powder with lot number ZP1K7G sold at Wal-Mart stores nationwide. Mead Johnson officials say it is unclear what other store chains also received cans from that particular lot.
In addition to checking the formula, health officials say they will also check the water used to prepare it and anything else the baby may have eaten. Mead Johnson officials say they specifically test every lot for Cronobacter contamination to investigate the Enfamil problems.
This is the second major infant formula recall in two years. In 2010 Abbott Laboratories issued a Similac recall after some cans were found to be infested with beetles and their larvae. Children unwittingly fed the bugs by their parents and caretakers are believed to have suffered diarrhea and gastrointestinal distress, leading to a number of Similac lawsuits being pursued against the manufacturer.
Wal-Mart has not issued an official statement regarding the formula and has not told parents whether they can return cans already purchased for a refund.
Courtney

September 5, 2014 at 9:25 pm

Similac Advance never settled on my daughter's stomach. She would vomit after drinking it. It always caused problems, sometimes she would be constipated, and sometimes she would have diarrhea.

natalie

December 22, 2011 at 5:49 pm

this is truly frightening to think that i could be just feeding my son and not realize i am poisoning him. This should never happen. These days on a certain days a cantalope or spinach or edven the food we feed our animals isnt safe what a world.
"*" indicates required fields