Firefighter Foam Water Contamination Lawsuit Filed By Washington State Utility
July 27, 2020
By: Irvin Jackson
A local water district that supplies drinking water to large portions of Washington state indicates the Air Force and a number of chemical and safety equipment manufacturers contaminated the local drinking water supply due to the frequent use of firefighting foams during training exercises and in response to fuel-based fires.
Lakewood Water District filed a complaint (PDF) in the U.S. District Court for the Western District of Washington on July 16, pursuing damages from the United States government, the Department of the Air Force, the Department of the Army, the Department of Defense, 3M Company, Angus International Safety Group, Ltd., Buckeye Fire Equipment Company, Chemguard, Inc., The Chemours Company, Chubb Fire, Ltd., E.I. du Pont de Nemours & Co., Kidde PLC, Inc., Kidde-Fenwal, Inc., National Foam, Inc., Tyco Fire Products LP, Raytheon Technologies Corporation, and UTC Fire & Security Americas Corporation, Inc. .
The lawsuit indicates that use of aqueous film-forming foams (AFFF) used by firefighters at Joint Base Lewis-McChord Air Force Base (JBLM), near Tacoma, led to groundwater contamination which has adversely affected the local water district, which they say has been proven in a number of scientific studies.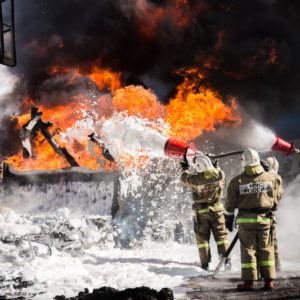 The lawsuit indicates AFFF foam is unreasonably dangerous for its intended use, since it contains Perfluorooctanoic Acid (PFOA) and Perfluorooctanesulfonic acid (PFOS), which are cancer-causing chemicals collectively known as per- and poly-fluoroalkyl substances (PFAS).
"Studies have connected the United States' use of Manufacturer Defendants' AFFF to PFAS groundwater contamination at and in the vicinity of JBLM," the lawsuit states. "The United States' failure to properly manage, capture, and contain AFFF used at JBLM has resulted in AFFF releases to the environment, including to soil and surface water and in the vicinity of JBLM and the District's property."
This resulted in the chemicals finding their way into the District's down-gradient wells, according to the complaint, which serve about 115,000 municipal water customers.
PFAS were first introduced into the manufacturing industry in the 1940's, because of their ability to resist heat, grease, stains, and water. However, since then the chemicals have been linked to a myriad of adverse health effects including liver damage, thyroid disease, decreased fertility, high cholesterol, obesity, hormone suppression, and cancer.
In addition to firefighting foams, PFASs are chemical substances used to manufacture a number of products, including food packaging materials, pizza boxes, popcorn bags, fabrics, nonstick cooking pans, and other products. The firefighting foam has been regularly used at military bases nationwide over the past decade during routine fire extinguishing exercises, and is increasingly used by civilian firefighters.
The chemicals are projected to take thousands of years to degrade, and past studies have shown their ability to enter and stay in the environment and human body through the air, dust, food, soil, and water. Previous U.S. Centers for Disease Control and Prevention (CDC) studies have shown PFAS chemicals primarily settle into the blood, kidney and liver, and could likely be detected in the blood of 98% of the U.S. population.
The Lakewood Water District lawsuit calls for injunctive relief, which includes a halt to the use and disposal of AFFF at the base; calls for defendants to install granulated activated carbon filtration systems on District property, to build new wells that draw water from deeper aquifers, and to supply the district's customers with alternative, uncontaminated water supplies.
"*" indicates required fields