Talcum Powder Lawsuit Over Ovarian Cancer Diagnosis Goes Before St. Louis Jury
February 03, 2016
By: Irvin Jackson
Trial began this week for a wrongful death lawsuit against Johnson & Johnson, which alleges that side effects of talcum powder applied for feminine hygiene purposes caused a woman to develop ovarian cancer, which has since taken her life. 
The case is one of several hundred Baby Powder lawsuits and Shower-to-Shower body powder lawsuits pending against Johnson & Johnson nationwide, which allege that the talcum-based powders increase the risk of ovarian cancer when applied to the female genitals, with evidence of talc found in many of the ovarian tumors.
A jury was seated this week in the Missouri Circuit Court in St. Louis, which will hear evidence in a lawsuit brought by the family of Jackie Fox, who died of ovarian cancer in 2015.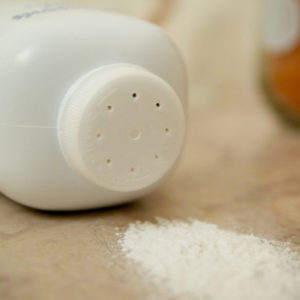 Fox was 62 years old when she died, and the family alleges that she Johnson & Johnson talcum powder products her whole life. The lawsuit indicates that she experienced substantial pain, and required numerous attempts at chemotherapy before her death.
While Johnson's Baby Powder and other talcum powder products are most commonly associated with use on infants to smooth skin and prevent diaper rash, it is also popular among adult women for general hygiene purposes. Given the popularity for use as a general body powder, Shower-to-Shower talcum powder was introduced specifically for this use.
In recent years, the manufacturer has faced a growing number of product liability lawsuits, alleging that insufficient warnings were provided about the risk that the talc may migrate through the vagina and into the fallopian tubes, uterus and ovaries, where women may face an increased risk of ovarian cancer from talcum powder.
According to a report by Bloomberg News, Johnson & Johnson attempt to have the Fox family's lawsuit dismissed before trial. However, the judge presiding over the case rejected that motion, finding that there is sufficient evidence for a jury to find that the manufacturer withheld information about the link between talc and ovarian cancer.
Among evidence that is likely to be produced at trial are internal company documents that suggest the manufacturer knew about talcum powder ovarian cancer studies. The family will argue that even after receiving such information, Johnson & Johnson aggressively marketed talcum powder products for use among women, focusing on African Americans and Hispanics.
While the outcome of the trial will not be binding on claims being pursued by other women, it will be closely watched by talcum powder lawyers involved in the litigation, as it may provide a gauge for how juries may respond to certain evidence and testimony that will be produced in an estimated 1,200 other claims filed on behalf of women diagnosed with ovarian cancer.
The trial is expected to last about two weeks. Valeant Pharmaceuticals, which now owns Shower to Shower, is not a defendant in the case.
Ken

February 5, 2016 at 10:25 pm

My late wife used this product by johnson & johnson her whole adult life, getting overain cancer and dying . A simple warning certainly would have saved her life as she was very healthy minded, and she was a most caring loving person. This company needs to face me and admit where they are wrong. And stop letting women die. I am a forgiving person but it is not for me but a higher power to judge.
"*" indicates required fields