XtendiMax Pesticide Approval Challenged in Appeal Petition
February 03, 2017
By: Irvin Jackson
A number of environmental and consumer protection groups have an appeal over the recent approval of a new Monsanto pesticide, which is designed to be used with "Roundup Ready" crops, but may pose serious health risks for consumers. 
The petition for review (PDF) was filed last month with the U.S. Court of Appeals for the Ninth Circuit, challenging the U.S. Environmental Protection Agency's (EPA) decision to grant conditional registration for XtendiMax, a dicamba-based pesticide introduced by Monsanto for use on genetically engineered cotton and soybean crops.
Plaintiffs include the National Family Farm Coalition, Pesticide Action Network, Center for Food Safety and the Center for Biological Diversity, all of whom argue that the approval was illegal and violated the agency's duties under the Federal Insecticide, Fungicide and Rodenticide Act (FIFRA), as well as the Endangered Species Act (ESA).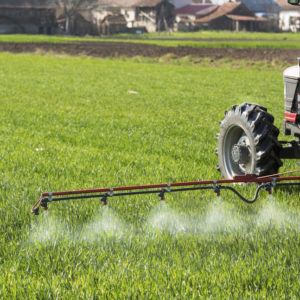 According to the petition, which is a type of lawsuit that seeks to overturn the EPA's decision, the approval of XtendiMax will lead to a tenfold increase in the use of dicamba, the active ingredient, which the groups say is toxic. In addition, the plaintiffs say that the crops XtendiMax is designed to be used on are genetically modified to be resistant to both dicamba and Roundup, a glyphosate-based pesticide, and will increase the use of both. The lawsuit says both pesticides are linked to increased rates of cancer.
"Monsanto's Roundup Ready crops created an environmental disaster by causing infestation of tens of millions of acres of farmland with herbicide-resistant weeds and spurring an enormous increase in pesticide use," Earthjustice attorney Paul Achitoff said in a press release issued by the Center for Biological Diversity. "Planting more GE crops and dousing them with more noxious chemicals is not the answer. The Environmental Protection Agency should be protecting health and the environment, not Monsanto's profits."
A number of studies have suggested that side effects of XtendiMax exposure may increase the risk of non-Hodgkin's lymphoma and birth defects. A study published in 2001 in Cancer Epidemiology, Biomarkers & Prevention warned that dicamba was linked to an 88% increased risk of non-Hodgkin's lymphoma. A 2008 study, published in Reproductive Toxicology, indicated that dicamba exposure more than doubled the risk of birth defects in male children.
Farmers have also spoken out against the approval, claiming that drift of dicamba into other crops has ruined thousands of acres of crops that were not designed to cope with the powerful pesticide.
In March 2015, the World Health Organization's International Agency for Research on Cancer (IARC) warned that Roundup and other glyphosate herbicides were potential human carcinogens, and specifically said that Roundup exposure was linked to an increased risk of non-Hodgkin's lymphoma as well.
The petition for review of the EPA approval comes as Monsanto also a growing number of Roundup cancer lawsuits filed on behalf of farmers, landscapers, agricultural workers and others regularly exposed to large amounts of the weedkiller, each involving allegations that plaintiffs were diagnosed with non-Hodgkin's lymphoma because the manufacturer failed to provide safety warnings.
A recent U.S. Geological Survey on glyphosate usage nationwide found that an estimated 2.6 billion pounds of the herbicide has been sprayed on America's agricultural land over the two decades since the mid-1990s, when Monsanto introduced "Roundup Ready" crops that are designed to survive being sprayed with glyphosate, killing the weeds but not the crops.
The lawsuits over Roundup allege that plaintiffs may have avoided a diagnosis of non-Hodgkin's lymphoma or other cancers if they had been warned about the Roundup risks for farmers, landscapers and others in the agricultural industry, as safety precautions could have been taken or other products could have been used to control the growth of weeds.
"*" indicates required fields