Zantac Cancer Lawsuit Filed By Group of Nine Former Users of the Recalled Heartburn Drug
November 01, 2019
By: Irvin Jackson
A group of nine people have joined in a product liability lawsuit filed against various past and present manufacturers of Zantac, a widely used heartburn drug that has recently been linked to an increased risk of cancer, after it was discovered that the active pharmaceutical ingredient may convert to a known human carcinogen.
The complaint (PDF) was filed in the U.S. District Court for the District of New Jersey on October 25, on behalf of eight individuals diagnosed with cancer from Zantac, including one plaintiff representing the estate of an individual who is now deceased. In addition, a ninth plaintiff joined the lawsuit, indicating that use of Zantac since about 1998 place him at an increased risk of developing cancer.
The plaintiffs are pursuing damages against Boehringer Ingelheim, Chattem, Inc., GlaxoSmithKline, Pfizer, Sanofi-Aventis and Sanofi US Services, alleging the side effects of Zantac resulted in the development of colorectal cancer, kidney cancer, stomach cancer, bladder cancer, esophogeal cancer and other injuries.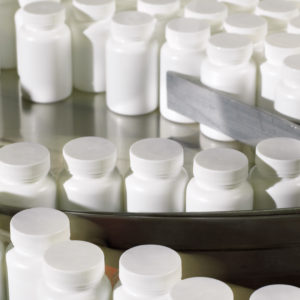 Over the past few weeks, a steady stream of Zantac recalls have been issued by various manufacturers of prescription, over-the-counter and generic versions of the medication, due to a risk that the drug may expose users to high levels of the chemical byproduct N-Nitrosodimethylamine (NDMA), which increases the risk of cancer among humans.
This latest case joins a growing number of Zantac lawsuits filed in the wake of the recalls, indicating that the entire country has been deceived about the safety of the heartburn drug for years.
"This case involves perhaps one of the most sinister and gravest public-health frauds in modern times," the lawsuit states. "Since its launch in 1983, every manufacturer of prescription and over-the-counter Zantac has aggressively pushed a poisonous pill into the stream of commerce, while knowing that, when ingested, every single tablet (or every single dose) of Zantac, produces levels of NDMA in amounts that exceed the U.S. Food and Drug Administration's permissible daily limits for the carcinogen by thousands of times."
The plaintiffs represent a variety of different situations and claims of injury and come from across the country.
George Cravens, of Oklahoma, was diagnosed with colorectal cancer in 2017 following years of Zantac use.
Kileen Gromelski, of Connecticut, was diagnosed with kidney cancer in 2012 after using Zantac since 1989.
Venus Sykes filed on behalf of herself and the estate of Chris Sikes, who died following a 2016 stomach cancer diagnosis and taking Zantac 150 three times a day since 1990.
Jarquisha Harris, of Wisconsin, took Zantac twice a day on average since 2004 before her stomach cancer diagnosis in 2018.
Maryland resident Ronald Maranto was diagnosed with bladder cancer in 2013 after taking Zantac since 2008.
Scott Moser, of Texas, was diagnosed with colorectal cancer in 2006 after being a regular Zantac user since 1998.
Donald Boland, of Florida, took Zantac three times per day since 2002 and was diagnosed with esophageal cancer.
Michael DeLuccia, of New Jersey, began using Zantac in 2001, and was diagnosed with esophageal cancer in 2017.
Paul Burpulis, also of New Jersey, took Zantac 150 twice a day on average since 1998, and now is at an increased risk of developing cancer.
The plaintiffs present claims of design defect, failure to warn, negligence, gross negligence, battery, fraud by omission, breach of implied warranty of merchantability and seek for the manufacturers to pay for medical monitoring against future cases of cancer.
Zantac (ranitidine) has been widely used by millions of Americans for treatment of heart burn and acid reflux. However, in recent weeks, multiple manufacturers have issued Zantac recalls after testing confirmed the active ingredient may convert to NDMA when exposed to high temperatures, such as in a car or inside the human stomach.
NDMA is a chemical byproduct, which has been linked to reports of kidney cancer, stomach cancer, bladder cancer, small intestine cancer, liver cancer and other digestive tract cancers.
While the FDA's permissible daily intake limit for NDMA is 96 ng, an online pharmacy, Valisure, recently determined that some Zantac tablets contain up to 3,000,000 ng of NDMA; 29,000 times the daily limit. Following the findings, a Citizens Petition was filed that calls for the drug to be recalled from the market, and the FDA has issued warnings about the potential risk of Zantac NDMA contamination, indicating that the agency is continuing to investigate the issue.
The FDA first warned about the Zantac problems on September 13, indicating several different versions of the heartburn drug have been found to contain the impurity, which could cause cancer. As a result, major retailers have removed Zantac from store shelves, and nearly every version of the medication has now been recalled.
Nou

December 23, 2019 at 8:44 pm

My mother has been taking zantac for over 10yrs and last Christmas we spent it with her at Saint Claire's Hospital becuz my mother had (rectom) cancer the size of a soft ball and had to get surgery rite away becuz it was ready to erupt. Doctor said it's not over becuz it has spread all over her body and she will have to get surgery done again.
"*" indicates required fields