Effectiveness of Sunscreen With Zinc Oxide Diminishes After Two Hours
October 21, 2021
By: Russell Maas
New research indicates that sunscreen products containing zinc oxide lose their effectiveness after two hours in sunlight, and may leave consumers susceptible to higher levels of ultraviolet (UV) radiation exposure.
In a study published last week in the medical journal Photochemical & Photobiological Sciences, researchers from Oregon State University analyzed the effectiveness of sunscreen components, finding many popular brands that contain zinc oxide may become toxic to the environment and lose 80% of their ability to protect against UV rays after just two hours.
The team of researchers sought to identify how stable, safe, and effective sunscreen ingredients are when combined in a finished product, rather than as individual components, and whether products cause any unintended consequences as the compounds breakdown once exposed to ultraviolet radiation.
Researchers tested several sunscreen mixtures, some of which contained zinc oxide ingredients. The mixtures were then exposed to ultraviolet radiation for two hours to evaluate photostability and levels of toxicity in zebrafish, a widely used model organism that goes from egg to swimming in five days.
Sunscreen mixtures without zinc oxide were found to have minimal UV absorbance and did not pose any level of toxicity to zebrafish. However, sunscreen products containing zinc oxide were found to quickly degrade the mixtures within two hours, causing an 80% loss in organic filter protection against ultraviolet-A rays which make up 95% of the UV radiation that reaches the Earth, according to the study. Additionally, researchers found zinc oxide containing mixtures caused significant small-molecule photodegradation, causing higher levels of toxicity in zebrafish.
Authors of the study stated the unintended consequences of zinc oxide ingredients on humans and the ecosystem should be considered by manufacturers when designing sunscreen mixtures.
Sunscreen Spray Benzene Concerns
The study was released amid growing concerns about the safety of several popular sunscreen products and FDA investigations into dangerous levels of benzene found in certain aerosol spray sunscreen, which may increase the risk of serious and potentially life-threatening injuries after it is applied to the skin.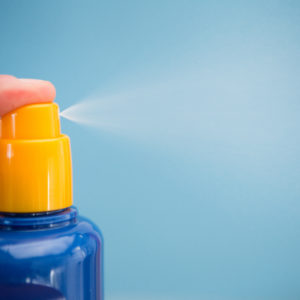 Benzene is an industrial chemical that has been associated with the development of several fatal forms of cancer, leukemia and other conditions, such as AML, Chronic Myelogenous Leukemia (CML), Acute Lymphocytic Leukemia (ALL), Chronic Lymphocytic Leukemia (CLL), Hairy Cell Leukemia (HCL), Non-Hodgkin's Lymphoma, Multiple Myeloma, Myelodysplastic Syndrome (MDL), Myelofibrosis and Myeloid Metaplasia, Aplastic Anemia and Thrombocytopenic Purpura.
Concerns over the presence of benzene in sunscreen products emerged earlier this year, after an independent analysis by the pharmacy Valisure identified benzene in sunscreen sold by several different companies, including Neutrogena, Aveeno, Coppertone, Banana Boat and others.
In July, Johnson & Johnson issued a massive Neutrogena and Aveeno sunscreen recall after sampling confirmed that certain aerosol spray products were contaminated with benzene. Just three months later, a Coppertone sunscreen recall was announced due to similar problems with some of its aerosol suncreen products as well.
While benzene is not an intended ingredient for any of the spray sunscreen products, a number of sunscreen lawsuits have been filed throughout the federal court system, each raising similar allegations that manufacturers endangered consumers' health by not warning them of the presence of the chemical.
"*" indicates required fields