Spread of Firefighting Foam Chemicals Can Be Blocked By Soil And Water Table Conditions: Study
December 15, 2020
By: Irvin Jackson
The findings of a new study may provide guidance on ways of preventing toxic chemicals from firefighting foams from leaching into the soil and water supply.
Researchers from GSI Environmental Inc. and the Colorado School of Mines published findings this week in the journal Environmental Science & Technology, indicating some types of soil, which have low permeability, could prevent poly- and perfluoroalkyl substances (PFAS) from spreading from contaminated sites, such as military bases, where aqueous film-forming foam (AFFFs) was heavily used.
The film-forming foams were widely used for decades at military bases and by various firefighting organizations, during training exercises and in response to certain fuel-based fires. It has now been discovered that the fire foam chemicals have caused widespread water contamination throughout the U.S, particularly around military bases, airports and other training locations.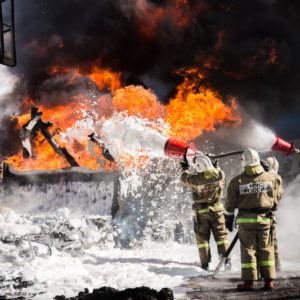 In this latest study, researchers indicate they used concentration data from high-resolution sampling and analytical protocols to estimate the distribution of PFAS and how and whether it spread off of one particular site.
The findings suggest that a number of factors, such as hydrophobic partitioning, electrostatic interactions and diffusion into lower-permeability soils, or soils which substances had difficulty passing through, largely prevented PFAS from leaving the contamination site.
"Based on the release history and the high percentage of total PFAS mass represented by precursors, the estimated conversion rate of precursors to (PFAS) was less than 2% annually," the researchers concluded. "Eighty-two percent of the total PFAS mass was encountered in lower-permeability soils, which limited the potential for advection and transformation. This contributed to a 99% decrease in the mass discharge rate at the far-downgradient plume compared to the near-source area."
The study indicates PFAS can be contained with technology often used on other toxic waste sites, which use dense clays and liners to prevent contaminated liquids, known as leachates, from contaminating nearby soil and water supplies.
"The results provide field-scale evidence of the importance of these PFAS retention processes at sites where AFFF has been released," they concluded.
Experts have warned PFAS chemicals contained in firefighting foam may take thousands of years to degrade, and past studies have shown their ability to enter and stay in the environment and human body through the air, dust, food, soil, and water.
The toxic chemicals were first introduced into the manufacturing industry in the 1940's, because of their ability to resist heat, grease, stains, and water. However, since then the chemicals have been linked to a myriad of adverse health effects including liver damage, thyroid disease, decreased fertility, high cholesterol, obesity, hormone suppression, and cancer.
PFAS manufacturers now face a number of firefighting foam lawsuits filed across the nation, all raising similar allegations of the manufacturers failing to warn of the dangerous PFAS, which have resulted in those exposed to develop testicular cancer, kidney cancer, pancreatic cancer and other injuries.
Due to the growing number of lawsuits over firefighting foam injuries brought throughout the federal court system, centralized pretrial proceedings have been established in the U.S. District Court for the District of South Carolina, where the parties are engaging in coordinated discovery and preparing for a series of early "bellwether" trials designed to gauge how juries are likely to respond to certain evidence and testimony that will be repeated in claims brought by firefighters nationwide.
"*" indicates required fields