Similac Alimentum Lawsuit Alleges Abbott Knew About Baby Formula Contamination, Infant Illnesses Months Before Recall
February 23, 2022
By: Russell Maas
According to allegations raised in a lawsuit brought by the parents of an infant hospitalized after being fed Similac Alimentum, Abbott Laboratories knew or should have known that it's baby formula was contaminated and causing serious illnesses long before a recall was announced last week.
Abbott announced the baby formula recall on February 17, indicating that Similac, Alimentum and EleCare manufactured at a Michigan facility may be contaminated with Cronobacter sakazakii, Salmonella and other pathogens, which can cause infants to experience severe gastrointestinal problems, infections and other life-threatening injuries.
In a complaint (PDF) filed this week in the U.S. District Court for the Southern District of Florida, Israel Ephraim and Zelda Berger indicate Abbott was aware of the problems at their plant, yet concealed information and failed to take immediate actions to protect infants being fed their products.
Shortly after the recall was announced by Abbott, the U.S. Food and Drug Administration (FDA) issued a warning about the baby formula contamination, instructing parents and caregivers to stop using the recalled Similac, Alimentum and EleCare powdered products, while the agency launches an investigation into at least three confirmed injuries and one death that may be linked to problems.
Baby Formula Contamination Lawsuits
Did you baby get sick after being fed contaminated Alimentum, EleCare or Similac?
CONTACT A LAWYER
Ephraim and Berger indicate that they purchased Alimentum formula in October 2021, and fed it to their infant daughter, identified only with the initials T.B. in the complaint. After being fed the contaminated baby formula, the parents indicate T.B. was diagnosed with Salmonella and severe gastrointestinal distress on November 3, experiencing overwhelming diarrhea, abdominal pain, constant temperature changes, severe diaper rash, bloody stool and sleeplessness.
As a result of the salmonella poisoning caused by Alimentum, T.B. became anemic, iron deficient and had to be treated with antibiotics while undergoing painful injections, his parents state. The lawsuit claims the child still suffers ongoing gastrointestinal and bowel problems as well as other pain and injuries.
According to the complaint, Abbott received reports of illnesses linked to Alimentum and other baby formula manufactured at the Michigan facility in September, months before the recall was issued. In addition, the lawsuit notes that early FDA and CDC findings suggest that Abbott was aware that several environmental samples taken at the plant yielded positive results for Cronobacter sakazakii.
Ephraim and Berger point to a report published by Politico last week, which noted that regulatory investigators found records that suggest Abbott found bacteria in the plant, and destroyed the contaminated baby formula because of the issue.
The Alimentum lawsuit seeks class action status to pursue damages for their child, as well as other families who have experienced similar problems as a result of the baby formula contamination, alleging that Abbott Laboratories failed to put adequate quality control measures in place to make sure the products are safe and free of salmonella and cronobacter bacteria, which could cause gastrointestinal problems and difficulty feeding.
Abbott Lawsuits Over Problems from Baby Formula
The growing legal liability for selling contaminated Alimentum, EleCare and Similac comes as Abbott Laboratories already faces a mounting number of NEC formula lawsuits brought by families of premature infants who developed a severe and often fatal gastrointestinal disease after they were fed cow's milk products while still in the NICU.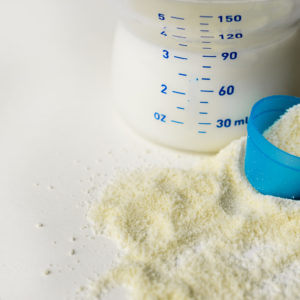 Although Abbott has marketed versions of Similac specifically for premature babies in recent years, lawsuits indicate that studies have established that the baby formula may cause necrotizing enterocolitis (NEC) among preemies, resulting in gastrointestinal perforations that allow bacteria to leak through and kill intestinal tissue.
According to allegations raised in the Similac NEC lawsuits, Abbott Laboratories withheld warnings and information from parents and medical providers about this risk for decades, indicating that the company placed its desire for profit before consumer safety. Similar claims are also being pursued against Mead Johnson in Enfamil NEC lawsuits brought by families of babies who received this competing cow's milk formula instead of breast milk.
Given common questions of fact and law raised in complaints filed in recent weeks throughout the federal court system, Abbott Laboratories filed a motion to create a Similac MDL last month, which would centralize the litigation before one judge for coordinated discovery and pretrial proceedings.
The U.S. Judicial Panel on Multidistrict Litigation (JPML) is expected to schedule oral arguments on motion during an upcoming hearing session next month. However, there are no indications that the panel will include any of the more recent lawsuits over Similac, EleCare and Alimentum formula contamination in this MDL, if it is created.
Image Credit: Jonathan Weiss / Shutterstock.com
"*" indicates required fields