Breast Implant Cancer Lawsuit Filed Against Allergan
September 27, 2018
By: Irvin Jackson
According to allegations raised in a product liability lawsuit filed earlier this month against Allergan Inc., side effects of the company's breast implants caused a rare type of cancer to develop in the surrounding tissue, known as breast implant-associated anaplastic large cell lymphoma (BIA-ALCL). 
The complaint (PDF) was filed by Sharon Rovira and her husband, James Fussell, in the Superior Court of New Jersey for Middlesex County on September 7, indicating that Alergan failed to warn women and the medical community about the breast implant cancer risk linked to certain silicone-filled implants.
Rovira indicates that an Inamed Style 110 textured surface breast implant was placed in her body during bilateral breast augmentation surgery in January 2017. The breast implants are also known as Biocell Textured shell surface implants, and were manufactured by Allergan through a subsidiary previously known as Inamed Corporation.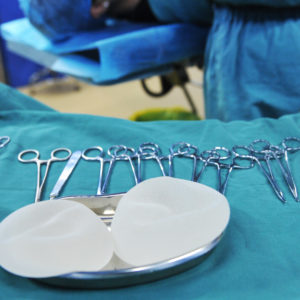 "At the time the implants were placed into Ms. Rovira's body, she was not advised, nor did she have any independent knowledge, that the breast implants were anything other than safe, life-long products," the lawsuit states. "Nor was she advised that the product was associated and/or known to cause BIA-ALCL."
ALCL is a rare form of non-Hodgkins lymphoma that has been reported among many women who received breast implants. Commonly referred to as breast implant-associated ALCL, or BIA-ALCL, the cancer develops in the breast tissue surrounding the implant, and a growing body of research suggests that certain large surface area, textured implants may increase the risk.
Rovira underwent a mammogram in April 2015, at which time the results were deemed abnormal, with fluid collection around the right implant. The right breast increased to about twice the size of the left breast and she underwent several needle aspirations for fluid around the implant.
She was diagnosed with ALCL in September 2017, and the implants were removed in October 2017. In addition, Rovira had to undergo eight rounds of chemotherapy.
Breast Implant Cancer Warnings
On January 26, 2011 the FDA first released a report about case studies and epidemiological research that suggested there was a link between breast implants and ALCL.
The agency then issued a statement about emerging information on the breast implant lymphoma problems last year, and a number of subsequent studies have confirmed that the breast implant ALCL cancer risk is real.
In June 2017, a study published in the medical journal Plastic and Reconstructive Surgery suggested that certain textured breast implants may increase the risk of anaplastic large cell lymphoma anywhere from 10 to 14 times, when compared to smooth breast implants.
In October 2017, a study published in the medical journal JAMA Surgery warned that many breast implant cancer cases worldwide have likely not been reported, and noted that doctors and patients may not be aware of BIA-ALCL.
In March 2018, the FDA indicated that it was aware of more than 400 cases of breast implant-related cancer. As more information becomes public about the breast implant cancer cases, experts have warned that the number of cases reported will likely increase significantly.
As regulators and researchers worldwide continue to evaluate the specific cause of the breast implant lymphoma problems, other women are also raising serious questions about why certain products appear to be more likely to be associated with the development of cancer, and how manufacturers failed to address potential design defects earlier.
Product liability lawyers in the U.S. are now reviewing other potential breast implant cancer lawsuits against Allergan and other manufacturers, for women diagnosed with anaplastic large cell lymphoma (ALCL) in recent years.
"*" indicates required fields