Allergan Breast Implant Class Action Lawsuit Over Cancer Risks Filed By Investors
January 10, 2019
By: Irvin Jackson
According to allegations raised in a recent investor class action lawsuit, Allergan falsely inflated the company's value by failing to disclose that certain types of breast implants may increase the risk of a form of cancer, which is now commonly referred to as breast implant-associated anaplastic large cell lymphoma (BIA-ALCL). 
The complaint (PDF) was filed late last month in the U.S. District of the Southern District of New York by Steve Klein, seeking class action status on behalf of investors, alleging Allergan knowingly avoided telling the public about the link between breast implants and lymphoma which has developed in a growing number of women.
Allergan PLC, the company's president and chief executive office, Brenton L. Saunders, and the company's chief financial officer, Maria Teresa Hilado, are all named as defendants in the breast implant class action lawsuit.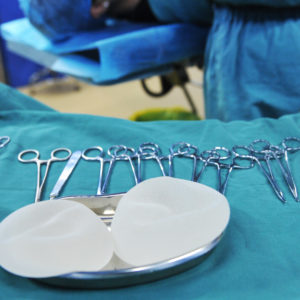 "Throughout the Class Period, Defendants made materially false and misleading statements regarding the Company's business, operational and compliance policies," Klein's lawsuit states. "Specifically, Defendants made false and/or misleading statements and/or failed to disclose that: (i) textured breast implants manufactured by Allergan were linked to ALCL; (ii) the foregoing link to cancer, when revealed, would foreseeably force Allergan to recall those textured breast implants from the market; and (iii) as a result, the Company's public statements were materially false and misleading at all relevant times."
The lawsuit notes that on December 18, France's National Agency for the Safety of Medicines and Health Products (L'ANSM) announced an Allergan textured breast implant recall after a deadline passed for the manufacturer to renew its license to sell the devices in the European Union. However, French regulators noted that the breast implants were linked to a risk of BIA-ALCL.
Following the announcement, Allergan announced it was removing its textured breast implants from the European market. The company's stock price fell nearly seven percent, about $10.20.
Breast Implant Cancer Concerns In the U.S.
On January 26, 2011, in the U.S.  the FDA first released a report about case studies and epidemiological research that suggested there was a link between breast implants and ALCL.
The agency then issued a statement about emerging information on the breast implant lymphoma problems last year, and a number of subsequent studies have confirmed that the breast implant ALCL cancer risk is real.
In June 2017, a study published in the medical journal Plastic and Reconstructive Surgery suggested that certain textured breast implants may increase the risk of anaplastic large cell lymphoma anywhere from 10 to 14 times, when compared to smooth breast implants.
In October 2017, a study published in the medical journal JAMA Surgery warned that many breast implant cancer cases worldwide have likely not been reported, and noted that doctors and patients may not be aware of BIA-ALCL.
In March 2018, the FDA indicated that it was aware of more than 400 cases of breast implant-related cancer. As more information becomes public about the breast implant cancer cases, experts have warned that the number of cases reported will likely increase significantly.
As regulators and researchers worldwide continue to evaluate the specific cause of the breast implant lymphoma problems, other women are also raising serious questions about why certain products appear to be more likely to be associated with the development of cancer, and how manufacturers failed to address potential design defects earlier.
Product liability lawyers in the U.S. are now reviewing other potential breast implant cancer lawsuits for women diagnosed with anaplastic large cell lymphoma in recent years, alleging that manufacturers knew or should have known about the risk, yet withheld warnings from consumers and the medical community.
MICHELLE

November 10, 2020 at 4:53 am

One of mine was busted and had them removed. And how I have lupus. and they never replied them.

Shannon

June 8, 2020 at 12:46 pm

I have yet to have my Natarelle implants removed. Do to the fear of contracting BCL- Lymphoma, I have mental and emotional stress that comes out in weird waves. I live in fear of the implants becoming toxic and my situation needs to rectified in a similar manner as when a car part has been recalled. THE FDA HAS RECALLED A PRODUCT MADE BY ALLERGAN and because of their faulty product I NEED THE IMPL[Show More]I have yet to have my Natarelle implants removed. Do to the fear of contracting BCL- Lymphoma, I have mental and emotional stress that comes out in weird waves. I live in fear of the implants becoming toxic and my situation needs to rectified in a similar manner as when a car part has been recalled. THE FDA HAS RECALLED A PRODUCT MADE BY ALLERGAN and because of their faulty product I NEED THE IMPLANTS REMOVED AND POCKETS /SCAR TISSUE SURROUNDING IMPLANT ( a second surgery). I don't want any replacement from this company. I will forever boycott it and it's partners. Allergan will end up paying more now. The law clearly states it is to make one WHOLE.I'm going to be out a surgery, faulty implants, time off for the healing off and pain and suffering ,worrying myself sick.I WANT MEDICAL MONITORING....for as many years as I had implants. Ever the optimist, I have hopes that all who are suffering receive proper care and have a positive outcome.

Beeee

December 13, 2019 at 3:39 pm

My wife is now facing the same situation, but this affects our whole family. No notification from the surgeon or Allergan until AFTER we inquired with the surgeon's office!!! How long has this been going on, and not a single word from either Allergan or the surgeon!?!? I have a hard time believing they couldn't be proactive, either the company or surgeon's office in alerting their patients. Then[Show More]My wife is now facing the same situation, but this affects our whole family. No notification from the surgeon or Allergan until AFTER we inquired with the surgeon's office!!! How long has this been going on, and not a single word from either Allergan or the surgeon!?!? I have a hard time believing they couldn't be proactive, either the company or surgeon's office in alerting their patients. Then to be treated at their office like we were crazy and blowing things out of proportion. Pathetic! Like I told the surgeon, would you put these in your wife? Then, as a slap in the face, we are told the company will only replace the implants, everything else is on the shoulders of the patient to pay for (surgery, insurance, time off to fix their caustic product and then pray there is no residual cancer or complications), but most importantly the health and psychological issues for the patient. My wife has complained since day one, and it's now 8 to 9 years since her surgeries. How these decision-makers at Allergan/surgeon's offices sleep at night is beyond me. News sources say the company is being bought out and the CEO stepping down with a very nice package (golden parachute), yet the company will only replace the implant(s)!? As usual, it's all about the stockholders....nevermind the patients!

tina

November 4, 2019 at 5:55 pm

I have had my implants in almost 10 years. The last year and half the pain has been insane and getting worse. My implants are on the recall letter as well. I have gone for so many different test, it crazy. I still can not get answers. I have been told I have masses, lumps and cyst. but they look benign at this point. But need to re-test in another 3 months. I have swelling in the left breast an[Show More]I have had my implants in almost 10 years. The last year and half the pain has been insane and getting worse. My implants are on the recall letter as well. I have gone for so many different test, it crazy. I still can not get answers. I have been told I have masses, lumps and cyst. but they look benign at this point. But need to re-test in another 3 months. I have swelling in the left breast and under the arm. Night sweets, and so much pain I can not really function. The plastic surgeon suggest removal of the implants, but I have to pay out of pocket for it as Allergan will only pay the replacement proration. Meaning here are new implants, the rest of the bill is on you. Nothing to the doctors and that's the part that is crazy expensive. Its not like I can do the surgery myself. I do have a case number with them. But cant get any where with them. It seems to be I need to have cancer to get any help. So what do I do just wait to the lumps and masses turn into cancer and live in pain till then???

carolyn

August 16, 2019 at 10:35 am

I have the implants and was recently diagnosed with cancer in lymph nodes under both arms. The implants are painful. I also have suffered with intense night sweats, which was the basis upon which my pcp order a CT scan, which discovered the cancer. I received no notification from the hospital or plastic surgeon about the risk or what they had begun to see as a result of these implants. On 8/15/19,[Show More]I have the implants and was recently diagnosed with cancer in lymph nodes under both arms. The implants are painful. I also have suffered with intense night sweats, which was the basis upon which my pcp order a CT scan, which discovered the cancer. I received no notification from the hospital or plastic surgeon about the risk or what they had begun to see as a result of these implants. On 8/15/19, I received a warning letter from Allergan. I've had the emplaned for 5 years and had hoped to celebrate my 5th year of being cancer free instead I'm looking at more surgery and chemotherapy! We who carry this flawed products in our bodies are the duped!!!

Chloe

July 26, 2019 at 9:45 pm

It is amazing to me that this article is about the company being deceptive to the investors & the investors losing money..., what about the women who have these implants in their bodies? They could lose their lives, they at minimum are sitting up every night wondering if or when they could get cancer, Or they are going through a surgery trying to make it right and removing the implants that this [Show More]It is amazing to me that this article is about the company being deceptive to the investors & the investors losing money..., what about the women who have these implants in their bodies? They could lose their lives, they at minimum are sitting up every night wondering if or when they could get cancer, Or they are going through a surgery trying to make it right and removing the implants that this company proceeded to peddle to cancer hospitals. I am disgusted because I am one of these women. Sorry that investors are losing their money or they were duped.... they were not the only ones duped here..., shame on you Allergan!

PJ

July 25, 2019 at 3:46 am

I had them removed after years. I am still sick. with swollen lymph nodes and lumps in my breast. fatigue pain and night sweats.

Claire

July 23, 2019 at 8:30 pm

I had Naterelle breast implants 14/10/12 replaceing both ruptured PIP implants. I have had nothing but pain and Lumps in my breasts, trouble breathing and have pain between my shoulders. I have been to the doctors several times over this and get referred to the hospital, when all they want to do for me is an ultra sound. They say the lumps are from the ruptured PIP implants leaking into my lymph n[Show More]I had Naterelle breast implants 14/10/12 replaceing both ruptured PIP implants. I have had nothing but pain and Lumps in my breasts, trouble breathing and have pain between my shoulders. I have been to the doctors several times over this and get referred to the hospital, when all they want to do for me is an ultra sound. They say the lumps are from the ruptured PIP implants leaking into my lymph nodes and avoid an MRI scan because of the cost. I dont know which way to turn :( i am in costant pain and my health has rapidly declined in the last 2 years.

Faye

March 28, 2019 at 8:16 pm

I have Allergan breast implants for over 9 years and have had extreme scarring , pain and swelling constantly. I had steroidal injections for the scarring; very painful procedures, but did not help. Also, have been diagnosed with lupus. I regret ever getting the breast implants. I wish I had known the risks and side effects. Even if I have them removed, I will still have the scarring and effec[Show More]I have Allergan breast implants for over 9 years and have had extreme scarring , pain and swelling constantly. I had steroidal injections for the scarring; very painful procedures, but did not help. Also, have been diagnosed with lupus. I regret ever getting the breast implants. I wish I had known the risks and side effects. Even if I have them removed, I will still have the scarring and effects of having them in my body for 9 years. The public should be warned of the extreme side effects of breast implants and how risky having them.

Scarlett

March 26, 2019 at 12:05 pm

My Allergan implants are causing me a lot of pain and swelling, the plastic surgeon would not even prescribe me pain medicine. he tells me to go to my primary care doctor which is an insult when he is the one who put in them and causing me all this pain, my surgery date was cancelled because of a patient that has Cancer with hers, my implants where put in last year, it has not been a year that th[Show More]My Allergan implants are causing me a lot of pain and swelling, the plastic surgeon would not even prescribe me pain medicine. he tells me to go to my primary care doctor which is an insult when he is the one who put in them and causing me all this pain, my surgery date was cancelled because of a patient that has Cancer with hers, my implants where put in last year, it has not been a year that these implants are in, I have extreme swelling in my left Brest And I have no feeling in my areola, The pain is sometimes unbearable, and sharp,
"*" indicates required fields