Eyedrops Containing Amniotic Fluid May Cause Unknown Side Effects, FDA Warns
May 03, 2023
By: Katherine McDaniel
Federal regulators are warning about a potential for health risks from eye drops containing amniotic fluid, which have not been approved for use in the U.S., and may carry unknown side effects for consumers consumers.
The U.S. Foods and Drug Administration (FDA) issued a public safety notification last month, after finding several brands of eye drops containing amniotic biomaterials that are being marketed without the necessary approval and regulation requirements.
Officials sent written correspondence to the manufacturers in late 2022, indicating that they are marketing eye drop products containing human cells and tissue derived from the amniotic sac, umbilical cord, or cord blood, which did not go through the premarket review and approval process required by the FDA for products marketed to treat human conditions and diseases to ensure compliance.
Medical products that use human cells for treatment of human illnesses are required by law to complete an investigational new drug application (IND) for the federal safety agency to review and approve prior to distribution to consumers.
The products are marketed online by several manufacturers, including Regener-Eyes and M2 Biologics, to treat certain eye conditions using regenerative stem cell therapy with biological products derived from human stem cells. They are advertised to reduce inflammation, chronic dry eye and dry eye disease but have not undergone FDA review and approval to prove their safety and effectiveness, the warning indicates.
Consumers are urged to ask and confirm with their doctor if an IND is in effect before using a potentially unsafe eye drop product containing amniotic fluid.
The FDA also encouraged consumers and health care professionals to report any adverse effects or experienced after using any of the products to the FDA MedWatch Adverse Event Reporting program.
Contaminated Eye Drops Recall
The warning comes amid increased scrutiny of eye care products, following reports of severe infections from eye drops sold by EzriCare and Delsam Pharma, which contained Pseudomonos aeruginos bacteria. The problems were only discovered after consumers nationwide began to experience serious and life-threatening infections, which could result in blindness, bloodstream infections and other side effects.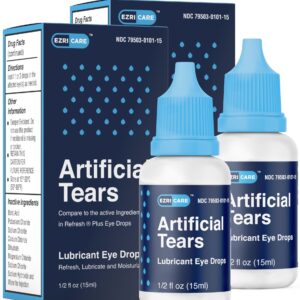 A recall was issued earlier this year, and a number of Artificial Tears eye drops lawsuits have already been filed by individuals nationwide who were injured after using the products.
The strain of Pseudomonas aeruginosa linked to the Artificial Tears recall poses a major health risk due to its antibiotic resistance and capability of mutating quickly. In severe cases, Pseudomonas aeruginosa may cause endophthalmitis, which is a rare but serious infection of the eyeball that can cause inflammation and destruction of the tissue throughout the eye, resulting in irreversible blindness.
According to a March 2023 update by the U.S. Centers for Disease Control and Prevention (CDC), the agency is aware of at least 68 cases of recalled Artificial Tears eye infections in 16 states, including three deaths, eight reports of vision loss and four reports of infections which resulted in eye removal surgery.
"*" indicates required fields