Artificial Tears Eye Drops Lawsuit
February 2023 eye drop recall impacts Delsam Pharma and EzriCare Artificial Tears sold nationwide
Reports involving severe infections from the eye drops have resulted in permanent vision loss, hospitalization and death
Laboratory testing by the CDC has confirmed the presence of an antibiotic resistant strain of Pseudomonas aeruginosa in opened bottles of eye drops.
Lawyers provide free claim evaluations to help determine if Artificial Tears eye drops settlement benefits may be available
EzriCare Eye Drops Lawsuit Overview
In early 2023, health officials began investigating a nationwide outbreak of EzriCare Artificial Tears eye infections. Dozens of users in multiple states were hospitalized with infection linked to carbapenem-resistant Pseudomonas aeruginosa (CRPA) exposure, some of which resulted in permanent vision loss or fatal blood stream infections.
After testing confirmed the presence of Pseudomonas aeruginosa bacteria, an Artificial Tears recall was announced on February 2, 2023, impacting certain eye drop bottles sold under the EzriCare and Delsam Pharma brands. On February 24, a Delsam Pharma Artificial Eye Ointment recall was issued over similar Pseudomonas aeruginosa contamination risks.
Lawyers provide free consultations and claim evaluations for individuals who developed an infection after using either the recalled Artificial Tears or Artificial Eye Ointments, to help determine if settlement benefits may be available.
Artificial Tears Lawsuit Criteria
Financial compensation may be available through an Artificial Tears lawsuit payout for individuals who have used recalled EzriCare or Delsam Pharma brand eye drops, or recalled Delsam Pharma eye ointment and experienced any of the following side effects following use;
Eye Infection
Partial Blindness
Permanent Blindness
Bloodstream Infection
Other injuries caused by the eye drops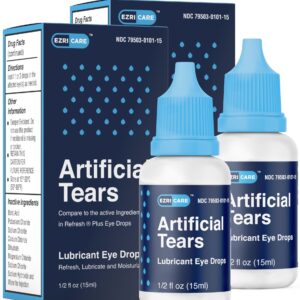 Learn More About
Eye Drops Recall Lawsuits
Lawyers are investigating EzriCare Artificial Tears eye infection lawsuits for individuals who experienced problems following use of recalled eye drops.
SEE IF YOU QUALIFY FOR COMPENSATION
2023 EzriCare Eye Drops Recall Updates
June 2023 Update: The U.S. Centers for Disease Control and Prevention issued an update to the Artificial Tears eye infection outbreak in late May, indicating it has linked at least four deaths, four cases of eye removal, and at least 81 eye infections linked to the recalled EzriCare eye drops.
February 24, 2023 Update: The FDA announced a Delsam Pharma Artificial Eye Ointment recall, warning customers that the products may contain the same pseudomonas aeruginosa bacteria that has been found in EzriCare and Delsam Pharma Artificial Tears eye drops.
February 6, 2023 Update: An eye drops class action lawsuit has been filed against the manufacturers and distributors of Artificial Tears products, claiming the companies falsely advertised the eye drops as safe and failed to perform microbial testing to ensure they were free of Pseudomonas aeruginosa, which has caused several users to develop eye infections resulting in vision loss.
February 2, 2023 Update: The FDA announced an Artificial Tears recall for EzriCare and Delsam Pharma's brand name eye drops. Officials warn the recalled eye drops may contain pseudomonas aeruginosa bacteria that may cause eye infections, blindness and other serious side effects.
January 24, 2023 Update: EzriCare released a statement about the eye drop problems defending its product, and warning customers to discontinue using Artificial Tears products until further notice.
January 20, 2023 Update: The CDC released an EzriCare Artificial Tears warning, instructing customers to discontinue using the eye drops after epidemiological investigations linked the eye drops to a multi-state outbreak of pseudomonas aeruginosa infections that has caused users to suffer permanent loss of visions or life-threatening bloodstream infections.
EzriCare Eye Drops Recall Information
The Artificial Tears recall was announced by the U.S. Food and Drug Administration (FDA) on February 2, 2023. The eye drops recall includes Artificial Tears Lubricant Eye Drops that were sold in ½ fluid ounce (15 ml) bottles under the EzriCare and Delsam Pharma brand names.
The FDA subsequently issued an Eye Ointment recall on February 24, 2023. The recalled eye ointments were sold in 1/8 ounce white aluminum tubes under the Delsam Pharma brand name. The recalled Artificial Tears and Eye Ointment products are marked with the following UPC and NDC codes;
Ezricare Artificial Tears (blue box): NDC 79503-0101-15 with UPC 3 79503 10115 7
Delsam Pharma Artificial Tears (white box): NDC 72570-121-15 with UPC -72570-0121-15
Delsam Pharma Artificial Eye Ointment (white tube) NDC 72570-122-35, with UPC 3 72570 012235 3
EzriCare Artificial Tears Warning: CDC
The U.S. Centers for Disease Control and Prevention (CDC) issued a warning on January 20, 2023, stating recent epidemiology and laboratory evidence has linked dozens of Pseudomonas aeruginosa bacteria infections with the use of EzriCare Artificial Tears.
At that time, the agency and local health departments indicated they were aware of 50 individuals developing Pseudomonas aeruginosa bacteria infections, most of which reported using EzriCare and Delsam Pharma's Artificial Tears prior to becoming ill. Eye infections and bloodstream infections had been reported across 11 states, including:
California
Colorado
Connecticut
Florida
New Jersey
New Mexico
New York
Nevada
Texas
Utah
Washington
Officials collected open bottles of Artificial Tears from patients and confirmed through laboratory testing that the eye drops were contaminated with Pseudomonas aeruginosa. The warning indicated that officials will begin to characterize the strain identified in open bottles to determine whether it matches the strain collected from hospitalized users.
Artificial Tears Eye Infections & Side Effects
Of the reported Pseudomonas aeruginosa infections linked to the recalled eye drops so far, officials indicated users have developed a wide variety of side effects and warned that exposure to potentially contaminated Delsam Pharma and EzriCare eye drops may cause;
Eye infections
Permanent vision loss
Respiratory infections
Urinary tract infections
Fatal bloodstream infection
Officials are warning consumers to seek immediate medical attention if they have used EzriCare Artificial Tears or Delsam Pharma's Artificial Tears products and experience symptoms of the injuries and conditions listed above.
Eye Infection Symptoms From Artificial Tears
While consumers should discontinue the use of the eye drops until the CDC concludes its investigation on whether the products safe for use, individuals should be aware of the following potential symptoms of eye infections after using EzriCare Artificial Tears;
Blurred vision
Swollen eyes
Eye pain
Redness of the eyes
Ocular discharge
Watery eyes
Dry eyes
Sensitivity to light
Itching
What is Carbapenem-Resistant Pseudomonas Aeruginosa (CRPA)?
Pseudomonas aeruginosa is a common bacterium that can cause disease in plants, animals and humans, and is found in many different environments, including soils, water and plant or animal tissue.
The bacteria may result in infections that cause mild to severe health consequences among humans, including fever, chills, body aches, light-headedness, rapid pulse, heavy breathing, nausea and vomiting, diarrhea and decreased urination.
However, the strain of Pseudomonas aeruginosa found in EzriCare Artificial Tears poses a major health risk due to its antibiotic resistance and capability of mutating quickly. This can make treating the infection difficult, especially for those with weakened immune systems.
How Do Artificial Tears Cause Vision Loss?
The contaminated Artificial Tears containing Pseudomonas aeruginosa may cause endophthalmitis, which is a rare but serious infection of the eyeball that can cause vision loss. If not treated timely, and properly, it can cause inflammation and destruction of the tissue throughout the eye, resulting in irreversible blindness.
While not always successful, these severe eye infections are often treated with a combination of antibiotics and antifungal medications in order to eliminate the threat of permanent damage or blindness.
Artificial Tears Eye Drops Lawsuit Examples
February 9, 2023: EzriCare Eye Drops Infection Lawsuit. Teresa Phillips filed an eye drops infection lawsuit in the U.S. District Court Middle District of Florida, claiming she developed an antibiotic resistant Pseudomonas Aeruginosa eye infection from the recalled EzriCare Artificial Tears purchased at a local Walmart. Phillips states she was placed on three different intravenous antibiotics that failed to work, resulting in the need for an eye surgery to repair issues caused by the eye infection.
February 7, 2023: Eye Drops Contamination Lawsuit. Demany Browne filed an Artificial Tears class action lawsuit in the U.S. District Court Eastern District of New York, claiming the manufacturers of Artificial Tears charged a premium while falsely advertising the eye drops as safe, when in fact they contained dangerous Pseudomonas Aeruginosa bacteria contamination. Browne states he and many others have suffered economic damages arising from Delsam Pharma and EzriCare's deceptive acts and practices.
February 4, 2023:  Artificial Tears Class Action Lawsuit. Richard Mosely filed a lawsuit in the U.S. District Court for the Eastern District of Kentucky, claiming the manufacturers and distributors of EzriCare and Delsam Pharma eye drops negligently failed to perform appropriate microbial testing, which has resulted in many consumers developing Pseudomonas aeruginosa infections.
EzriCare Lawyers Reviewing Cases Nationwide
As a result of the manufacturer's alleged failure to thoroughly test EzriCare Artificial Tears for bacteria, individuals are now seeking legal representation to pursue an EzriCare eye drops lawsuit to recover damages caused by infections.
Have a product liability lawyer review your case to help determine if you or a loved one may be eligible for an Artificial Tears lawsuit settlement. There are no fees or expenses unless a recovery is obtained in your case.
Do You Have an Eye Drops Recall Lawsuit?
If you or a loved one experienced an infection after using recalled Artificial Tears eye drops, financial compensation may be available through an EzriCare eye drops lawsuit.
CONTACT A LAWYER
"*" indicates required fields