Artificial Tears Lawsuit Filed Over Bacteria Infection Risk from Contaminated Eye Drops
February 09, 2023
By: Russell Maas
Artificial Tears were recalled after dozens of reports involving severe eye infections, including cases resulting in vision loss and death
EzriCare and Delsam Pharma eye drops were marketed and sold as safe and effective
Artificial tears class action lawsuit seeks damages for all consumers exposed to the contaminated eye drops
Individuals diagnosed with infections from the eye drops are expected to file individual lawsuits seeking settlements
A New York resident has filed a lawsuit over artificial tears recalled last week due to bacterial infection risks, indicating the manufacturers falsely advertised the eye drops as safe, when in fact they may cause serious and potentially life-threatening problems.
The complaint (PDF) was brought by Demany Browne in the U.S. District Court Eastern District of New York on February 7, seeking class action status to pursue damages for all individuals who were deceived into paying a premium for the contaminated eye drops.
Ezricare LLC, and Delsam Pharma, LLC are named as defendants in the case, which is one of the first of what many expect could be hundreds of Artificial Tears lawsuits filed in the coming months in the wake of an investigation by the U.S. Centers for Disease Control and Prevention (CDC) and a massive eye drops recall due to Pseudomonas Aeruginosa bacteria contamination.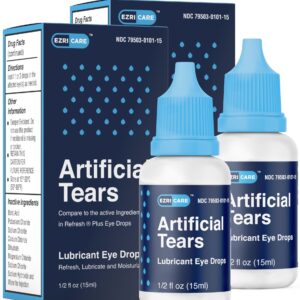 Artificial Tears Eye Drops Infection Recall
The CDC first announced an investigation into Artificial Tears eye drop infections on January 20, after identifying a multistate outbreak of Pseudomonas Aeruginosa infections among users of certain EzriCare and Delsam Pharma products.
After health officials urged consumers to immediately stop using the product, the manufacturer announced an Artificial Tears recall on February 2, impacting versions of the eye drops sold in ½ fluid ounce (15 ml) bottles. The recall included eye drops that were sold through Amazon.com and Walmart under the brand names EzriCare, as well as Delsam, with the following UPC and NDC codes;
Ezricare (blue box): NDC 79503-0101-15 with UPC 3 79503 10115 7, and
Delsam Pharma (white box): NDC 72570-121-15 with UPC -72570-0121-15
Artificial Tears Eye Drops Lawsuit
In the complaint filed this week, Browne raises allegations against both EzriCare LLC and Delsam Pharma LLC, claiming the manufacturer's charge a premium price for Artificial Tears eye drops that lacked adequate testing protocols that has endangered and harmed many.
The complaint indicates health officials have identified at least 55 eye drop infections as of January 19, 2023. Of the injuries, multiple individuals have suffered eye infections from recalled eye drops that resulted in permanent vision loss, while at least one individual died from a severe bloodstream infection.
While Browne does not claim he suffered any injury or infection from the recalled eye drops, the lawsuit states that he and many others have suffered economic damages arising from Delsam Pharma and EzriCare's deceptive acts and practices. Browne and others paid a premium for a product that they would have otherwise paid significantly less, or not at all for had they known about the contamination risks.
Due to Defendants alleged false and misleading claims, the lawsuit states class members are entitled to monetary and compensatory damages, restitution, interest, and attorneys' fees and costs, as well as statutory damages of $500 per eye drops purchased.
Lawyers Are Reviewing Eye Drops Infection Lawsuits
As the news about the recent eye drops recall continues to spread, it is expected that the number of Pseudomonas aeruginosa infections from the Artificial Tears could grow significantly in the coming weeks and months.
Lawyers are actively investigating potential eye drop infection lawsuits against the manufacturers and distributors of EzriCare and Delsam Pharma's eye drops for multiple injuries and side effects caused by the contamination, including;
Eye Infection
Partial Blindness
Permanent Blindness
Bloodstream Infection
Other injuries caused by the eye drops

Did You Experience Problems from Artificial Tears Eye Drops?
Settlement benefits may be available. Lawyers provide free consultations and claim evaluations, and there are no fees or expenses unless a recovery is obtained.
FIND OUT IF YOU QUALIFY FOR A LAWSUIT
"*" indicates required fields