Artificial Tears Recall Issed Over Infection and Hospitalization Risk With EzriCare, Delsam Pharma Eye Drops
February 03, 2023
By: Russell Maas
Artificial Tears eye drops sold under the EzriCare and Delsam Pharma brands have been recalled
Antibiotic-resistant bacteria contaminated the eye drops, leading to reports of severe infections, hospitalizations and at least one death from a blood stream infection
Consumers have been urged to immediately stop using recalled Artificial Tears eye drops
Lawyers are reviewing EzriCare and Delsam Pharma Artificial Tears Lawsuits for individuals who experienced problems
Federal health officials have announced a recall for artificial tears sold under the EzriCare and Delsam Pharma brands, warning customers to stop using the eye drops due to a risk they may be contaminated with Pseudomonas aeruginosa bacteria, which has already caused dozens of severe infections, hospitalizations and at least one death.
The Artificial Tears recall was announced by the U.S. Food and Drug Administration (FDA) on February 2, only a few days after health officials first announced an investigation into a multi-state outbreak of bacterial infections, which suggested that contaminated EzriCare eye drops may be the source.
To date, regulators have identified at least 55 individuals who experienced side effects from the Artificial Tears, resulting in eye infections, permanent loss of vision, and a death from a bloodstream infection. However, it is widely believed that the number of confirmed EzriCare eye drop infections will increase dramatically in the coming days and weeks, and a wave of personal injury lawsuits and Artificial Tears class action lawsuits are expected.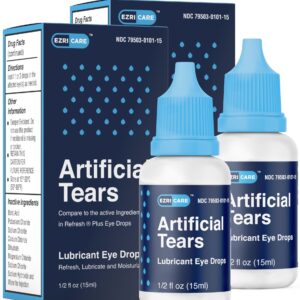 Artificial Tears Infection Reports
The U.S. Centers for Disease Control and Prevention (CDC) first issued an EzriCare Artificial Tears infection warning on January 20, after problems were discovered across 11 different states.
According to early data collected by the CDC and local health departments between May 17, 2022 and January 19, 2023, individuals have developed antibiotic-resistant bacterial infections from Artificial Tears eye drops in California, Colorado, Connecticut, Florida, New Jersey, New Mexico, New York, Nevada, Texas, Utah and Washington.
At that time, health officials confirmed that laboratory analyses of open EzriCare Artificial Tears bottles collected from patients were confirmed to be contaminated with Pseudomonas aeruginosa, and the agency indicated that it would be cross referencing the strains found against isolates collected from infected patients. Since the warning letter, the agency has become aware of at least five additional reports of infection among Artificial Tears users.
Delsam Pharma and EzirCare Artificial Tears Recall
Following the initial warnings, EzriCare issued a statement urging consumers to stop using their Artificial Tears products. However, the company suggested that they were just selling repackaged eye drops manufactured by Global Pharma Healthcare, and that their role in the manufacturing process was limited to designing the exterior label and marketing the product to consumers.
Global Pharma Healthcare finally issued an Artificial Tears recall late yesterday, impacting multiple versions of the lubricant eye drops sold in ½ fluid ounce (15 ml) bottles. The bottles were packaged in boxes that were sold under the brand names EzriCare, as well as Delsa Ezricare, with the following UPC and NDC codes;
Ezricare (blue box): NDC 79503-0101-15 with UPC 3 79503 10115 7, and
Delsam Pharma (white box): NDC 72570-121-15 with UPC -72570-0121-15
Officials are instructing customers to stop using these products immediately, warning the use of the artificial tears could result in eye infections that may cause permanent blindness and other side effects.
Contaminated Eye Drops May Cause Blindness
The recalled Artificial Tears eye drops have been found to contain Carbapenem-Resistant Pseudomonas Aeruginosa (CRPA), which is bacteria that may result in infections resulting in mild to severe health consequences, including fever, chills, body aches, light-headedness, rapid pulse, heavy breathing, nausea and vomiting, diarrhea and decreased urination.
However, the strain of Pseudomonas aeruginosa linked to the Artificial Tears recall poses a major health risk due to its antibiotic resistance and capability of mutating quickly. In severe cases, Pseudomonas aeruginosa may cause endophthalmitis, which is a rare but serious infection of the eyeball that can cause inflammation and destruction of the tissue throughout the eye, resulting in irreversible blindness.
Lawyers are already investigating potential eye drops recall lawsuits for individuals who required medical treatment for infections or other complications. It is also expected that EzriCare Artificial Tears class action lawsuits will be filed for all consumers exposed to the contaminated eye drops
Did You Experience Problems from Recalled Artificial Tears Eye Drops?
Lawsuits are being investigated for infections and other injuries that may have been caused by antibiotic-resistant bacteria that contaminated the eye drops.
CONTACT A LAWYER
"*" indicates required fields