Eye Drops Class Action Lawsuit Filed Over Recalled EzriCare, Delsam Pharma Artificial Tears
February 07, 2023
By: Russell Maas
Recalled Artificial Tears eye drops sold under the EzriCare and Delsam Pharma brands were contaminated with antibiotic-resistant bacteria
Infections from the eye drops have already resulted in hospitalizations and at least one death from a blood stream infection
Eye drops recall class action lawsuit seeks financial compensation for all consumers
Individual eye drops recall settlements are being pursued for individuals with injuries
Following a recall of EzriCare and Delsam Pharma Artificial Tears, which were contaminated with bacteria that has already caused a number of severe infections, hospitalizations and deaths, a class action lawsuit over the eye drugs has been filed on behalf of all consumers who purchased the products.
The complaint (PDF) was filed by Richard Mosely in the U.S. District Court for the Eastern District of Kentucky on February 4, claiming the manufacturers advertised the products as safe for use, while failing to thoroughly test the products for bacterial contamination.
The eye drops class action lawsuit comes as health officials from the U.S. Centers for Disease Control and Prevention (CDC) are continuing to investigate and monitor a growing nationwide outbreak out Pseudomonas aeruginosa infection, which have been linked to bottles of Artificial Tears sold under the brand names EzriCare and Delsam Pharma.
Artificial Tears Eye Drops Recall
The Artificial Tears recall was announced by the U.S. Food and Drug Administration (FDA) on February 2, impacting multiple versions of the lubricant eye drops sold in ½ fluid ounce (15 ml) bottles. The recall included eye drops that were packaged in boxes sold under the brand names EzriCare, as well as Delsam, with the following UPC and NDC codes;
Ezricare (blue box): NDC 79503-0101-15 with UPC 3 79503 10115 7, and
Delsam Pharma (white box): NDC 72570-121-15 with UPC -72570-0121-15
Officials instructed customers to stop using these products immediately, warning at least 55 individuals had developed Pseudomonas aeruginosa infections after using eye drops between May 17, 2022 and January 19, 2023, with most reporting exposure to the Artificial Tears products.
Of the reported injuries, the FDA has become aware of multiple individuals suffering eye infections after using Artificial Tears that resulted in permanent blindness, while at least one individual died from a severe bloodstream infection.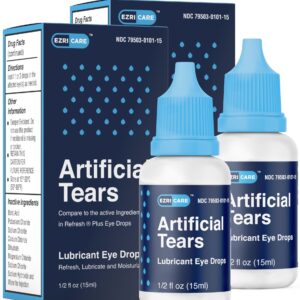 Eye Drops Class Action Lawsuit
According to allegations raised in the eye drops class action lawsuit filed late last week, Mosely raises several allegations against the manufacturers, claiming the companies do not comply with current good manufacturing practice (CGMP) requirements due to their failure to perform appropriate microbial testing. The lawsuit claims the manufacturers are well aware that the eye drops formulation lacked adequate preservatives to remove any chemical used to prevent the growth of bacteria in the eye drops, leaving customers at risk.
Mosely further states the products were inadequately labeled and falsely advertised as safe for their intended purposes and free of bacterial hazards.
As a result of the manufacturer's negligent misrepresentations and omissions, individuals across the nation have now suffered financial damage by paying a premium for the products, while a growing number of consumers have also suffered vision complications and life threatening infections, according to the complaint.
The lawsuits presents claims of unjust enrichment, negligent misrepresentation/omission and violation of the Kentucky Consumer Protection Act, seeking to represent all similarly situated class members.
Lawyers Are Reviewing Eye Drops Infection Lawsuits Nationwide
As the news about the recent eye drops recall continues to spread, it is expected that the number of Pseudomonas aeruginosa infections from the Artificial Tears could grow significantly in the coming weeks and months.
Lawyers are actively investigating eye drop infection lawsuits against the manufacturers and distributors of EzriCare and Delsam Pharma's eye drops for multiple injuries and side effects caused by the contamination, including;
Eye Infection
Partial Blindness
Permanent Blindness
Bloodstream Infection
Other injuries caused by the eye drops
DO YOU QUALIFY FOR AN EYE DROPS RECALL LAWSUIT?
Settlement benefits may be available for individuals diagnosed with infections or requiring hospital treatment due to problems with the recalled EzriCare Artificial Tears eye drops.
CONTACT A LAWYER
"*" indicates required fields