EzriCare Eye Drops Infection Lawsuit Filed Over Pseudomonas Aeruginosa Diagnosis
February 13, 2023
By: Russell Maas
Following an EzriCare eye drops recall issued earlier this month after a cluster of antibiotic-resistant bacterial infections were linked to the Artificial Tears product, a lawsuit has been filed by a Florida woman who indicates she was diagnosed with a Pseudomonas aeruginosa infection which resulted in months of treatment and surgery.
The complaint (PDF) was filed by Teresa Phillips in the U.S. District Court Middle District of Florida on February 9, claiming she was one of several dozen consumers who developed a Pseudomonas Aeruginosa eye infection from the recalled EzriCare eye drops purchased at a local Walmart.
While Teresa's complaint joins a growing number of eye drops lawsuits against Ezricare LLC, and Delsam Pharma, LLC in the wake of the recall, it is the first complaint involve allegations of an actual eye infection injury, and is also the first to name Walmart as one of the defendants.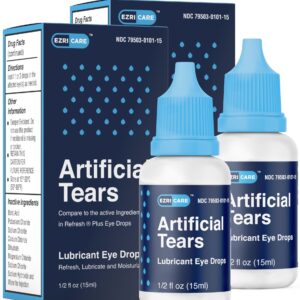 Phillips' lawsuit seeks damages from EzriCare LLC, Delsam Pharma LLC, Aru Pharma Inc. and Walmart, alleging each fo the defendants were negligent in the manufacturing and distribution of the contaminated Artificial Tears eye drops, which caused her to suffer potentially lifelong eye injuries.
Pseudomonas Aeruginosa Eye Drops Infection Diagnosed Months Before Recall
In the weeks leading up to May 2022, Philips states she purchased Artificial Tears products from a Florida Walmart. After beginning use of the eye drops, Phillips states she began experiencing itchiness and unrelenting pain in her eye.
She was subsequently prescribed a course of antibiotics by an optometrist. However, after a week of taking the medication there was no improvement to her eye infection. Phillips' primary care doctors ordered culture testing which confirmed the presence of Pseudomonas aeruginosa and she was then sent to an infectious disease specialist.
Phillips states she was placed on at least three different intravenous antibiotics for months to fight the eye infection. However, none of the antibiotics seemed to work, and she subsequently required eye surgery to repair issues caused by the eye infection.
Months later, in late January 2023, federal health officials first warned about the risk of eye infections from EzriCare eye drops, and it was not confirmed that the Artificial Tears were contaminated with Pseudomonas aeruginosa until this month.
The complaint states that as a direct and proximate result of the defendant's negligence and failure to adequately test whether the eye drops were safe for use, she now has suffered months of anguish and faces an uncertain future of medical complications. The lawsuit brings claims of strict product liability, breach of warranty, negligence and negligence per se, demanding a judgment against the companies for damages she has, and will sustain.
Artificial Tears Eye Drops Infection Recall
The Artificial Tears eye drops recall was first announced on February 2, after a U.S. Centers for Disease Control and Prevention (CDC) investigation identified a multistate outbreak of Pseudomonas Aeruginosa infections among users of certain EzriCare and Delsam Pharma Artificial Tears products.
The recall included Artificial Tears products sold through Amazon.com and Walmart under the brand names EzriCare, as well as Delsam, with the following UPC and NDC codes;
Ezricare (blue box): NDC 79503-0101-15 with UPC 3 79503 10115 7, and
Delsam Pharma (white box): NDC 72570-121-15 with UPC -72570-0121-15
While the latest CDC investigation into Pseudomonas Aeruginosa eye infections linked Artificial Tears to 56 reported cases to date, a Bloomberg report (subscription required) indicates most cases occurred in five states, with a CDC spokesperson confirming that at least 42 of the eye drops Pseudomonas Aeruginosa infections were reported have been from California, Connecticut, Florida, New York and Utah.
Officials reported patients with Pseudomonas Aeruginosa infections from eye drops have experienced several injuries ranging from eye infections to potentially life-threatening sepsis conditions.
Eye Drop Infection Lawsuits
As the news about the recent eye drops recall continues to spread, it is expected that the number of Pseudomonas aeruginosa infection lawsuits over the recalled eye drops will be filed in the coming weeks and months.
Lawyers are actively investigating potential eye drop infection lawsuits against the manufacturers and distributors of EzriCare and Delsam Pharma's eye drops for multiple injuries and side effects caused by the contamination, including;
Eye Infection
Partial Blindness
Permanent Blindness
Bloodstream Infection
Other injuries caused by the eye drops
Did You Experience a Pseudomonas Aeruginosa Eye Infection from Eye Drops?
Settlement benefits may be available through an eye drops recall lawsuit.
FIND OUT IF YOU QUALIFY
"*" indicates required fields