FDA Adds Delsam Pharma's Artificial Eye Ointment to List of Recalled Eye Drops Recall
February 24, 2023
By: Russell Maas
Following an Artificial Tears recall issued earlier this month due to the presence of antibiotic resistant bacteria in Ezricare and Delsam Pharma eye drops, federal health officials have announced additional Delsam Pharma Eye Ointment products may pose similar contamination risks.
The Delsam Pharma Artificial Eye Ointment recall was announced by the U.S. Food and Drug Administration (FDA) on February 22, warning customers to stop purchasing and using the products immediately to prevent the risk of eye infections and other injuries.
The recall expansion comes amid a growing number of eye drops infection lawsuits being filed by consumers who developed Pseudomonas aeruginosa infections after using the products, which have resulted in cases of vision loss, blindness and at least one death.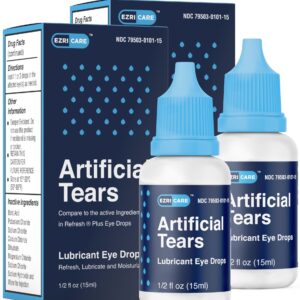 Delsam Pharma Artificial Eye Ointment Recall
Following a determination that additional products may be contaminated with the same bacteria in Artificial Tears eye drops, the FDA recommended the Delsam Pharma Artificial Eye Ointment recall be issued as well this week, and the manufacturer agreed just a day later. However, no official recall notice has yet been posted about the additional products added to the eye drops recall list.
Artificial Eye Ointment is an over-the-counter product sold under the Delsam Pharma brand name. It is marketed as a sterile and safe product for the relief of dry, irritated eyes. However, the FDA warns the eye ointment may have been subject to the same bacterial contamination that was found in Artificial Tears, which were not put through microbial testing to confirm they were bacteria-free.
Artificial Tears Eye Drops Recall
Problems with the Artificial Tears eye drops first surfaced last month, after health officials became aware of multiple individuals suffering eye infections after using EzriCare Artificial Tears. At least 50 infections were identified in multiple states, including severe problems that resulted in hospitalization, permanent blindness, and at least one individual died after contracting a severe bloodstream infection.
On February 2, the manufacturer announced an eye drops recall impacting multiple versions of Artificial Tears sold in ½ fluid ounce (15 ml) bottles, which were packaged in boxes sold under the brand names EzriCare, as well as Delsam, with the following UPC and NDC codes;
Ezricare (blue box): NDC 79503-0101-15 with UPC 3 79503 10115 7, and
Delsam Pharma (white box): NDC 72570-121-15 with UPC -72570-0121-15
Officials instructed customers to stop using these products immediately, and investigations are continuing into the cause of the contamination and full extent of eye drops that may pose a risk of Pseudomonas aeruginosa infections.
Lawyers Are Reviewing Eye Drops Infection Lawsuits Nationwide
Within the past few weeks, at least a half dozen Pseudomonas Aeruginosa infection lawsuits and eye drops class action lawsuits have been filed on behalf of individuals exposed to the bacteria, and it is expected that the number of confirmed problems linked to the products will continue to grow significantly in the coming weeks and months.
Lawyers are actively reviewing potential eye drop infection lawsuits against the manufacturers and distributors of EzriCare and Delsam Pharma's eye drops for multiple injuries and side effects caused by the contamination, including;
Eye Infection
Partial Blindness
Permanent Blindness
Bloodstream Infection
Other injuries caused by the eye drops
Are You Eligible for an Eye Drops Recall Settlement?
Lawyers provide free consultations and claim evaluations to help individuals determine if an eye infection may have been caused by recalled Artificial tears eye drops or another product contaminated with Pseudomonas Aeruginosa bacteria.
FIND OUT IF YOU QUALIFY
"*" indicates required fields