Blood Test May Help Determine When Antibiotics Are Necessary
July 19, 2016
By: Martha Garcia
A new blood test currently being developed at Stanford may help doctors determine whether an infection is bacterial or viral, providing critical information about when antibiotics are appropriate or not. 
In a study published earlier this month in the medical journal Science Translational Medicine, researchers from the Stanford University School of Medicine in California focused on prior studies that showed the response by the immune system was unique in multiple viruses and distinct from bacterial infections. They used this data to develop a blood test that can then determine which infections are bacterial or viral.
Researchers developed a set of seven genes to determine bacterial and viral infections, and were able to validate those in 30 independent cohorts. They say they then were able to create an antibiotic decision model which helped them determine when antibiotics were necessary, as in the case of bacterial infections, and when antibiotics were unnecessary as in the cases of viral infections.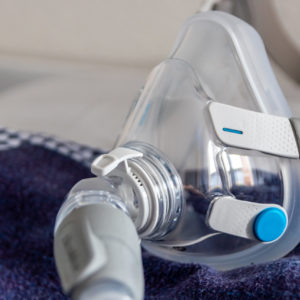 Did You Know?
Millions of Philips CPAP Machines Recalled
Philips DreamStation, CPAP and BiPAP machines sold in recent years may pose a risk of cancer, lung damage and other injuries.
Learn More
Of 1,507 samples the model had a sensitivity of 94% and specificity for bacterial infection of 59%, researchers said . Overall, it was accurate on blood samples from 96 critically ill children.
Many tests focus on finding bacteria in the bloodstream, but most infections are not in the bloodstream, thus making them meaningless. According to the findings, the new test can detect an infection anywhere in the body by and is three times better at determining if it is bacterial compared to the next-best test, procalcitonin.
If successful, the test could not only decrease morbidity and mortality by increasing early antibiotics for patients with bacterial infections, but it will also reduce unnecessary use of antibiotics for patients without bacterial infections.
Antibiotics Overuse Concerns
The findings of this new study come amid increasing concerns about the widespread overuse of antibiotics, which may increase the risk of antibiotic resistant infections.
According to a study published in May, antibiotics were prescribed unnecessarily in 30% of cases examined. This included prescriptions that were given to treat viral infections and prescriptions that were given for the incorrect length of time.
The new test could help reduce the incidence of antibiotic-resistant bacteria, or so called superbugs, that withstand treatment to antibiotics and spawn from the overuse of antibiotics.
Research published in February determined unnecessary antibiotic prescriptions decreased when doctor's choices were scrutinized by their peers. Inappropriate antibiotic prescribing dropped by more than 16% after peer behavioral interventions were introduced into primary care practices.
However, researchers say for the test to be effective it has to be cheaper than the cost of the drugs used to treat patients. If the test is cheaper, it could prevent doctors from blanket prescribing antibiotics, instead testing first to confirm.
Drug resistant bacteria caused nearly two million illnesses and 23,000 deaths in the U.S. each year. One in three antibiotic prescriptions written in U.S. is considered unnecessary. The new test will help to curb much of the unnecessary prescribing.
The test is undergoing clinical trials and will need to be incorporated into a device that can provide results in an hour or less. A commercial rapid version of the test is projected to be in clinical trials in 18 to 24 months however it may be a few years before it makes it to the market.
"*" indicates required fields