Artificial Tears Infection Lawsuit Filed Over Cornea Damage and Permanent Vision Loss
June 15, 2023
By: Irvin Jackson
A Florida man has filed a product liability lawsuit against the manufacturers of widely used eye drops that were recalled earlier this year, indicating that contaminated Artificial Tears caused an infection that left him with permanent damage to his cornea, vision loss and other eye problems.
The complaint (PDF) was filed by Arturo Suarez and his wife, Esperanza, in Florida Circuit Court for Miami-Dade County on June 6, pursuing damages from Global Pharma Healthcare Private, Ltd., Ezricare, LLC, Ezrirx LLC, Aru Pharma, Inc., Leon Medical Centers, LLC and the Healthspring of Florida, Inc., as defendants.
Suarez indicates he was given Artificial Tears in January 2023, to help with dry eyes linked to his use of contact lenses. However, after a few weeks, he began experiencing redness, swelling and itchiness in his right eye which was extremely painful.
Although he was prescribed antibiotics, his symptoms continued to worsen and he developed chronic pain, irritation, redness, photophobia, and blurred vision. In addition, doctors noted that his right eye visual acuity began to deteriorate and asked him to bring in his bottle of Artificial Tears for teating.
In February 2023, he discovered that the eye drops were heavily contaminated with pseudomonas aeruginosa bacteria, which resulted in a massive Artificial Tears recall later that month, for bottles sold nationwide under the EzriCare and Delsam Pharma brand names.
Suarez now joins a growing number of consumers who are pursuing Artificial Tears infection lawsuits, alleging that the contaminated eye drops caused a wide range of health problems, including vision loss, eye infections, bloodstream infections and other injuries. At least four deaths have been linked to the eye drops, as well as a number of users who required surgical removal of their eye.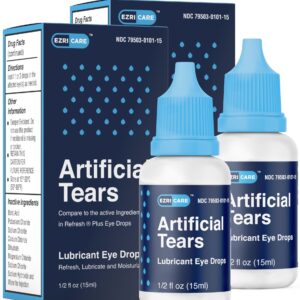 According to the complaint, the manufacturers failed to take adequate steps to ensure their eye drops were safe for consumers, and delayed issuing a recall even after the Artificial Tears contamination was known, or should have been known. As a result, consumers have been left with permanent and devastating injuries.
"Mr. Suarez has suffered permanent damage to his right cornea and is now almost completely blind in that eye. Mr. Suarez's visual acuity in his right eye decreased from 20/30, which was noted in October 2022, to 20/350 because of the pseudomonas aeruginosa infection," the lawsuit states. "As a direct and proximate result of the conduct of the Defendants in manufacturing, importing, compounding, assembling, packaging, distributing, supplying, and marketing of the contaminated EzriCare Artificial Tears, Mr. Suarez has been permanently injured both physically and emotionally. He now leads a difficult life that is markedly differing from what he had been accustomed to."
Artificial Tears Eye Drops Recall
The EzriCare Artificial Tears recall was first announced by the U.S. Food and Drug Administration (FDA) on February 2, when the agency warned that at least 55 individuals had suffered eye infections after exposure to bacteria in eye drops, with several resulting in permanent blindness and at least one death from a severe bloodstream infection.
The recall impacted multiple versions of the lubricant eye drops sold in ½ fluid ounce (15 ml) bottles, including Artificial Tears packaged under the brand names EzriCare, as well as Delsam, with the following UPC and NDC codes;
Ezricare (blue box): NDC 79503-0101-15 with UPC 3 79503 10115 7, and
Delsam Pharma (white box): NDC 72570-121-15 with UPC -72570-0121-15
According to a recent report by the U.S. Centers for Disease Control and Prevention (CDC), the recalled Artificial Tears eye drops have been linked to 81 cases of bacterial contamination, including multiple reports of vision loss, four reports of consumers requiring removal of an eyeball, and four reports of deaths.
"*" indicates required fields