EPA Asbestos Ban Could Lead to Increased PFAS Use
April 28, 2022
By: Russell Maas
A recently proposed asbestos ban has raised concerns some manufacturers may increase their use of per- and polyfluoroalkyl substances (PFAS) as a substitute, despite the alternative chemicals' known toxicity and links to cancer, thyroid problems and other immunotoxic side effects.
In the first-ever risk management rule proposed under the Toxic Substances Control Act (TSCA) released on April 5, the Environmental Protection Agency (EPA) moved to ban the manufacture, import, processing, distribution in commerce, and commercial use of chrysotile asbestos; the last form of asbestos allowed in the United States.
The EPA asbestos ban was proposed after a final risk evaluation was conducted by the agency in December 2020, which found unreasonable risks to human health from conditions of use associated with six categories of products that included asbestos use in the chlor-alkali industry, sheet gaskets, oilfield brake blocks, aftermarket automotive brakes and linins and other vehicle friction products.
Most uses of asbestos were banned decades ago in the United States, due to the risk of mesothelioma and other injuries, which may develop decades after exposure to the toxic fibers.
PFAS were first introduced into the manufacturing industry in the 1940's, because of their ability to resist heat, grease, stains, and water. While they are still widely used in a number of products, the chemicals have been linked to a myriad of adverse health effects including liver damage, thyroid disease, decreased fertility, high cholesterol, obesity, hormone suppression, and cancer. They are known to persist and buildup in the body and environment, which has led to them being described as "forever chemicals".
Concerns over the long-term PFAS side effects have increased in recent years, after widespread water contamination has been identified in communities nationwide, especially near military bases, airports and other firefighter training facilities, where large volumes of the PFAS chemicals were used in aqueous film-forming foams (AFFF) used to fight petroleum-based fires since the 1960s. There are now thousands of firefighting foam cancer lawsuits being pursued nationwide by former firefighters, as well as residents who lived in areas with PFAS water contamination.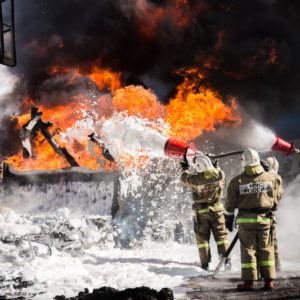 While the EPA's action to fully ban asbestos was applauded by many as its initiative moves to align the U.S. with most modern, first-world countries, who banned asbestos use in its entirety decades ago, the asbestos ban may cause the chlor-alkali industry to resort to potentially harmful alternatives to replace asbestos diaphragms.
Although the EPA's plan would allow the 10 chlor-alkali plants in the U.S. two years to phase out the use of chrysotile asbestos, the agency recognizes the likely alternative to asbestos mineral would be PTFE, or polytetrafluoroethylene, which is a  PFAS compound.
The EPA stated it "acknowledges that substitute technologies for asbestos-containing diaphragms in chlor-alkali production use an increased concentration of per- and polyfluoroalkyl substances (PFAS) relative to the amount of PFAS compounds contained in asbestos-containing diaphragms" and that "the transition away from asbestos-containing diaphragms could result in greater usage and release of PFAS."
In January, several environmental groups filed a lawsuit alleging the EPA failed to properly regulate PFAS, warning that communities are not being given enough information about how the toxic chemicals could contaminate their water supplies.
In July, Maine put in place a ban on PFAS which will go into effect by 2030. In addition to Maine, New York set guidelines last January which set limits on allowable concentrations on some PFAS chemicals. Additionally, also in July, two U.S. Senators introduced a bill which would ban the use of PFAS in cosmetics.
"*" indicates required fields