Consolidation Sought for Baby Formula NEC Lawsuits Against Similac, Enfamil Manufacturers in State Court
December 16, 2021
By: Irvin Jackson
Lawyers representing dozens of families pursuing baby formula necrotizing enterocolitis (NEC) lawsuits against the makers of Similac and Enfamil in Illinois state courts have filed a motion to consolidate the cases before one judge for coordinated pretrial proceedings.
Necrotizing enterocolitis (NEC) is a devastating disease which mostly impacts premature infants, where the wall of the intestine is invaded by bacteria, leading to destruction of the bowel and often requiring emergency surgery while the baby is still in the NICU.
In recent months, a growing number of Similac NEC lawsuits and Enfamil NEC lawsuits have been filed against Abbott Laboratories and Mead Johnson, alleging that the manufacturers of the cow's milk-based infant formula knew their products posed serious risks for premature babies, yet they continued to aggressively market the formula to hospitals, doctors and parents, without warning about the risk.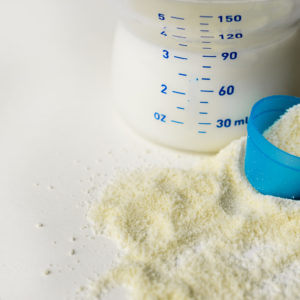 While a number of the cases have been filed in U.S. District Courts nationwide, at least 33 complaints have been filed in the state courts of Illinois, where both Abbott Laboratories and Mead Johnson are headquartered.
On December 12, a motion to transfer (PDF) with the Supreme Court of Illinois, calling for lawsuits currently pending before different judges in three different counties to be consolidated before Judge Dennis R. Ruth in Madison County, for coordinated discovery and pretrial proceedings.
"The [baby formula NEC] cases, currently pending in different counties, should be transferred for consolidated pretrial proceedings… to eliminate duplicative discovery and pretrial litigation, prevent inconsistent rulings, promote judicial economy, and conserve judicial resouces," according to the motion. "Further, coordination will serve the convenience of the parties and witnesses by allowing the parties to better coordinate document discovery and depositions of key witnesses."
As additional families learn that baby formula caused NEC for premature infants born in prior years, the size and scope of the litigation is expected to continue to increase, with hundreds of claims ultimately expected.
Such consolidation is common in the federal court system in complex product liability lawsuits, where large numbers of cases are pending before different judges that involve similar injuries caused by the same product. However, a motion to establish a baby formula MDL (multidistrict litigation) has not yet been filed in the federal courts, and this motion would only apply to cases brought by this law firm in Illinois state court.
"Preterm and low-birth-weight infants are especially susceptible to NEC because of their underdeveloped digestive systems," the motion states. "Extensive scientific research, including numerous randomized controlled trials, has confirmed that cow's milk-based feeding products cause NEC in preterm and low-birth-weight infants, which in turn may lead to other medical complications, surgeries, long-term health problems, and death."
Families now seek damages for the loss of premature babies in wrongful death lawsuits, as well as personal injury claims for life-long injuries and damages children who survived a NEC diagnosis have been left with, indicating that the problems could have been avoided if breast milk or human donor milk had been fed to the babies.
Similac and Enfamil Lawsuit
Was your premature baby diagnosed with NEC after receiving infant formula?
CONTACT A LAWYER
"*" indicates required fields