Banana Boat Sunscreen Spray Recall Issued in Australia Due to Presence of Benzene
December 29, 2021
By: Russell Maas
Following the discovery that many popular aerosol spray products distributed throughout the U.S. contain high levels of benzene, a Banana boat sunscreen spray recall has been issued in Australia after health officials confirmed that routine sample testing confirmed elevated levels of the same cancer causing chemicals.
The Banana boat sunscreen recall was announced by Edgewell Personal Care Company in conjunction with the Australia's Therapeutic Goods Administration (TGA) this month, indicating certain aerosol sunscreen spray products may be contaminated with harmful levels of benzene.
Benzene is an industrial chemical that has been associated with the development of several fatal forms of cancer, leukemia and other conditions, such as AML, Chronic Myelogenous Leukemia (CML), Acute Lymphocytic Leukemia (ALL), Chronic Lymphocytic Leukemia (CLL), Hairy Cell Leukemia (HCL), Non-Hodgkin's Lymphoma, Multiple Myeloma, Myelodysplastic Syndrome (MDL), Myelofibrosis and Myeloid Metaplasia, Aplastic Anemia and Thrombocytopenic Purpura.
Studies have established that long-term side effects of benzene exposure may cause anemia, which is a condition that develops when your blood lacks enough healthy red blood cells or hemoglobin. Essentially, the chemical causes bone marrow not to produce enough red blood cells, which can damage an individual's immune system. Federal regulators have determined long-term exposure to benzene can significantly impact blood cells, to the extent it causes cancer such as leukemia, a cancer of the blood-forming organs.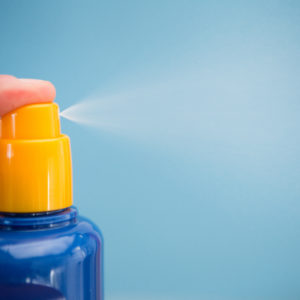 Edgewell Personal Care Company indicates that internal testing discovered the benzene contamination in Banana Boat Ultra Very High Protection Clear Sunscreen Spray SPF, Banana Boat Simply Protect Kids Very High Protection Sunscreen Lotion Spray SPF 50+ and Banana Boat Dry Balance Very High Protection Clear Sunscreen Spray SPF 50+, but maintains that no injuries or illnesses have been linked to benzene exposure caused by the recalled products.
The recalled sunscreen sprays contain an expiration date of January 31, 2024 or earlier and were sold at numerous retailers across Australia and also online and internationally.
Customers are being instructed to stop using these products and immediately dispose of them. For questions or information on how to receive a refund, customers may contact the Edgewell Personal Care Consumer Service team at 1 (800) 761-186.
Sunscreen Benzene Contamination
Earlier this year, the prominent U.S. testing pharmacy Valisure announced it found high levels of benzene in sunscreen spray products sold by a number of different companies, including Neutrogena, Banana Boat, CVS Health, and others. Valisure subsequently filed a petition with the FDA, calling for sunscreen recalls of the affected products.
In July 2021, Johnson & Johnson issued a Neutrogena and Aveeno sunscreen spray recall, after confirming the known human carcinogens was present in its products. The recall was accompanied by an FDA warning, which instructed consumers to stop using certain Aveeno and Neutrogena sunscreen products while the agency worked with the manufacturer to determine how the chemical was introduced into the recalled aerosol sunscreen spray cans.
Since the recall, several sunscreen cancer lawsuits have been filed in different U.S. District Courts nationwide, each raising similar allegations that Johnson & Johnson endangered consumers' health by not warning them of the presence of benzene in brands of Neutrogena and Aveeno spray sunscreen, which could increase their risk of cancer.
In October, Johnson & Johnson and Costco announced they had reached a settlement agreement to resolve the cases. However, the details of the sunscreen settlement agreement have not yet been revealed and the deal has not been finalized.
Jeffrey

May 7, 2022 at 4:16 pm

I had Non-Hodgkin's Lymphoma in 2013 and have been using Banana Boat sunscreen forever. I've seen the other law cases concerning Round Up and C-pap machines, but I've always used Banana Boat.
"*" indicates required fields