Neutrogena, Aveeno Sunscreen Settlement Reached to Resolve Class Action Claims Over Benzene Contamination
November 02, 2021
By: Russell Maas
Johnson & Johnson and Costco have agreed to settle Aveeno and Neutrogena sunscreen class action lawsuits brought following the recent discovery that certain spray products sold in recent years exposed consumers to cancer-causing chemicals..
The sunscreen lawsuits settlement (PDF) was announced in a notice filed in the U.S. District Court Southern District of Florida on October 29, where all class action claims brought over the benzene contamination have been centralized for coordinated management as part of a federal MDL, or multidistrict litigation.
According to the notice, a tentative agreement was reached between plaintiffs, Johnson & Johnson and Costco Wholesale Corporation to resolve at least eight class action lawsuits, each raising similar allegations and claims.
Johnson & Johnson has faced a growing number of sunscreen recall lawsuits brought throughout the federal court system, after a report released in May by the on-line pharmacy Valisure indicated routine sample testing revealed Neutrogena and Aveeno sunscreen sprays contained benzene; a chemical classified as a human carcinogen.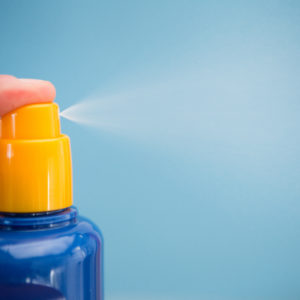 Following the Valisure report, Johnson & Johnson issued a Nuetrogeena and Aveeno sunscreen spray recall, confirming known human carcinogens could be present in the products.
The recall was accompanied by a U.S. Food and Drug Administration (FDA) warning, which instructed consumers to stop using certain Aveeno and Neutrogena sunscreen products while the agency worked with the manufacturer to determine how the chemical was introduced into the recalled aerosol sunscreen spray cans.
Since the recall, at least eight complaints have been filed in different U.S. District Courts nationwide, each raising similar allegations that Johnson & Johnson endangered consumers' health by not warning them of the presence of benzene in brands of Neutrogena and Aveeno spray sunscreen, which could increase their risk of cancer.
In one of the Johnson & Johnson sunscreen complaints, the manufacturer is alleged to have delayed recalling the sunscreen so the company could maximize profits from the Memorial Day and Independence Day holidays, which are traditionally marked by beach and water excursions.
On October 8, the U.S. Judicial Panel on Multidistrict Litigation ordered all Neutrogena and Aveeno sunscreen recall lawsuits to be consolidated before one judge for pretrial proceedings in the U.S. District Court for the Southern District of Florida. As part of the centralized management of those claims, the Court is coordinating discovery into common issues that apply to all claims to avoid duplicative discovery and conflicting rulings from different judges as the number of cases grows.
While the details of the Aveeno and Neutrogena sunscreen settlement agreement were not disclosed in the notice filed last week, the terms will be presented to the court for final approval on or before November 19, 2021.
Benzene is an industrial chemical that has long been linked to fatal forms of leukemia and other cancers. The FDA considers it a solvent which should not be used in drug products, if avoidable. However, if benzene is not avoidable, it should be restricted to 2 parts per million (ppm), FDA regulations state.
Long-term side effects of benzene exposure have been proven to cause anemia, which is a condition that develops when your blood lacks enough healthy red blood cells or hemoglobin. Essentially, the chemical causes bone marrow not to produce enough red blood cells, which can damage an individual's immune system. Federal regulators have determined long-term exposure to benzene can significantly impact blood cells, to the extent it causes cancer such as leukemia, a cancer of the blood-forming organs.
In addition to the class action claims, Johnson & Johnson is expected to face a number of sunscreen cancer lawsuits brought on behalf of consumers who developed various forms of blood cancers following regular use of recalled Neutrogena or Aveeno products, including Acute Myeloid Leukema (AML), Chronic Myelogenous Leukemia (CML), Acute Lymphocytic Leukemia (ALL), Chronic Lymphocytic Leukemia (CLL), Hairy Cell Leukemia (HCL), Non-Hodgkin's Lymphoma, Multiple Myeloma, Myelodysplastic Syndrome (MDL), Myelofibrosis and Myeloid Metaplasia, Aplastic Anemia and Thrombocytopenic Purpura.
"*" indicates required fields