Best Buy Insignia Pressure Cooker Recall Due to Risk of Explosions and Burns
October 27, 2023
By: Irvin Jackson
Best Buy is recalling nearly 1 million Insignia pressure cookers, following dozens of reports of the devices suddenly spraying their hot, pressurized contents onto consumers, which poses a risk of severe burns.
The Consumer Product Safety Commission (CPSC) announced a Best Buy Insignia pressure cooker recall on October 26, indicating the appliances has incorrect volume markings on the inner pot that may cause it to be overfilled, leading to a risk that pressurized contents may cause the pressure cooker to explode.
If the Best Buy pressure cooker is filled too high, the hot contents may be forcefully ejected when the user attempts to vent the device using a quick release valve, or when simply removing the lid after believing the contents are no longer pressurized.
Best Buy and the CPSC indicate there have been 31 reports of pressure cooker explosions due to the problem, including 17 burn injury reports. Some consumers suffered second degree burns, according to the reports.
"Consumers should always check that the inner pot is not filled beyond two-thirds capacity when pressure cooking, that the lid is fully locked before pressure cooking is started, and that the floating locking valve has dropped before attempting to open the lid when pressure cooking," the recall notice advises.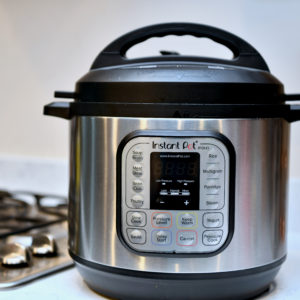 The recall affects Best Buy Multi-Function Insignia Pressure Cookers with model numbers NS-MC60SS8, NS-MC60SS9, or NS-MC80SS9. It also includes replacement inner pots with model numbers NS-MCRP6NS9 and NS-MCRP6SS9. Both the pressure cookers and the inner pots have a six- to eight-quart capacity, and the brand name, Insignia, is printed on the front of each pressure cooker and on the on-product label, which also contains the model number.
About 930,000 Insignia pressure cookers were sold at Best Buy stores, on the www.bestbuy.com website, and through Amazon.com, from October 2017 through June 2023 for between $50 and $120.
The CPSC recommends consumers stop using the affected pressure cookers immediately and contact Best Buy for a free replacement inner pot and a floating locking valve which will indicate pressure inside the device.
Consumers with questions can call Best Buy at 888-359-4485, or go online to  https://www.recallrtr.com/pc or www.bestbuy.com for more details.
Pressure Cooker Explosion Lawsuits
Modern pressure cookers have become popular in recent decades, amid marketing that has promoted advanced features that were supposed to prevent pressure cooker explosions, like those reported in connection with this recall, which have plagued older, stove-top designs.
Various pressure cookers have been marketed under a number of brand names, through social media, websites and home shopping stations. However, hundreds of consumers have experienced severe burn injuries when the marketed automatic lid locking features failed, allowing the lid to be removed before all of the internal steam and pressure had been released.
A number of pressure cooker lawsuits have been filed in recent months throughout the U.S., each raising similar allegations that the safety features marketed to consumers were defective and failed to work, causing users to experience severe burns, often covering larger portions of their bodies. However, other injuries linked to pressure cookers have included eye injuries, broken bones and other complications that resulted from electrocutions, spills or explosions.
Earlier this year, Sensio issued a similar pressure cooker recall, affecting nearly 900,000 units following reports of explosions and burn injuries.
As more of these electric pressure cookers have been introduced in recent years, the CPSC  has issued several similar pressure cooker recalls over problems where lids were able to be opened while contents are under pressure, allowing hot contents to be expelled and causing a scald or burn injury to individuals in the immediate area.
Given design problems linked to recalled Best Buy pressure cookers, as well as similar electronic pressure cookers sold by other manufacturers, including Ninja Foodi, Instant Pot, Crock Pot and others, financial compensation may be available from the manufacturer. Pressure cooker injury lawyers provide free consultations to help determine whether individuals nationwide are eligible to pursue a lawsuit.
"*" indicates required fields