Breast Implant Lymphoma Diagnosis Blamed on Allergan Biocell Design, Lawsuit Claims
December 05, 2019
By: Irvin Jackson
A California woman indicates she was diagnosed with a rare form of lymphoma due to the design of Allergan Biocell implants, joining a growing number of breast implant lymphoma lawsuits filed against the manufacturer, since the textured design was removed from the market earlier this year.
In a complaint (PDF) filed this week in the in the U.S. District Court for the Central District of California, Angela Scharf indicates that her case clearly demonstrates the dangers of a manufacturer's failure to warn the FDA and doctors about risks associated with their product, impacting a patient's ability to obtain an accurate diagnosis.
Scharf receiving Allergan Biocell implants in April 2016, which feature a unique microtextured design. She indicates that she recently went to the emergency room and doctors detected a pocket of fluid around her breast tissue. Following blood tests, she was diagnosed with breast implant-associated anaplastic large cell lymphoma (BIA-ALCL), and is now planning to have her Allergan Biocell implants removed.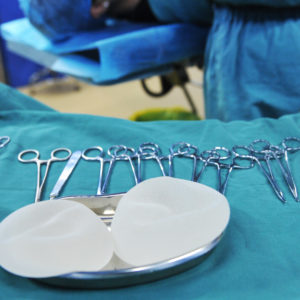 A worldwide worldwide breast implant recall for all of products featuring the Biocell design, after the FDA determined that the product was linked to nearly all reported cases of BIA-ALCL, which is a form of non-Hodgkins lymphoma.
Although Allergan allegedly knew about the link between the breast implants and lymphoma for years, the lawsuit notes that the only reason the implants are off the market is because the FDA forced the issue. Otherwise, Biocell implants would still be for sale in the U.S., according to the complaint.
"Despite knowledge on the part of the Defendants of an association between breast implants and anaplastic large cell lymphoma dating back into the mid-1990's, Defendants purposefully failed to comply with their clearly-established post-market surveillance obligation and in doing so have exposed many hundreds of thousands of women to life-altering and avoidable cancer," Scharf states.
The case joins dozens of similar product liability claims filed in recent months, including complaints brought by women diagnosed with the breast implant lymphoma, as well as class action claims seeking damages and monitoring for women who received the Biocell products.
Today, the U.S. Judicial Panel on Multidistrict Litigation (JPML) is scheduled to hear oral arguments on a previously filed motion to consolidated the breast implant litigation, which would centralized Scharf's claim and other cases filed in the federal court system before one judge for coordinated pretrial proceedings.
Allergan Biocell Breast Implant Problems
The FDA indicates there are at least 573 known cases of BIA-ALCL worldwide, including 33 deaths. Of those, 481 have been linked to Biocell breast implants. Allergan implants were also linked to 12 of the 13 deaths where the manufacturer of the breast implant was known.
In June 2017, a study published in the medical journal Plastic and Reconstructive Surgery suggested that certain textured breast implants may increase the risk of anaplastic large cell lymphoma anywhere from 10 to 14 times, when compared to smooth breast implants.
Another study, published in October 2017, warned that many breast implant cancer cases worldwide have likely not been reported, and noted doctors and patients may not be aware of BIA-ALCL.
The FDA is not recommending women have the breast implants removed if they are showing no symptoms. Instead, the regulators recommend recipients of these implants become familiar with the symptoms of BIA-ALCL, including persistent swelling or pain near the implant, and talk to their health care provider for further information. Those with BIA-ALCL should undergo breast implant removal and removal of the surrounding scar capsule.
The agency also recommends those who receive breast implants keep a record of the device manufacturer, unique device identifier and implant model name, which may have been provided on a patient device card from the surgeon.
Those with questions regarding the safety communication can email the Division of Industry and Consumer Education (DICE) at DICE@FDA.HHS.GOV or by calling 800-638-2041 or 301-796-7100.
Cases of BIA-ALCL or other complications should be reported to the FDA MedWatch Adverse Event Reporting Program.
"*" indicates required fields