Breast Implant ALCL Cancer Warnings Should Be Required For Informed Consent: BMJ
December 05, 2018
By: Irvin Jackson
Prior to breast enhancement surgery, a group of doctors indicate that women should be warned about the cancer risks associated with breast implants, including a rare type of lymphoma that may develop in the tissue surrounding the devices, to make sure they give informed consent before the procedure. 
In an editorial published last week in the medical journal The BMJ , Professor J. Michael Dixon, of the Edinburgh Breast Unit at Western General Hospital in the U.K., and Associated Professor Mark Clemens of the University of Texas's Anderson Cancer Center, say warnings about the possibility of developing breast implant associated-anaplastic large-cell lymphoma (BIA-ALCL) should be required before a surgeon can say she was properly advised about the risks associated with getting an implant.
The professors called BIA-ALCL an emerging safety concern, particularly involving breast implants with textured surfaces. According to their research, there have been at least 626 cases of breast implant cancer and 17 deaths reported worldwide. Almost all of the cases involved breast implants with textured surfaces.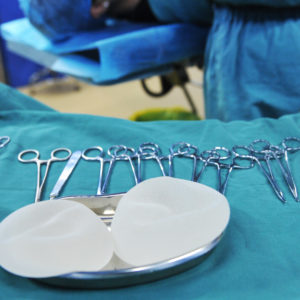 Researchers found that early detection is key to treatment. When the cancer can be detected when it is limited to the implant capsule, removing the implant and a complete capsulectomy is usually satisfactory treatment, they noted.
However, that means the best avenue for treatment is detecting it as early as possible, which means that women should be aware of what signs to look for when they first receive the implants, the professors noted. Symptoms include swelling around the breast implant, a mass, capsular contracture, and a rash.
"For all women offered breast prostheses, informed consent must include a discussion of the risk of developing ALCL," Dixon and Clemens wrote. "They should be advised that the main symptom of ALCL is swelling around the implant, often years after insertion (median 8-10 years) and that they should notify their primary care team immediately if this or any of the other symptoms listed above develop."
Researchers noted that there has been no guidance from regulators in the U.S. or the U.K. on whether women who already have breast implants should be informed, but indicate that informing all women with textured breast implants could help make certain cases are investigated promptly and women are treated early.
The study notes that there is no evidence currently that any type of screening beforehand would help detect BIA-ALCL before it develops. There has also been no push for women with textured breast implants who show no symptoms to have them removed as a preventative measure, they indicated.
Breast Implant Cancer Concerns
On January 26, 2011, the FDA first released a report about case studies and epidemiological research that suggested there was a link between breast implants and ALCL.
The agency then issued a statement about emerging information on the breast implant lymphoma problems last year, and a number of subsequent studies have confirmed that the breast implant ALCL cancer risk is real.
In June 2017, a study published in the medical journal Plastic and Reconstructive Surgery suggested that certain textured breast implants may increase the risk of anaplastic large cell lymphoma anywhere from 10 to 14 times, when compared to smooth breast implants.
In October 2017, a study published in the medical journal JAMA Surgery warned that many breast implant cancer cases worldwide have likely not been reported, and noted that doctors and patients may not be aware of BIA-ALCL.
In March 2018, the FDA indicated that it was aware of more than 400 cases of breast implant-related cancer. As more information becomes public about the breast implant cancer cases, experts have warned that the number of cases reported will likely increase significantly.
As regulators and researchers worldwide continue to evaluate the specific cause of the breast implant lymphoma problems, other women are also raising serious questions about why certain products appear to be more likely to be associated with the development of cancer, and how manufacturers failed to address potential design defects earlier.
Product liability lawyers in the U.S. are now reviewing other potential breast implant cancer lawsuits for women diagnosed with anaplastic large cell lymphoma (ALCL) in recent years, alleging that manufacturers knew or should have known about the risk, yet withheld warnings from consumers and the medical community.
"*" indicates required fields