Breast Implant Lawsuit Claims Woman Repeatedly Misdiagnosed Due To Lack Of Cancer Warnings
November 20, 2019
By: Irvin Jackson
Allergan's efforts to hide information about the link between its Biocell breast implants and cancer allegedly resulted in a woman being misdiagnosed on multiple occasions, according to a recently filed product liability lawsuit.
Misty Riportella filed the complaint (PDF) earlier this month in the U.S. District Court for the Southern District of California, indicating that her cancer treatments were delayed due to Allergan's failure to warn consumers and the medical community about the risk of breast implant-associated anaplastic large cell lymphoma (BIA-ALCL), which has been linked to certain textured designs.
Riportella indicates that she received textured McGhan Style 168 implants in March 2000, and began to experience a rash on her lower back in 2011, as well as sore muscles, loss of energy, tingling and trouble breathing. As a result of the health issues, she was eventually unable to continue her employment, and has undergone multiple imagine studies, blood workups and batteries of tests to resolve the symptoms.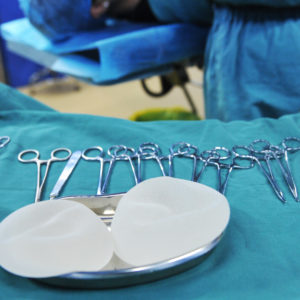 Throughout the years, Riportella indicates that different physicians misdiagnosed her with a number of different health conditions, including congestive heart failure, COPD, blood flow issues and other problems.
In February 2019, after her daughter noticed significant swelling on one of her breasts, Riportella was seen in the emergency room and referred to other doctors, who eventually diagnosed her with BIA-ALCL in June 2019.
"Plaintiff Misty Riportella's case exemplifies what a manufacturer's failure to warn the FDA and thus doctors of adverse events and associated risks of significant injury means in terms of a patient being able to obtain an accurate diagnosis," the lawsuit states. "Ms. Riportella was mistakenly diagnosed with a whole host of issues for years until ultimately she received lab results confirming the presence of Breast Implant Associated-Anaplastic Large Cell Lymphoma."
While the manufacturer knew or should have known about the risk of lymphoma from textured breast implants, according to allegations raised in the complaint, Allergan chose to ignore the evidence for years.
Around the time Riportella was properly diagnosed with cancer from the breast implants, recalls were issued in Canada, Australia, France and other countries for certain types of Allergan breast implants featuring the Biocell textured design.
In July 2019, the manufacturer finally agreed to issue a breast implant recall in the United States, removing all of products featuring the microtextured design from the market.
At that time, the FDA indicated that it was aware of 573 known cases of BIA-ALCL worldwide, including 33 deaths. Of those, 481 involved Allergan breast implants. Allergan implants were also linked to 12 of the 13 deaths where the manufacturer of the breast implant was known.
Riportella's complaint joints a number of Allergan breast implant ALCL lawsuits now being filed by women who indicate they would have avoided this rare cancer if earlier warnings and information had been provided by the manufacturer.
"*" indicates required fields