California Water Contamination May Pose Risks for Nearly 1 Million in State: Report
July 27, 2022
By: Russell Maas
The results of a California water quality audit by state regulatory officials suggests that nearly one million residents in the Central Valley may face a serious health risks from water contamination, with high levels of toxins found in hundreds of drinking water systems.
An audit of California's State Water Resources Control Board was released on July 26, indicating that more than 920,000 people in California drink water from 371 systems that have been found to contained high levels of arsenic, nitrates and other toxic chemicals, while hundreds of other water systems appear to be close to failure.
California Water Systems Failing and Need Critical Assistance
The report was sent to the California governor and legislative leaders by acting California State Auditor Michael Tilden, raising concerns about California water contamination throughout the Central Valley and the state's southeastern desert.
Furthermore, the audit found that since 2017, more than 308 water systems serving California residents have failed water quality testing for contaminants annually, reporting 308 failing in 2017, 386 failing in 2018, 368 failing in 2019, 337 failing in 2020 and 418 failing in 2021.
"Nearly a million Californians face possible long-term, negative health outcomes—including an increased risk of liver and kidney problems, as well as cancer—because they receive unsafe drinking water from a failing water system," Tilden reported.
While the report found the number of failing water systems in the state reduced to 371 by December 2021, nearly 240 water systems have been failing for three years or more, while more than 150 have been failing for five consecutive years.
"The State Water Board has funding available to help these failing systems improve the quality of their drinking water," according to a letter sent by Tilden to California law makers. "Nonetheless, the board has generally demonstrated a lack of urgency in providing this critical assistance."
Water Contamination Health Risks
While not all contaminants were listed, the report identified at least 70 public water systems that exceed the maximum contaminant levels for arsenic, which the World Health Organization (WHO) has designated as a carcinogen when consumed in drinking water, and has been linked to increased risks of bladder and lung cancers.
Other contaminants commonly found to exceed the recommended levels were nitrates, which can have devastating impacts on oxygen in the blood and can be extremely harmful to infants.
The U.S. maintains some of the cleanest drinking water across the globe, but drinking water contamination has become a major topic of concern in recent years as many cities and states across the U.S. have begun testing for elevated levels of per-and polyfluoroalkyl substances (PFAS), which are potentially cancerous man-made chemicals that have been dumped into drinking water supplies by manufacturers and from firefighting foam run-off surrounding military bases and residential communities since the 1940's.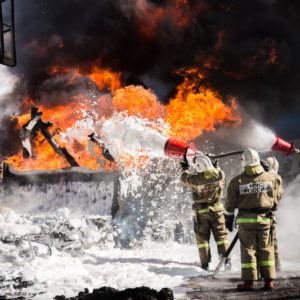 Amid medical evidence linking the chemicals to a myriad of side effects, even at low levels of exposure, a number of PFAS water contamination lawsuits are now being filed by individuals diagnosed with cancer or ulcerative colitis after years of drinking tainted tap water.
The complaints allege that chemical manufacturers covered up evidence of PFAS health risks for years, and knew or should have known that individuals could develop serious injuries after exposure to PFAS chemicals in the local tap water, which builds up over time when the chemicals are improperly dumped or naturally run-off from use in firefighting foams.
As of October 2021, the Environmental Working Group (EWG) has identified 2,854 locations in the U.S. that have confirmed PFAS water contamination in public and private systems. Of those, nearly 400 military installations have been confirmed to have ground water contaminated with PFAS, while contamination is suspected, but not yet confirmed, at hundreds of others.
In California, Tilden indicates that the State Water Board has to take urgent actions to address the problems, and is directing the board to develop a plan to expedite the water system repair efforts, which nearly doubled in average time from 17 months in 2017 to 33 months in 2021.
"The longer the board takes to fund projects, the more expensive those projects become," Tilden warned. "More importantly, delays increase the likelihood of negative health outcomes for Californians served by the failing water systems."
"*" indicates required fields