Camp Lejeune PFAS Contamination Caused Kidney Cancer Diagnosis, According to Lawsuit Against 3M and Fire Foam Manufacturers
October 13, 2022
By: Irvin Jackson
The son of a former U.S. Marine has filed a lawsuit alleging he developed kidney cancer from PFAS water contamination at Camp Lejeune, which was caused by toxic chemicals in firefighting foam used at the North Carolina military base.
The complaint (PDF) was filed by Jonathan Baker, of Mississippi, in the U.S. District Court for the District of South Carolina on October 4, pursuing claims against 3M Company, DuPont and a number of chemical and fire equipment manufacturers, indicating that they failed to disclose the risks associated per- and polyfluoroalkyl substances (PFAS) contained in aqueous film forming foams (AFFF).
Firefighter Foam Water Contamination Concerns
AFFF has been widely used at Camp Lejeune and other military bases in recent years during firefighter training and in response to fuel-based fires. The firefighting foam contains high levels of PFAS, which are now known to be toxic and commonly described as "forever chemicals", since they do not naturally breakdown and can bioaccumulate in the body and environment, causing a number of serious health conditions among former firefighters and instructors.
A growing number of former firefighters and military service members are now pursuing firefighter foam lawsuits alleging that they developed various types of cancer following exposure to the chemicals, and PFAS water contamination lawsuits are also being pursued by individuals who lived in areas that have been found to contain high levels of the chemicals in the drinking water.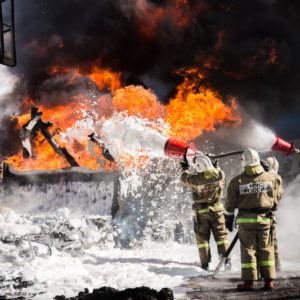 According to this most recent Camp Lejeune PFAS lawsuit, Baker was the son of a U.S. Marine and was born at North Carolina base in 1963. He lived at Camp Lejeune until he was two years old, using and drinking the water there, which had a PFAS environmental contamination level of 179,348 parts per trillion (ppt); far exceeding the U.S. Environmental Protection Agency limit of 70 ppt.
"In or about 2018, Baker was diagnosed with kidney cancer and commenced on-going medical treatment inclusive of surgical intervention via a partial nephrectomy. As known by Defendants, kidney cancer is a disease linked to PFAS contamination," Baker's lawsuit states. "Baker did not discover that PFAS was a cause of the harm until approximately Fall 2020, when he saw internet information."
Camp Lejeune Water Contamination Lawsuits
While Baker's lawsuit involves water contamination at the base, the case is not being filed under the recently passed Camp Lejeune Justice Act of 2022, which now allows similar claims to be brought against the U.S. government for failing to address problems with the water supply at the base from the 1950s through late 1980s.
Water contamination at Camp Lejeune exposing veterans, family members and others working on the base to toxic chemicals that are known to increase the risk of cancer, Parkinson's disease, birth defects and other health problems. By the time the water contamination problems were discovered, most potential claims were already barred by the North Carolina statute of limitations and qualified immunity protections for the U.S. government, which left individuals left with long-term injuries without any recourse or ability to obtain Camp Lejeune disability settlements.
In August 2022, President Biden signed a new law, known as the Honoring Our PACT Act, which allows those claims to be brought in the U.S. District Court for the Eastern District of North Carolina over the next two years.
Camp Lejeune Water Contamination
Learn more about water contamination problems and settlement benefits that may now be available for former Marines, military family members and other individuals exposed to water at the base for at least 30 days between 1953 and 1987.
Camp Lejeune Lawsuit Updates
October 2022 Firefighter Foam Lawsuit Update
Baker's complaint over kidney cancer from firefighting foam water contamination will be consolidated with hundreds of similar claims being pursued against 3M, DuPont and manufacturers of AFFF used at Camp Lejeune and other military bases.
Given common questions of fact and law raised in the litigation, the cases are centralized before U.S. District Judge Richard Gergel, who is presiding over coordinated pretrial proceedings for all claims brought by firefighters, and local water suppliers now facing costs associated with cleaning up PFAS chemicals from the water supply.
To help gauge how juries are likely to respond to certain evidence and testimony that will be repeated throughout the litigation over the health risks associated with PFAS in firefighting foam, a series of "bellwether" cases have been prepared for early trial dates.
In October 2022, Judge Gergel announced that a PFAS water contamination lawsuit brought by the City of Stuart, Florida will be the first bellwether claim to go before a jury, which is expected to begin hearing evidence in June 2023. While the outcome of this bellwether trial will not be binding on other plaintiffs, it will be closely watched and may impact potential firefighting foam settlements that the parties negotiate to avoid the need for hundreds of individual cases to be set for trial.
"*" indicates required fields