CPSC Files Lawsuit to Force Leachco Podster Infant Sleeper Recalls After Child Deaths
February 17, 2022
By: Russell Maas
After Leachco refused to issue a recall for infant lounger products that pose entrapment and suffocation hazards, federal safety officials have filed an administrative lawsuit to force the manufacture to take action.
The complaint (PDF) was filed by the U.S. Consumer Product Safety Commission (CPSC) on February 9, as part of an effort to force Oklahoma-based Leachco to recall Podster, Podster Plush, Bummzie and Podster Playtime infant loungers following reports of two infant suffocation deaths.
The lawsuit comes on the heels of a Podster lounger warning issued by the CPSC last month, which instructed parents and guardians to immediately stop using the popular baby pillows due to the risk infants may roll over unexpectedly and become trapped against the fabric, posing a suffocation risk.
The CPSC warning indicated at least two infant sleeper suffocation fatalities have been reported in connection with Leachco Podster, Podster Plush, Bummzie and Podster Playtime loungers. The deaths involved a 17-day old who suffocated to death in a Lechco Inc. infant sleeper in January 2018 and a four-month old who suffocated in December 2015.
Despite the two reported infant fatalities, the CPSC says Leachco Inc. has refused to initiate a voluntary recall. The company released a statement on their website the day after the CPSC warning, publicly claiming the CPSC is wrong and that the product packaging has clear warnings that it is not intended to be used as a sleep product or for unsupervised sleep of infants.
While the CPSC complaint recognizes Leachco provides warnings to consumers that the product should not be used for sleep and that adult supervision is always required, the agency argues it is foreseeable caregivers will use the Podster without supervision and that it is also foreseeable caregivers will use the Podster for infant sleep.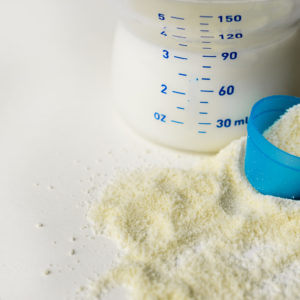 The CPSC Leachco Podster lawsuit states that these foreseeable risks, which have already caused two deaths, cause the infant loungers to present a serious risk for infants and families.
The complaint further states the Leachco Podster infant loungers are defective because they are "constructed of thick, soft padding that has a concave shape which can envelop an infant's face and cause airflow obstruction if an unsupervised infant rolls, moves, or is placed in a position where the infant's nose and mouth are obstructed by the Podster."
CPSC officials argue the product is defective because it lacks rigid underlying components which impedes an infant's ability to self-rescue in the event they roll over, move, or become trapped against the fabric.
The lawsuit calls for Leachco to recall all Podster, Podster Plush, Bummzie and Podster Playtime infant loungers, and to provide customers and distributors notice of the substantial product hazard. The CPSC also demands Leachco to offer customers a refund of the purchase price and to reimburse retailers, distributors and any other third parties for expenses in connection to the matter.
Lastly, the CPSC is ordering Leachco to submit a recall plan that will be subject to approval by the agency, and also require the manufacturer to maintain records of its actions taken to comply for a period of five years.
Approximately 180,000 Leachco loungers were sold throughout the United States, which pose suffocation and entrapment risks, through popular retailers like Amazon.com, Bed Bath and Beyond, Buy Buy Baby, Kohls, Macy's, Toys R Us/Babies R Us, Walmart, and others. The Bummzie model was sold exclusively at Walmart from 2010 to 2018, according to the filing.
Over the last several years, multiple baby pillow recalls and warnings have been issued by federal safety officials following reports of children rolling off of the pillows or on to their belly, leaving their face trapped against the fabric. The CPSC indicates infants who have not developed the neck or body strength to roll back over, or away from the pillow-like products, may become trapped and suffocate.
Inclined Sleeper Risks
Similar to the infant suffocation risks with Leachco Podster sleepers, concerns over inclined infant sleepers were first made public in April 2019, when the CPSC issued a Fisher-Price Rock'n Play warning, instructing consumers to stop placing their infants in the sleepers by three months old, or before they begin to show signs that they can roll over independently. The warning was issued after the CPSC publicly recognized at least 32 infant deaths related to the products.
Since the warning, several manufacturers have issued recalls of inclined sleeper products in April, including Fisher-Price's recall of 4.7 million Rock'n Play Sleepers and a recall of 694,000 Kids II inclined rocking sleepers. Fisher-Price subsequently released an additional inclined sleeper recall in June, impacting 71,000 inclined sleeping accessories sold with their Ultra-Lite Day & Night Play Yards.
Fisher-Price has been riddled with a number of inclined sleeper wrongful death lawsuits and class action claims, alleging the manufacturer knew or should have known about the risk of problems, yet delayed announcing a recall or warning, and knowingly allowed parents to continue purchasing life threatening sleeper devices.
Following the series of recalls, the U.S. Public Interest Research Group (U.S. PIRG) released a survey in August 2019, finding at least 10% of child daycare facilities nationwide currently had one or more of the recalled infant beds in their possession, and were continuing to use the products on a daily basis.
According to the U.S. Food and Drug Administration (FDA), about 4,000 infants annually die unexpectedly during sleep from accidental suffocation, sudden infant death syndrome, or unknown causes. Many of the reported fatalities are a result of suffocation from rolling on their sides or stomach.
To reduce suffocation and accidental deaths, the American Academy of Pediatrics recommends infants sleep on their backs positioned on a firm, empty surface, not containing any soft objects toys, pillows or loose bedding. The recommendations call for new parents to always follow the ABCs of safe sleep: Alone on the Back in a bare Crib.
"*" indicates required fields