Deceptive Similac Marketing Led to NEC and Newborn's Death, Mother Says in Lawsuit
May 13, 2022
By: Irvin Jackson
According to a lawsuit recently filed by a Georgia woman, Abbott Laboratories has engaged in decades of deceptive Similac marketing, which allegedly caused a hospital to feed her premature baby the cow's milk-based formula, resulting in necrotizing enterocolitis (NEC) and the child's death.
Jessica Jacobs filed the complaint (PDF) late last month in the U.S. District Court for the Northern District of Illinois, on behalf of herself and her late son, Conner Ethan Buchner.
The wrongful death lawsuit points to a growing body of research published in recent decades, which has shown that premature babies face a substantially greater risk of NEC after being fed Similac, Enfamil or other cow's milk infant formula products, compared to babies who receive breast milk alone.
Rather than disclosing this information to hospitals, doctors and families, the lawsuit indicates that Abbott engaged in marketing campaigns designed to minimize the risk and encourage increased use Similac formula or fortifiers, instead of feeding premature babies the mother's breast milk or donor human milk.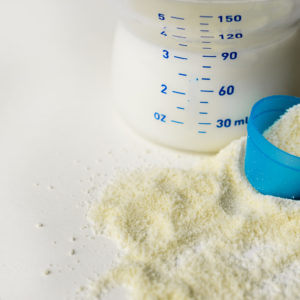 "One study estimates that formula manufacturers, like Abbott, spent $4.48 billion on marketing and promotion in 2014 alone," Jacobs states in the complaint. "Often these tactics implicitly discouraged mothers from breastfeeding, which reduces the mother's supply of breast milk. None of Abbott's marketing materials, including its promotional websites, reference the science showing how signficantly its products increase the risk of NEC."
Conner was born preterm at 36 weeks on November 5, 2008, with a low birth weight of only 2.53 kg. He was sent to the Neonatal Intensive Care Unit (NICU) due to respiratory distress, where the baby was fed Similac Neosure infant formula. As a direct result of the cow's milk infant formula, Conner indicates that her baby developed NEC, and died on November 13, 2008, at only eight days old.
"The clinical and autopsy findings support that Baby B's cause of death was NEC, which led to septic shock and disseminated intravascular coagulation, which resulted in his sudden passing," the lawsuit states. "At the time of his death, Baby B's mother was unaware of the fact that he had been fed harmful Cow's Milk Products that caused or substantially contributed to the development of NEC and ultimately to his death."
NEC is a devastating intestinal disease that primarily impacts premature babies, where the wall of the intestines is invaded by bacteria, leading to destruction of the bowel and often resulting in the need for emergency surgery while the infant is still in NICU.
Although Abbott knew for years that NEC is substantially more likely among premature babies fed the formula instead of breast milk, Jacobs indicates that the manufacturer engaged in deceptive and misleading advertising for Similac, which made its products appear safer than what they really are. This false advertising was done through direct marketing directly to parents and through deceptive information provided to hospitals, the lawsuit claims. The manufacturers also provide coupons, reward programs, free samples and other infant-related products as additional inducement to unsuspecting parents, according to the complaint.
Jacob's lawsuit now joins complaints by a number of families nationwide pursuing a NEC formula lawsuit against Abbott Laboratories, alleging that the company placed the desire for profits before the health and safety of premature infants.
Given similar questions of fact and law presented in these claims, the U.S. Judicial Panel on Multidistrict Litigation (JPML) decided to centralize the NEC lawsuits over Similac and Enfamil earlier this month, transferring the litigation to U.S. District Judge Rebecca R. Pallmeyer in the Northern District of Illinois for pretrial proceedings.
A separate motion has been filed to centralize all Similac lawsuits filed over recent problems with bacterial contamination, which has resulted in massive recalls in recent months. The JPML is expected to decide sometime this summer whether separate pretrial proceedings should be coordinated for these claims, or whether they should also be overseen by Judge Pallmeyer.
"*" indicates required fields