Deodorants, Antiperspirant Body Sprays Contain High Levels of Benzene Known to Cause Leukemia: Valisure
November 05, 2021
By: Irvin Jackson
The same independent pharmacy that identified cancer-causing chemicals in popular sunscreen sprays, hand sanitizers and other products, resulting in widespread recalls over the past year, now indicates it has detected dangerous levels of benzene in deodorant and antiperspirant body sprays that may cause leukemia.
In a press release issued on November 4, the prominent testing pharmacy Valisure announced it has found high levels of benzene, a known carcinogen, in numerous brands and batches of body spray and deodorant spray products, including Old Spice, Secret, Suave, Tag and others.
As a result of the findings, the company also announced it filed a petition with the FDA (PDF), calling for deodorant and body spray recalls of the affected products.
Valisure has made a name for itself in recent years by testing popular products for potentially harmful ingredients. This year alone it has issued similar citizen petitions on benzene contamination in sunscreen sprays and hand sanitizers, both of which have resulted in massive recalls by the FDA.
Benzene is an industrial chemical that has been associated with the development of several fatal forms of cancer, leukemia and other conditions, such as AML, Chronic Myelogenous Leukemia (CML), Acute Lymphocytic Leukemia (ALL), Chronic Lymphocytic Leukemia (CLL), Hairy Cell Leukemia (HCL), Non-Hodgkin's Lymphoma, Multiple Myeloma, Myelodysplastic Syndrome (MDL), Myelofibrosis and Myeloid Metaplasia, Aplastic Anemia and Thrombocytopenic Purpura.
"The detection of high levels of benzene in body sprays is cause for significant concern since these products are often used daily, by both adults and adolescents," David Light, Founder and CEO of Valisure, said in the press release. "These findings build upon our now validated discovery of benzene in sunscreens, after-sun care products, and hand sanitizers that have already been followed by national recalls earlier this year. With this latest development, we have identified a concerning trend of carcinogen contamination in consumer healthcare products."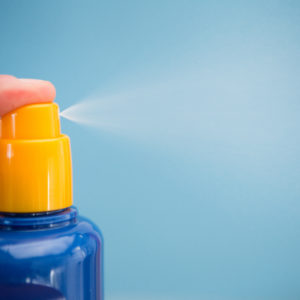 The FDA categorizes benzene as a Class I Solvent, which should not be used in the making of drug products because of its toxicity. However, if a product must contain benzene, it should be limited to 2 parts per million (ppm).
However, some of the deodorants and body sprays tested by Valisure had many, many times that amount. Valisure tested 108 unique batches from 30 different brands. Only 49 of the 108 lots detected, and only 19 different brands, had no detectable levels of benzene.
For example, some lots of Old Spice Pure Sport, which tested the highest for benzene levels, had levels exceeding 17 ppm. Some lots of Secret Powder Fresh, 24 HR Aerosol, had levels exceeding 16 ppm. Tag, Sure, Equate, Suave and other brand name products also had more than double the amount of benzene set by the FDA guidance.
Valisure noted that some inactive ingredients commonly used in body sprays in particular, such as butane, isobutane, propane and alcohol, could be potential sources of benzene contamination. Similar circumstances may have played a role in the level of benzene detected in sunscreen spray-on products.
"It is, unfortunately, apparent that benzene contamination is a widespread and concerning issue in the American consumer product supply chain and underscores the critical need for independent testing," Light said. "The global supply chain is incredibly complex and has many vulnerabilities. We believe some of these contamination issues, like benzene in consumer products, might be traced all the way back to the raw materials supplied to manufacturers. Increased vigilance and quality assurance is needed more than ever."
Since Valisure identified benzene in sunscreen products earlier this year, a number of consumers have filed sunscreen cancer lawsuits and class action claims against Johnson & Johnson, as well as other manufacturers.
Johnson & Johnson issued a Neutrogena and Aveeno sunscreen spray recall in July 2021, after confirming the known human carcinogens was present in it's products. The recall was accompanied by a U.S. Food and Drug Administration (FDA) warning, which instructed consumers to stop using certain Aveeno and Neutrogena sunscreen products while the agency worked with the manufacturer to determine how the chemical was introduced into the recalled aerosol sunscreen spray cans.
Since the recall, at least eight class action complaints have been filed in different U.S. District Courts nationwide, each raising similar allegations that Johnson & Johnson endangered consumers' health by not warning them of the presence of benzene in brands of Neutrogena and Aveeno spray sunscreen, which could increase their risk of cancer.
Late last month, Johnson & Johnson and Costco announced they had reached a settlement agreement to resolve the cases. However, the details of the sunscreen settlement agreement have not yet been revealed and the deal has not been finalized.
Pat

December 1, 2021 at 10:16 am

I called Suave to ask if there was Benzene in their Hairspray 8. They hedged and didn't give me an answer. I know their deodorant is said to have it. No statement on the hairspray. I think she was reading a prepared copy and it was no help at all.
"*" indicates required fields