Knee Replacement Loosening, Failure Results in Lawsuit Over DePuy Attune Design Defects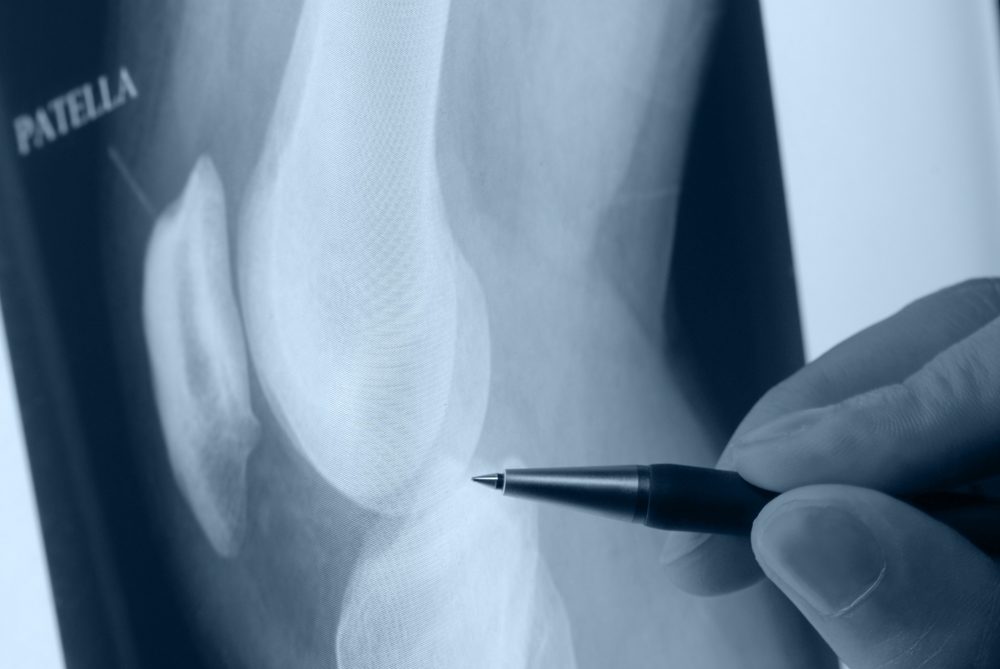 February 12, 2018
By: Irvin Jackson
DePuy Orthopaedics and Johnson & Johnson face a product liability lawsuit brought by a man who alleges that design problems with the Attune knee replacement resulted in loosening of the tibial baseplate and the need for revision surgery.
The complaint (PDF) was filed by Robert Long in the U.S. District Court for the Eastern District of Kentucky on February 1, alleging that failure of a DePuy Attune knee has left him with severe and permanent injuries.
Long indicates that he underwent right total knee replacement surgery in January 2015, at which point surgeons used DePuy Attune knee implants, which consisted of a fixed tibial insert and fixed tibial baseplate. However, within two years, he began suffering severe and persistent pain, discomfort, instability and difficulty walking.
His doctor took radiographs, which showed asceptic loosening of the tibial baseplate. Long underwent knee revision surgery in February 2017 to have the device removed, but the lawsuit indicates that he has been left with on-going injuries.
The DePuy Synthes Attune Knee system was approved by the FDA in 2010, and was widely used by surgeons nationwide by early 2013. Amid aggressive marketing, the system was quickly adopted, with about 400,000 DePuy Attune knees sold worldwide.
Although most DePuy Attune knee replacements were implanted within the past few years, a high rate of problems has begun to surface in post-marketing adverse event reports.
As of June 2017, the FDA has already about 1,400 reports involving failure with DePuy Attune knee replacements, including at least 633 cases where individuals have already required revision surgery, according to the complaint.
"All of the injuries and complications suffered by Mr. Long were caused by the defective design, warnings, construction, and unreasonably dangerous character of the Attune system that was implanted in him," Long's lawsuit states. "Had Defendants not concealed the known defects, the early failure rate, the known complications, and the unreasonable risks associated with the use of the Attune system, Mr. Long would not have consented to the Attune system being used in his total knee arthroplasty."
In a study published last year in the Journal of Knee Surgery, researchers noted a spike in DePuy Attune knee loosening and failures, raising concerns about problems at the implant-cement interface.
Long's claim and other similar DePuy Attune knee lawsuits filed in courts nationwide each raise allegations that the primary reason for the problems is mechanical loosening, which is caused by the failure of the bond between the tibial baseplate and the implant-cement surface. The lawsuits indicate that when the loosening occurs, the artificial knee can detach from the existing bone, resulting in failure.
When the knee replacement loosens, it can cause pain and wear away the bone. This can lead to restricted physical movement and severe pain, which continues until the pain becomes unbearable, or the device fails, resulting in a loss of knee function. At this time is when most decide to undergo revision surgery to have the implant removed.
Over the coming months, the number of DePuy Attune cases is expected to continue to grow as knee replacement lawyers continue to review and investigate potential cases on behalf of individuals who experienced complications, as most individuals are not aware of the specific model used during their surgery. In addition, many experts have suggested that the DePuy Attune knee failure rate may increase dramatically over time, as the devices are in place longer.
Doris

October 11, 2022 at 3:32 pm

I had a Attune Depuy knee replacement in January of 2018 and it started hurting really bad found out that it was loosening and the cement wasn't holding. Had to have a revision in March of 2019.

Constance

July 28, 2020 at 12:19 am

I had my knee replacement in 2014, by 2018 my lower leg was falling off. I couldn't walk. I had the revision done in nov 2020.. there is times my leg really hurts still..

Maria

December 12, 2018 at 6:20 pm

Had Total Knee Replacement 1/18 and just found out that that it it loosened at the tibia and I have the Depuy and now Have to go through a revision.

Don

October 31, 2018 at 1:58 pm

I had 2 Depuy replacements from 2008 and 2009 the joints were loose and I lost my ability to walk as knee would dislocate. Knee continually swelled and kept a fever.

Patty

October 15, 2018 at 5:18 pm

Have depuy, not sure if it's the one everyone is having problems with ! I'm 10 months , so far so good !

Donna

March 3, 2018 at 12:43 am

I have had 2 total and 1 revision on left knee since 2009. Now needing a 4th surgery

Maceio

March 2, 2018 at 4:14 am

This is my third knee replacement. First one was in 2014 came loose, second one was infected . Had a spacer put in for six weeks . To date still having problems with pain and walking

Alex

February 15, 2018 at 4:40 pm

I had revision surgery 2 years ago 2016 as a result of my implant came loose and I was no longer able to walk. It was my left knee.
"*" indicates required fields