Study Finds Type 2 Diabetics Prescribed Certain Drugs For Gastrointestinal Illness Face Increased Cardiac Arrest Risk
October 13, 2023
By: Irvin Jackson
Some drugs used to treat infections, mental disorders and stomach problems may increase the risk of cardiac arrest in patients with Type 2 diabetes, according to the findings of a new study.
A group of Dutch researchers are warning that many drugs frequently used by diabetics, including antibiotics, antipsychotics and a class of drugs known as prokinetics, which include the gastroparesis drug domperidone, can affect the rhythm of the heart, increasing a diabetic's already higher risk of sudden cardiac arrest (SCA).
Their findings were presented at the annual meeting of the European Association for the Study of Diabetes (EASD), currently being held in Germany, and in Dutch Journal of Medicine last month.
Researchers from Amsterdam UMC, in The Netherlands, conducted a case control study involving 3,919 individuals with Type 2 diabetes, who were divided into 689 subjects who had suffered SCA and 3,230 case controls. The researchers examined a number of indicators in the patients' medical history, looking for factors they had in common that may have increased their risk of cardiac arrest.
The study found a number of factors that appeared to be associated with an increased SCA risk, such as insulin use, a history of heart arrhythmias, and smoking. However, they also found that some medications also appeared to increase the risks as well.
Those drugs included medications that could change the heart's electrical system, known as QT-prolongation. These included prokinetics like domperidone, drugs belonging to the classes of antibiotics known as macrolides and fluoroquinolones, and antipsychotics like haloperidol.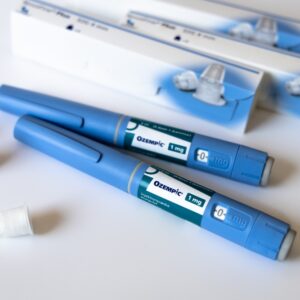 Find Out If You Have a Lawsuit
Ozempic Gastroparesis Drug Concerns
Domperidone may be of particular concern, due to recent reports of patients suffering gastroparesis, or stomach paralysis, when taking the diabetes drug Ozempic, and its weight loss equivalent, Wegovy.
It is widely used for the treatment of gastroparesis, as the drug increases the movements or contractions of the stomach, meaning doctors may be inclined to prescribe it to treat Ozempic stomach paralysis problems. However, this new study suggests that domperidone and similar drugs may increase a Type 2 diabetic's risk of cardiac arrest by 66%.
Domperidone is also prescribed to treat common nausea and vomiting, and used to promote breast milk production.
In July, a CNN investigation outlined an alarming number of reports linking Ozempic and gastroparesis, indicating that similar problems have been associated with other drugs in the same class in recent years.
In this latest study, researchers noted that Ozempic and similar diabetes drugs were used by about 2% of the Dutch population.
In 2017, researchers with the Mayo Clinic conducted a study involving Victoza, which found that the drug caused significantly slower digestion in users, taking about 70 minutes for half the food they ate to leave their stomachs, compared to four minutes for people who did not take the drug. However, the study found that people's bodies tended to adjust over time.
A growing number of former users are pursuing Ozempic lawsuits and Wegovy lawsuits, each raising similar allegations that they developed painful and debilitating stomach problems, which could have been avoided if false and misleading information had not been provided for users and the medical community.
Image Credit: |
---
Find Out If You Qualify for Ozempic or Wegovy Compensation
Edwin

October 14, 2023 at 2:39 pm

I developed blatter cancer, had my blatter removed, now I have an ostomy bag for the rest of my life
"*" indicates required fields